Brown Belittles Californians Who Sensibly Choose Smaller Families
Published on August 21st, 2014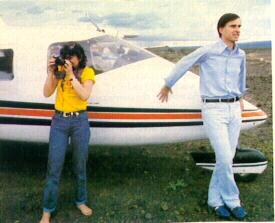 Jerry Brown and former girlfriend, singer Linda Ronstadt, made headlines while they were dating. Brown is among the "affluent" he chides for not "producing" offspring; Ronstadt has two adopted children.
Check out Governor Jerry Brown advocating for more population growth in California! In a curious remark that Brown made at the June National Association of Latino Elected and Appointed Officials Conference, he chided "affluent families" for not "producing" more children. According to Brown, "…half the kids in school are from low- income families."
Brown's uninformed comment provides bloggers like me a lot to chew on. Maybe Brown was pandering to his audience. But the truth which even Brown must know is that the last thing California needs is more people, no matter what their race or ethnicity may be.
Californians for Population Stabilization's website has an abundance of population-related statistics that belie Brown's thinking that more people would benefit Californians. With California's population fast approaching 40 million and predicted to reach 60 million by 2050, Brown should be lobbying for fewer babies, not more. San Diego Mayor Jerry Sanders has a better handle than Brown does on the population problem. Said Sanders: "You wonder at some point how much the infrastructure can handle."
As for Brown's concern about school demographics, he needs some coaching on the root causes of the problems. In the mid-1960s, California's K-12 public schools were ranked among the nation's best. Today they're among the worst. Two immigration bills, the 1965 Immigration Act and the 1986 Immigration Reform and Control Act, added huge numbers of immigrants to school enrollments. Currently, of California's 6.2 million K-12 students, 1.4 million, or 23 percent, are classified as English learners.
As a practical matter, what the five-decade long influx of non-English speakers means is that Sacramento's politically correct Department of Education has gradually but irreversibly attached greater importance to educating foreign-born students than citizen children. As one former teaching colleague told me, she's under more pressure to have an appropriately diverse bulletin board than to write an inspiring math lesson plan.
Accordingly, as the quality of California public education has declined, parents have taken their kids out of public schools and placed them in private or home schooling as quickly as their personal circumstances allow. Last year, by the way, Brown signed several bills that would give more funding to schools based on their ESL and low-income enrollments. Remember that California taxpayer money designated for schools comes out of the same pot: if there's more allocated for ESL, less goes to middle-class districts.
The University of California Berkley and Yale University Law School-educated Brown knows that socially aware people concerned about California's future have made the responsible decision to have fewer children. Brown, one of those enlightened Californians, has no children.