California Not Alone in Suffering through a Water Crisis; India is Baking, Blistering
Published on May 11th, 2016
Killer Heat Wave, Drought Devastate India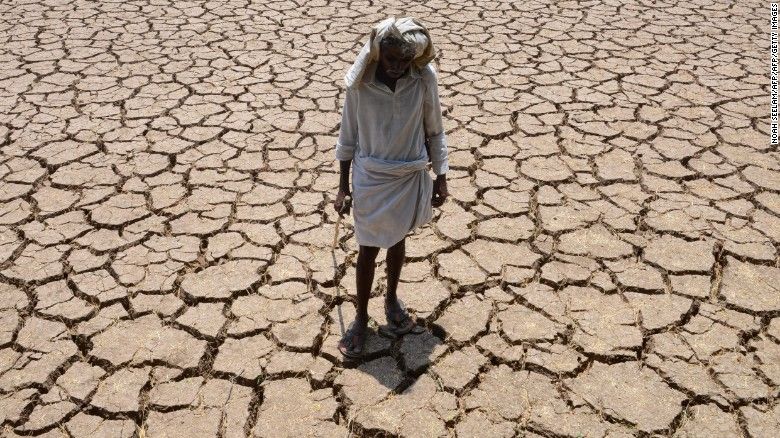 Indian farmer in the southern state of Telangana in his cotton field,
which so far in 2016 has produced only dried cakes of mud.
"Major reservoirs 79 percent empty." Sound familiar? It certainly should to Californians, but in fact this grim statistic comes from across the Pacific in southern Asia.
Searing heat, soaring temperatures, dwindling reservoirs and depleted groundwater are gripping India. The second-most populous country on Earth is staggering from its "worst drought in decades" and hundreds of millions of villagers, farmers and rural residents are struggling to survive. The Indian government estimates 330 million people are impacted by the deadly drought: more people than the entire population in the United States.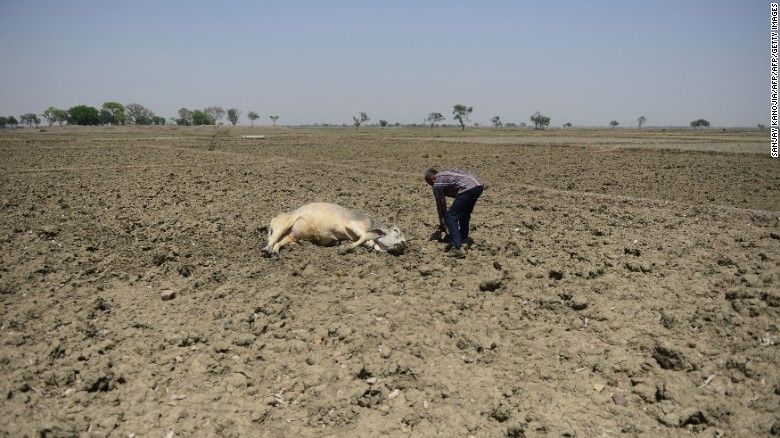 Indian farmer attempts to revive his dying livestock
in a bone-dry field 30 miles from Allahabad.
India is now persevering through its summer or pre-monsoon season, which usually runs from April to late May or early June. Temperatures have reached a brutal 116˚ Fahrenheit this year, five to eight degrees above normal. Ominously, rainfall in the last two monsoon seasons has been below average, which has reduced the availability of both surface water and groundwater.
The extreme conditions now besieging India and other areas of the world are a result of El Niño, that periodic weather disturbance or oscillation characterized and caused by warming ocean temperatures in the southern Pacific Ocean. The most serious consequences of El Niño in southern Asia are heat waves and water scarcity (effects differ elsewhere, such as in California, which typically receives harsher winter storms and more rainfall during El Niño events). One of the most powerful El Niños ever documented, producing extreme weather around the world, is now receding.
In late April, 170 academics and activists wrote to Indian Prime Minister Narendra Modi, expressing their concern about the heat and drought and the "enormous suffering" these are causing for poverty-stricken rural residents. The letter requests that the government take immediate relief measures to alleviate the suffering and harm.
The activists write:
In areas where rains have failed, farmers who depend mainly on rainwater to irrigate their crops have no or very low crop yields. Those who rely on irrigation are also affected, with groundwater sinking and streams and reservoirs drying up. All this adds to chronic agrarian distress reflected in a massive slowdown in agricultural growth during the last few years, with no imminent signs of recovery.

The consequence of this adversity is massive distress movement of populations, causing broken childhoods, interrupted education, life in camps, city pavements or crowded shanties. Add to this the old and the infirm who are left behind, to beg for food or just quietly die. The cattle for whom there is no fodder, sold at distress prices or just abandoned to fend for themselves. And the drying up even of sources of water to drink.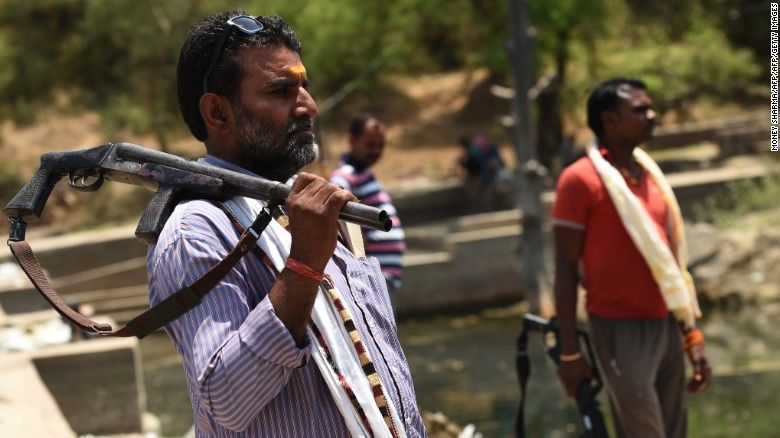 Armed men guard against water theft from a reservoir
in the central Indian state of Madhya Pradesh.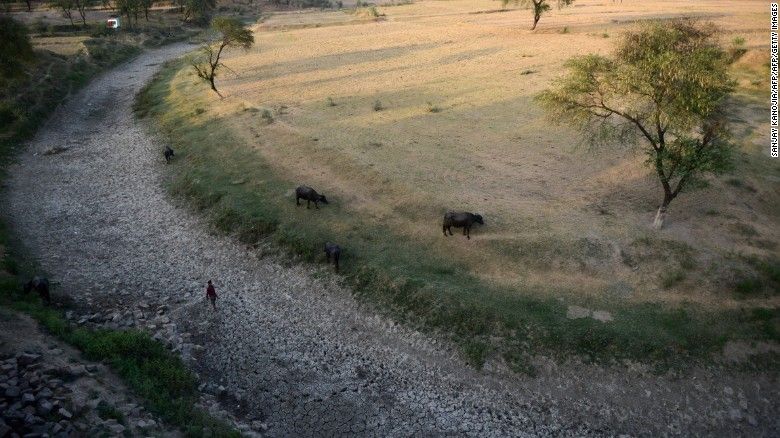 Indian villager accompanies his cattle
in the dry bed of the Mansaita River.
In spite of the prodigious growth of its megacities and slums in recent decades, and the growth of its high tech sector, India remains largely an agrarian society, with about 60 percent of its population directly or indirectly linked to agriculture. In recent years, global attention has been focused on a reported epidemic of suicides among India's farmers. It has variously been attributed to monsoon failure, high debt burdens, genetically modified crops (GMOs), government policies, public mental health, personal problems and unresolved family issues. This year's drought will only exacerbate the suicide crisis among India's over-stressed farmers.
The deadly combination of elevated heat and humidity makes India a global "hot spot" for heat-related morbidity and mortality. So far in 2016, government health sources estimate that more than 370 people have died, compared to 2,500 deaths in India's 2015's heat wave. Last year's event was among the top five deadliest heat waves in recent history.
Unfortunately, several factors in combination make this year's bad news out of India a likely harbinger of even worse news to come over the foreseeable future.
First and foremost is India's continuing population explosion, which receives very little attention anymore in the mainstream news media, perhaps because it is considered "old news," i.e. "been there, done that."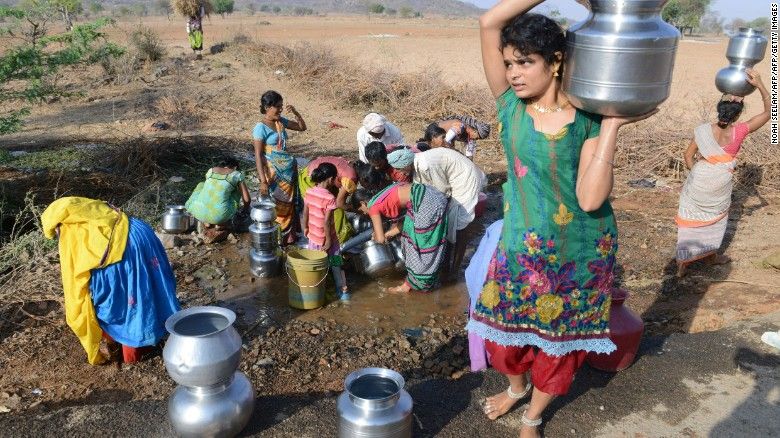 Lambadi tribal villagers fill containers with potable water
from a leaking pipe east of Hyderabad.
In spite of widespread if uneven progress in reducing birth rates (India's total fertility rate, or TFR, is now down to 2.3), improving reproductive health, rising incidence of contraception use, and increasing education for girls, India's population continues to grow by 15 million or more every year. India is now at 1.3 billion, and is expected to surpass China in just a few years to become the most populous country on Earth. India's population has grown by five times since 1900 and more than doubled since 1970.
India's population growth in millions, from 1901 to 2011.
Every new Indian – whether rich or poor – places added demographic demands and pressure on an already overexploited environment and natural resources.
Second is the cumulative depletion of India's groundwater supplies. In research findings released last year, NASA rated India as having the worst groundwater depletion rates in the entire world:
The most overburdened aquifers are in the world's driest areas, where populations draw heavily on underground water. Climate change and population growth are expected to intensify the problem, the researchers warned.
Third, global warming will increase overall temperatures as well as the incidence of severe, deadly heat waves that afflict India and southern Asia. Higher temperatures will also increase the soil moisture stress that parches soils and turns them to baked mud or bone-dry sand.
Tragically, hundreds of millions of long-suffering rural Indians are likely to face deteriorating environmental and economic conditions in the years ahead. These are partially self-inflicted and partially a result of forces far beyond their control or responsibility. The aggregate "weight" of the human race is simply more than the weary, overburdened Earth can bear.