CAPS Kicks Off Wisconsin TV Campaign Asking House Speaker Ryan Why He Ignores Unemployed Americans, but Pushes for Work-Authorized Immigrants
Published on May 18th, 2016
Since elected to Congress in 1998, House Speaker Paul Ryan has compiled a mostly dismal immigration reduction record. Ryan, whose pro-immigration actions have become more egregious since he took over the speaker's role, scores poorly or worse on ending unnecessary worker visas, reducing amnesty enticements, limiting refugee and asylum fraud, or promoting sensible immigration legislation that would help Americans.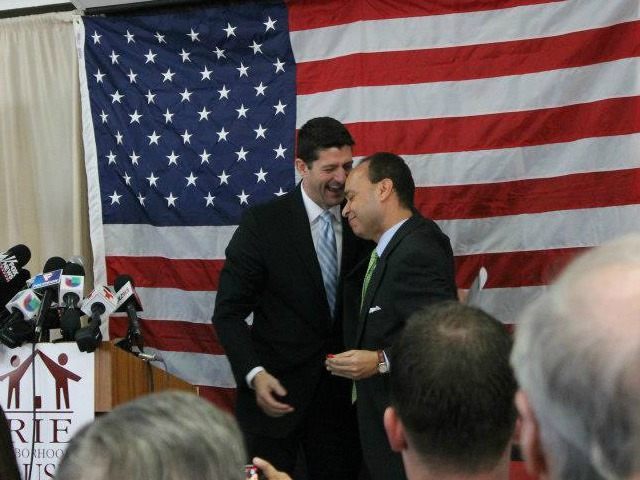 Ryan and Congressman Luis Gutierrez:
Kindred spirits on open borders, work permits for illegal immigrants.
Most recently, Ryan was instrumental in pushing through the $2 trillion 2014 Omnibus bill that will fund President Obama's 2012 deferred action for childhood arrivals program, subsidize the 300-plus sanctuary cities in the United States, quadruple the number of low-skill H-2 visas available, and resettle up to 85,000 refugees from the terrorist-sponsoring nations of Iraq, Syria and Somalia. Most Americans oppose these measures.
Ryan should rethink his position as an avowed immigration advocate, instead focusing on legislation that promotes more American jobs versus backing bills that dilute the labor market with more employment- authorized immigrants. Five of the six counties in Ryan's district have unemployment rates higher than the national average.
With a new television campaign, Californians for Population Stabilization is working to raise awareness among all Americans, and especially Ryan's Wisconsin District 1 constituents, about the relationship between higher immigration and fewer working Americans. The three-week television campaign kicks off this week and features Frank Morris, civil rights leader, CAPS member and former Congressional Black Caucus Foundation Executive Director. In the ad, Morris asks:
"Speaker Ryan says we have a labor shortage in America. How can he say that when thousands in his own state still can't find good paying jobs? How can he say that when Wisconsin recently had one of the highest black unemployment rates in the country, and Milwaukee has been called one of the worst places to live in American if you're black?"
Read the CAPS press release here which chronicles Ryan's pro-immigration positions since early in his political career when he served as then-Kansas Sen. Sam Brownback's legislative director. To see the ad and learn more about Ryan and the CAPS campaign, go here.