CAPS Says 'Save Our States'
Published on October 23rd, 2014
News in recent weeks has been dominated by the Ebola virus and fundamentalist terrorists claiming Islam and barbarism as their own (what a combination!), so our continuing immigration dysfunction in the U.S. and our unsecured borders haven't been much in the news. But, Hello, the problem still is here. In fact, with Ebola and ISIS, one would think mainstream media would be a little more attuned to the value of border enforcement.
At least CAPS is working to keep the immigration issue top of mind and has been running a broadcast spot leading up to the November elections.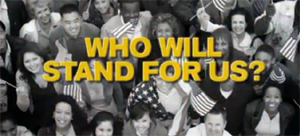 The ad is an "SOS" from "the working people of California to the working people of America." It calls on them to "Save our States" and questions the idea that there's a shortage of workers when millions of American workers are unemployed, which begs the question: Why would President Obama be pushing to double legal immigration and grant amnesty to millions of illegal aliens?
We've heard the anecdotal stories – the friend who fell off the corporate wagon and hasn't found a new job in nearly 10 years, the friend of a friend who held top-level finance jobs for top companies for a long career and in recent years has only cobbled together project work here and there, the high-tech worker who – before getting the boot – had to train an H-1B visa holder from India for her job, or the family member with teaching credentials who has only managed to find part-time or substitute work.
Add to the anecdotal the miscellaneous reports on how people are making ends meet and finally throw in the hard data. While the most recent jobs report indicates good news on the stats, the reality is a little more nuanced. The unemployment numbers don't reflect the discouraged workers and workers who have just given up the ghost, or tell the story of specific demographics. But the bottom line is that, with 10 million Americans still unemployed, importing more illegal foreign workers doesn't make sense to most people.
View the new CAPS ad here. THEN, ask your Senators if they will stand with working people!