Democrats Debate, but Skirt Nexus between Over-Immigration, American Job Loss
Published on October 14th, 2015
Tuesday night's Democratic debate went pretty much as anticipated. Candidates Hillary Clinton, Bernie Sanders, Martin O'Malley, Jim Webb and Lincoln Chafee promised to spend taxpayer money freely, especially on alien entitlements. Among the benefits they promised were instate Dream Act tuition rates to university students, Obamacare subsidies and a path to citizenship, as well as all the benefits that go with naturalization. Other hot topics included jobs, income inequality and terrorism.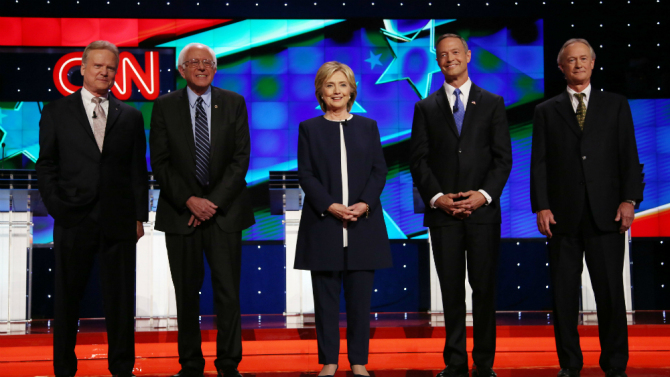 Candidates seize debate stage as forum
to advocate for alien entitlements.
As I listened to the candidates talk about jobs and terrorism, I remembered research that I had recently done on temporary protected status (TPS) which is often granted to illegal immigrants born in terrorist-sponsoring nations. I found that it's not temporary status at all, but rather rolled over every 18 months and includes work permits for the lucky recipients. TPS is essentially a permanent residency scam for illegal immigrants.
In September, U.S. Citizenship and Immigration Services (USCIS) announced that it would grant TPS to Yemeni nationals, valid through March 3, 2017. An April 3, 2015, U.S. Embassy bulletin warned about conditions in Yemen in the following terms: high terrorist threat level, severe instability, deteriorating security situations. Two months earlier, in February, Yemen rebels seized vehicles at the U.S. Embassy as diplomats fled the capital city of Sanaa. The U.S. ordered the ambassador to evacuate the embassy and shut it.
USCIS defends TPS as a program which ensures that allegedly innocent foreign nationals will not be sent home and into a potentially life-threatening situation, a policy most Americans agree with. But the Department of Homeland Security knows little if anything about those who remain in the U.S. under TPS cover.
Consider, for example, Mufid Elfgeeh who was arrested in Rochester last year on gun charges as part of a plot to kill U.S. soldiers returning from the Middle East. Elfgeeh was born in Yemen and is a naturalized citizen whose status allows him to petition for his relatives to come to U.S. – family that may have the same anti-American, terrorist leanings as he does.
Summarizing the debate, presidential candidates can't claim to care about American jobs when they support liberal work permit distribution to illegal aliens. And they can't assert that they're strong on terrorism if they look the other way at the federal government's sieve-like, fraud-ridden refugee and TPS policies.