DREAMers, Advocates Show Disrespect as Supreme Court Hears U.S. v. TX
Published on April 27th, 2016
During the Supreme Court hearing on U.S. v. Texas, large groups of protestors, including illegal immigrants, DREAMers and their advocates, congregated outside the historic landmark building to loudly voice their support for President Obama's deferred action amnesties, and to mock detractors. The eight Supreme Court justices will decide whether five million illegal immigrants, some of whom likely were in the crowd, will be granted temporary deportation stays, work permits, Social Security numbers and other affirmative entitlements. A mariachi band spurred on the thousands of activists.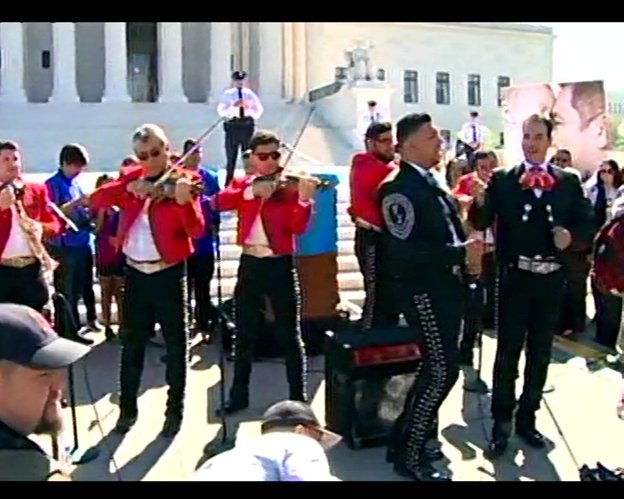 It's party time outside the Supreme Court as
illegal immigrants demand "justice."
While the demonstrators tried to drown out critics by yelling, "We want justice" and "Shame on you," U.S. Rep. Steve King (R-IA) asked them reasonable questions that many Americans would like answered.
Wondered King: "Are you an example of the America we can expect if this court finds that the president can write law and violate the Constitution? If so, then we are in for a rough future."
King's three-part question: "You want to be citizens of America? And conduct yourselves in a fashion where you try to shout down someone who is exercising their right to freedom of speech? Do I need to start reading the Constitution from the First Amendment?"
And King's final question: "So is this behavior out here in the streets of America that we see today that disrespects this court, disrespects the Congress of the United States, disrespects this congressman who serves on the Constitution subcommittee and the full House Judiciary Committee, are you an example of the America we can expect?" Watch King challenge the illegal immigrants here.
By the way, two years ago, DREAMer Erica Andiola approached King in Iowa, and dared him to tear up her deferred action for childhood arrivals card. King, who had just voted for a bill to end DACA, explained to her why she should not be allowed to stay in the U.S. illegally. Watch here. In her follow-up interview, Andiola called King an ignorant hater. See that interview here.