Illegal Immigration from China, South Korea, India on the Rise
Published on June 23rd, 2017
The Migration Policy Institute, which studies the global flow of people, recently issued a report with a detailed analysis of immigrants and U.S. immigration. Included in the MPI analysis are 14 different immigration categories, including current and historical immigration shares, demographic, educational and linguistic characteristics, immigrant population increases over time, the top states and children with immigrant parents.
Most Americans perceive illegal immigrants as predominantly Hispanic. But among the revealing insights MPI found is that illegal immigration into the U.S. is broader than many might think. Although Mexico and Central America account for most illegal immigrants (MPI estimates the total as of 2010-14 at about 7.9 million, or 71 percent of what it calculates is the overall 11 million illegal immigrant population), about 1.5 million (13 percent) are from Asia; 673,000 (6 percent) from South America; 432,000 (4 percent) from Europe, Canada or Oceania; 353,000 (3 percent) from Africa, and 232,000 (2 percent) from the Caribbean.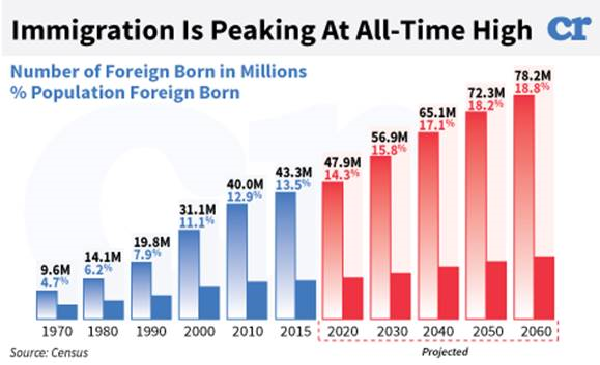 About 27 percent of the nation's illegal immigrants live in California. The top five countries of birth for illegal immigrants are Mexico (56 percent), Guatemala (7 percent), El Salvador (4 percent), Honduras (3 percent) and China (2 percent).
Asian and European illegal immigrants more easily blend into society, and are therefore less often considered as unlawfully present. In 2015, the Atlantic published an article which pointed to Asians, South Koreans and Indians as the fastest growing groups of illegally present U.S. residents.
A reason for the increase, according to Marc Rosenblum an MPI researcher who the Atlantic cited, is that as economies thrived in China, South Korea and India, more people could afford to travel to the U.S. both legally and illegally. Tens of thousands who came legally eventually overstayed their visas, and became illegally present.
In 1990, an estimated 28,000 illegal immigrants were Indian nationals. Now, the Indian total has risen to more than 284,000. During the same period, similar spikes in illegal immigration from South Korea and China have occurred during the same period.
To help curb visa overstays, the main cause of illegal immigration from Asia, Europe and Canada, the Trump administration must implement an entry-exit system, congressionally enacted 30 years ago, and pass mandatory E-Verify to ensure that only citizens or legally authorized workers hold American jobs.