Illegal Workforce Isn't Enriching California
Published on September 12th, 2014
"Nearly 1 in 10 California workers is in country illegally, study finds," per a recent Los Angeles Times headline.
The study, which notes that an estimated 2.6 million illegal aliens live in the state, was authored by researchers at the University of Southern California (USC) in conjunction with the California Immigrant Policy Center (CIPC). This finding would alarm many people, but not the researchers. They maintain that the huge size of the illegal workforce is proof that it is indispensable to the well-being of the state's prosperity.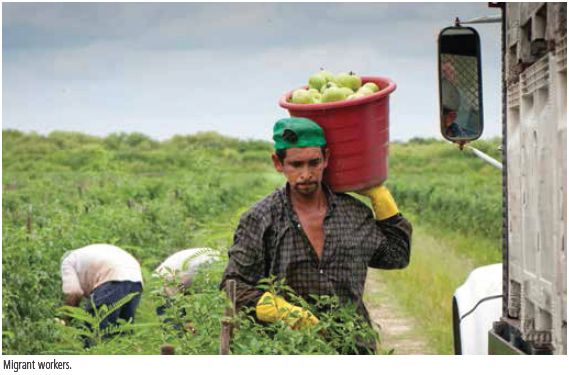 To support this view, the researchers state that the illegal workforce adds $130 billion annually to California Gross Domestic Product (GDP). This claim may well be true, but it doesn't prove their point at all. GDP basically refers to the size of a country's economy, which correlates with the size of its population. This measure provides little insight into whether the citizens of the country are generally prosperous. The best way to do that is to determine per capita GDP.
To illustrate, using statistics from the World Bank, the GDP of Mexico, $2 trillion, is more than four times the size of Switzerland's GDP ($434 billion). Nevertheless, Switzerland is a much more prosperous country with a per capita GDP of $53,705, a level more than three times the per capita GDP of Mexico ($16,463).
Mexico has a large GDP significantly because it has a large population. But Switzerland, small in numbers, is more prosperous because it has a much more educated and skilled population, one capable of maintaining a technologically advanced economy.
The flow of immigration to the U.S. (legal and illegal) on average is not bringing us people who increase our per capita GDP. The consequence is that, in the words of Robert Rector at the Heritage Foundation, we are "importing poverty." This is particularly evident in California, the state with the largest number and percentage of immigrants. Decades ago, before mass immigration took off, the state was prosperous with a strong middle class – in many ways resembling Switzerland. Today, California is beginning to look like Mexico, with a small prosperous elite on top, and beneath them masses of people near and below the poverty level.
Interestingly, the USC/CIPC study itself revealed one of the negative economic consequences of illegal immigration when it noted that almost 60 percent of illegal aliens do not have health insurance. As a consequence, they impose a significant tax burden on citizens of the state.
Despite that cost and other liabilities, the study would have us believe that that deporting illegal aliens would be unthinkable because it would cripple the sectors of the economy where a lot of them work. But there are many unemployed Americans who could fill those jobs if the illegal aliens departed. Indeed, their departure would tend to increase wage levels which would make the vacated jobs attractive to citizens.
One exception might be agriculture where, as the study notes, 38 percent of workers are illegal aliens. If it is true, as some claim, that it is impossible to recruit enough American farm workers, there is still an alternative to employing illegal aliens. That is mechanization.
Planting and harvesting technology is now on the brink of eliminating a great deal of the backbreaking labor now employed in agriculture. California is set to lead the way. Mechanization over time offers great improvements in efficient production. But standing in its way is continuing reliance on easy-to-obtain labor from illegal aliens. If that supply of labor were restricted, mechanization would move forward.
Illegal immigration is not helping California's economy, as even a cursory study of the USC/CIPC study will reveal.