Lack of Enforcement, Lure of Amnesty Help Spike Unaccompanied Minors' Crossings
Published on April 1st, 2014
President Obama recently ordered Department of Homeland Security Secretary Jeh Johnson to investigate methods by which deportations, the few that actually occur, could be handled "more humanely." Nevertheless, protest demonstrations continue. Many feature young children who, no coincidence, are wearing "Don't Deport My Mom" T-shirts and American flag bandanas which open borders lobbyists likely bought for them.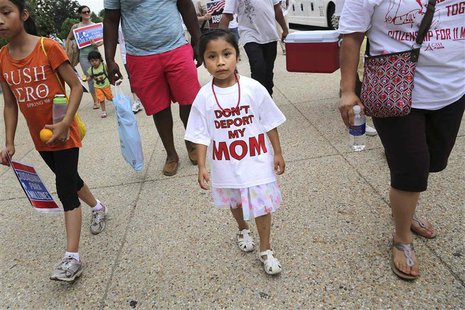 "Don't deport Mom" is part of the broader "Stop Breaking up Families" mantra that's played so well with mainstream media journalists. In many cases, however, aliens voluntarily chose to separate families, either when the father travels north or the family sends a child ahead.
Unaccompanied minors' illegal border crossings are on the rise. The Department of Health and Human Services estimates that in 2014 about 60,000 unaccompanied minors will be caught trying to enter the U.S. , an increase of 815 percent over three years.
According to the Division of Children's Services, a federal agency which provides care and placement for children who come to the U.S. without adult guardians, most of the minors are older than 14 and come from Guatemala (37 percent), El Salvador (26 percent), Honduras (30 percent), Mexico (3 percent) and Ecuador (2 percent). Three out of four are boys.
U.S. District Court Judge Andrew S. Hanen says that because border agents can't keep up with the spike in unaccompanied minors' crossings, DHS resorts to "delivering the minors to the custody of the parent illegally living in the United States."
The obvious and better solution would be to return the minors to the family members they lived with in their native countries and deport the alien parent. Hanen, although sympathetic to the parents, considers DHS's role as "encouraging" the dangerous practice.
The White House's refusal to enforce existing immigration law is the largest contributor to ongoing illegal immigration and the potentially tragic consequences of sending children across the border where smugglers might kidnap and mistreat them.
The prospect of a blanket amnesty has also increased aliens' willingness if not their eagerness to take risks.