By Land and by Sea, Cubans Arriving in Record Numbers
Published on February 23rd, 2015
Since President Obama announced his executive immigration action last November, critics warned of harmful short- and long-term consequences. Most of the immediate focus is on the 5 million aliens who will be rewarded for their lawless behavior with work permits, Social Security cards and welfare benefits, while citizens and legal immigrants who will have to compete with them for scarce jobs will be punished.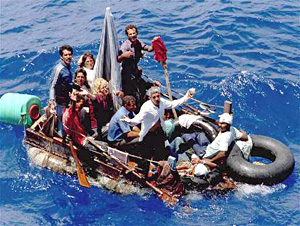 Why take a rickety raft when the
Mexican border is wide open?
Less attention is given to detractors who insist that, historically, amnesty drives more illegal immigration, and that Obama's executive order is certain to do the same. In 1986, when the Immigration Reform and Control Act became law, the United States had about 2.5 million illegal immigrants; in 2015, after three decades of unabated illegal immigration and dwindling enforcement, the estimated alien population is 12 million.
As reported in the Miami Herald, Customs and Border Protection records show that, to date in fiscal 2015, at least 6,489 Cuban aliens arrived through the U.S.-Mexico border. Apparently, news of the unchecked Central American summer surge reached Cuba and sent this message: get to Mexico, walk across the border and wait for Obama's amnesty. Many Cubans were also anxious to enter the U.S. before normalization with Havana might bring about the end of the 1996 Cuban Adjustment Act that allows certain refugees to qualify for expedited permanent residency.
In all, according to the Nuevo Herald, more than 20,300 Cubans arrived in or attempted to enter the U.S. during fiscal 2014. Since Obama promised executive action in January 2014, many were probably encouraged to make their journey before the president's November statement.
Since the U.S. is literally giving away the store to aliens – jobs, welfare benefits, free education, protection from deportation and an eventual path to citizenship – expect illegal immigration to reach highs during 2015.