Microsoft Layoffs Disprove Worker Shortage Claim
Published on August 6th, 2014
The 18,000 laid off Microsoft workers might take cold comfort in the moribund 2013 Gang of Eight Senate bill. Had it become law, as Microsoft founder Bill Gates so fervently hoped it would, the recently unemployed would compete in an ever-shrinking job market. S.744 would have admitted 150 percent more H-1B and other employment-based foreign-born guest workers than the total of projected new IT jobs created every year.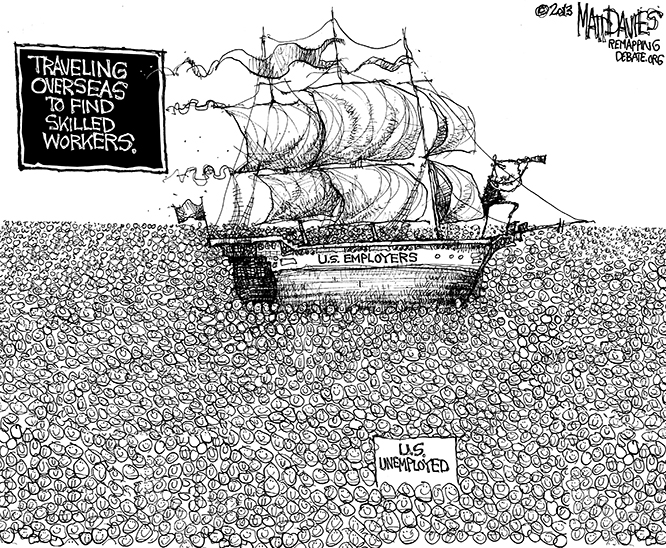 As harsh as the 18,000 figure is, the total Microsoft unemployment picture is grimmer. Forbes reported that Microsoft also plans to reduce what it refers to as "external staff" that includes people who work on company projects through outside vendors. A 2009 analysis placed the number of external staff at about 80,000.
The mass firings should be a wakeup call for comprehensive immigration reform enthusiasts. At the same time, the deep Microsoft cuts should set off alarm bells throughout Congress about Silicon Valley's credibility when they whine about worker shortages.
Gates has lobbied for higher caps or no caps on H-1B visas for years. In 2007, Gates implored the Senate to eliminate the H-1B visa cap, then set at 65,000, and recommended an expanded number be issued. Gates reiterated his demand for more visas in 2008 when, in front of the House Committee on Science, Space, and Technology, Gates claimed that the U.S. has a "critical shortfall of skilled scientists and engineers."
Just a few days before the mass firings, Gates and his fellow billionaires Sheldon Adelson and Warren Buffet co-authored a New York Times editorial titled, "Break the Immigration Impasse," that pleaded with Congress to pass immigration reform even though several nonpartisan reports have concluded that unemployment among engineers is high.
After hearing about the Microsoft layoffs, Senator Jeff Sessions delivered a damning indictment of "super billionaires" Gates, Aldeson and Buffett. Mockingly, Sessions said that Microsoft wasn't in his morning newspaper because they announced wage hikes in an effort to hire more skilled employees, but rather because it severely cut its staff. See Sessions' Senate floor speech here.
Silicon Valley insiders predict that jobs cuts "of ordinary workers" in tech will continue and be severe. Nevertheless, expect the push for expanded visa quotas to continue. High-tech titans perceive lobbying as a solution to the growing lack of evidence, especially considering the huge Microsoft layoffs, that justifies their false labor shortage claim.