More Immigration Would Undermine Obama Goal to End Income Inequality
Published on March 18th, 2014
President Obama's newest hobbyhorse is income inequality. But his other pet project, passing a massive immigration bill to legalize 12 million illegal immigrants, double legal immigration within the first decade, and permanently double the flow of low-skilled non-agriculture workers would increase the ever-widening gap between the rich and the poor.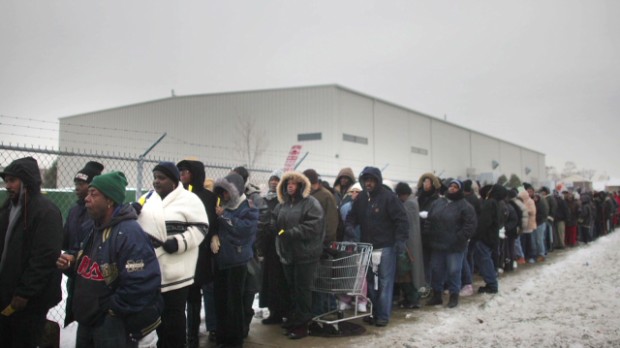 In his recent New York Times blog, Charles M. Blow summarized the all-too-familiar statistics that show the growing disparity between the rich and the poor. Citing a January International Monetary Fund Policy Paper, Blow wrote that America's rich keep getting richer while the poor get progressively poorer. America's poverty rate is stuck on 15 percent; among children, 22 percent.
The link between immigration, the children of immigrants and poverty is undeniable. In its study based on the 2011 Current Population Survey, the Center for Immigration Studies found that among immigrants who have been in the U.S. for five years or less, 28 percent live in poverty (versus 12 percent for native-born); 51 percent live in or near poverty (versus 29 percent for native-born), and 49 percent share in the lowest wage quartile (versus 23 percent for native-born). The CIS report further shows that the share of immigrants in or near poverty (under 200 percent of the poverty threshold) is significantly higher for immigrants than natives at every age. Overall, 19.9 percent of immigrants compared to 13.5 percent of natives lived in poverty in 2010.
Legal status doesn't guarantee an end to poverty. When the UCLA Labor Center studied 2009 wage violations, it found that foreigners in general were more likely than native-born workers to be paid less than the minimum wage. The study also found that foreign-born workers who are legal residents were almost twice as likely as American-born employees to be paid less than the minimum wage.
The Senate and House bills assure that the U.S. will continue to import poverty. In the Senate bill, the new W visa would allow employers to bring 220,000 low-skilled workers into the country. According to The Wall Street Journal, mushroom farmers, assisted living facilities and nurseries are among those who lobbied for the W visa. With a larger cheap immigrant labor pool, those employers and others who pay low wages could displace their American staff.
Obama can't have it both ways. His huge immigration bill would undermine the significant challenge he faces to end, or at least reduce, income inequality.