The Onion: We Must Preserve The Earth's Dwindling Resources For My Five Children
Published on May 17th, 2016
Since its origins in 1988, the satirical online "news magazine" The Onion has evolved into one of America's sharpest-witted purveyors of fake news. Sometimes fake news and satire get closer to the truth – as does other fiction and mythology – than real new channels and newspapers do, with all their biases, blinders, limitations, constraints and, nowadays, political correctness.
Telling It Like It Is…
"Brenda Melford" of The Onion believes we have an obligation to save the Earth's disappearing natural resources to allow her and all of her many descendants to breed and consume to their heart's content, generation after generation after generation.
I recently came across a humorous parody in The Onion of an op-ed which shows how both overpopulation and overconsumption are at fault for overburdening the Earth. It's called: "We Must Preserve The Earth's Dwindling Resources For My Five Children." Its author is one "Brenda Melford."
More than anything I've ever read on the pages of the Los Angeles Times, The New York Times, The Washington Post, Time magazine or even Scientific American and the journal Science for that matter, The Onion's parody lays bare the utter illogical incongruity of our society's reigning ethos that the freedom to breed without limit and the freedom to consume without limit are somehow sacrosanct.
At the outset of her op-ed, Brenda exhorts us to think unselfishly of the Earth's future:
"…not for ourselves, but for those who will inherit what my husband and I leave behind when we're gone. If we do not join together and do what's best for this, our only planet, there may not be an environment left in which my five children, and their 25 children's 125 children, can grow up and raise large upper-middle-class families of their own."
Deck with a view: Brenda Melford laments that with unchecked suburban sprawl,
this lovely, unspoiled view will soon look like…
She reminds us that her descendants' modern American lifestyle – which former Vice President Dick Cheney once insisted was "nonnegotiable" – is at stake.
Brenda asks us to picture a nightmarish world bereft of wilderness for her son Dylan to explore in his muscular, gas-guzzling off-road-vehicle. One in which water shortages would deny her handsome son Connor his self-indulgent, half-hour showers two times a day, and prevent her comely daughters Kimmy and Jenna from being able to blow-dry their hair for 45 minutes every morning. And one in which her son Asher, about to attend Stanford, was deprived of such basic college perks as cable TV, satellite radio, central air conditioning and massage chairs, all because greedy, short-sighted Americans had wasted and used up precious nonrenewable energy resources that future generations of Melfords are going to need.
It's just too horrible to contemplate. No wonder Brenda is so distraught. She worries that someday water shortages may deprive her children of real grass lawns, forcing them to cope with nothing but synthetic Astroturf, a poor substitute for those beautiful green, thirsty blades of living grass.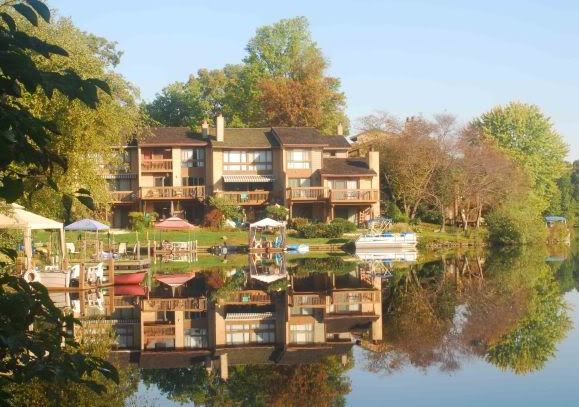 … this: a blighted lakeside crowded with condos right to the water's edge.
Poor distressed Brenda laments that encroaching suburban sprawl has already begun to spoil the Melford's lake view from the deck of their gorgeous new summer home at Lake Wakenaka. It is unthinkable that children should have to confront a cruel world without an unspoiled view of wild nature's beauty from their parents' vacation home.
Brenda urges us to get off our duffs and get to work developing safe and alternative energy sources, lest today's fuels be exhausted, and there are "none left for those who issue from my loins to burn and continue to burn for all time."
After all, Brenda reminds us, there will be tons, literally tons, of future Melfords to provide for in the future. To wit:
"I don't want my 625-odd great-grandchildren to have to wait 20 or 30 precious seconds for their toilets to flush. I don't want their 3,125 children to live in a hellish society where they cannot own their own snowmobiles. And I shudder to think that my 15,625 great-great-great-grandchildren may not be able to have TVs in every room that they can leave on all day and all night. Is it our right to deny my progeny of their gargantuan RVs and motorboats, as well? Of course not."
Brenda Melford's humorous op-ed illustrates not just myopic, laughable selfishness and self-absorption, but that when it comes to overloading the Earth with human demands, population and consumption are both inextricably implicated. They are like the length and the width of a rectangle. Both the length and the width determine the rectangle's area; you multiply one by the other.
Similarly, both population size and the amount of per capita consumption determine environmental impact.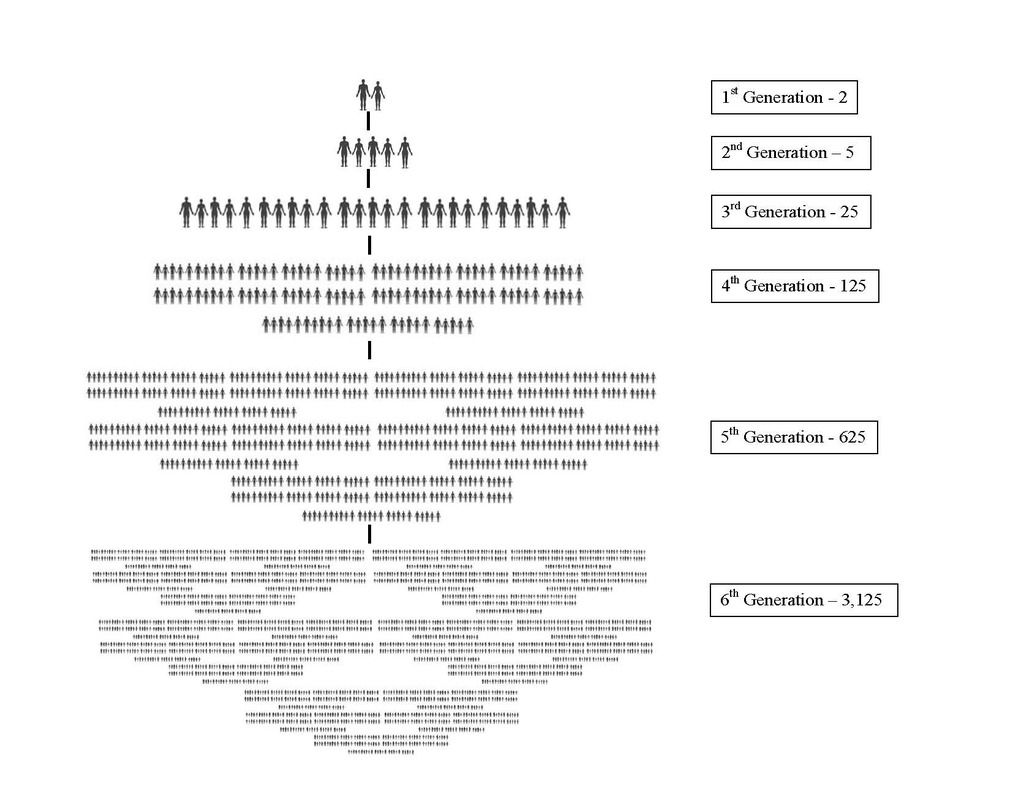 A Mass of Melfords represents the extraordinary power of exponential growth – Brenda Melford and her numerous offspring. If one couple, and each of their descendants in succeeding generations, each had five children, there would be 3,125 great-great-great grandchildren in the 6th generation.
The piece also shows how absurd it is to think the Earth can withstand exponentially increasing human demands for very long, whether from population growth or growth in wanton consumption, or in Melford's case, both.
Several years ago, two professors at Oregon State University calculated the "carbon legacy" of consumers, that is, the impact on global warming from each additional child a couple decides to have. The upshot of their research, as a 2009 article at LiveScience put it, was:
"For people who are looking for ways to reduce their 'carbon footprint,' here's one radical idea that could have a big long-term impact, some scientists say: Have fewer kids."