Population and the National Climate Assessment
Published on May 14th, 2014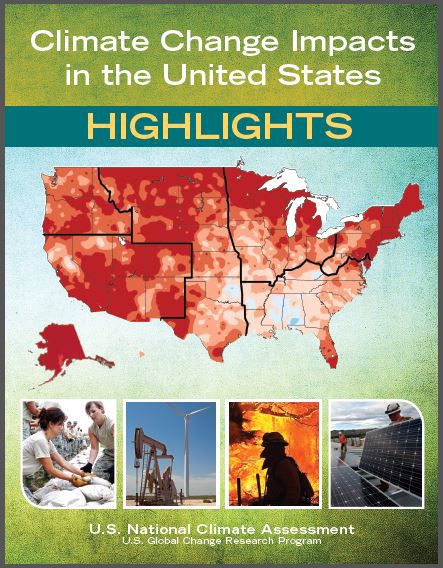 If you are a population activist, you are likely to be disappointed if you do a word search for "population" in the 148-page Highlights of the massive 841-page U.S. National Climate Assessment (Climate Change Impacts in the United States) that was released to the public the first week of May 2014.
You will see references to vulnerable and exposed populations; coastal populations; rodent, tick, and caribou populations; urban populations; poor populations; and population losses in rural areas.
What you will decidedly not see is any reference to the need to halt U.S. population growth as one crucial national-level response to confront climate change.
You will also not see any mention of the fact that in recent decades, it is population growth, not increasing per capita energy consumption, which has accounted for virtually all of our increasing aggregate emissions of the main climate change forcing gas – carbon dioxide (CO2). Nor will you see graphs of the alarming population projections for America.
Giving population short shrift is nothing new, indeed it has become par for the course among elites and powerful institutions in these United States. That it has become old hat does not make it any more intellectually acceptable or accurate.
One of the two Obama Administration officials who signed a message to Members of Congress at the front of the Highlights is John P. Holdren, Assistant to the President for Science and Technology, and Director, Office of Science and Technology Policy. Dr. Holdren is a physicist, former U.C.-Berkeley and Harvard professor, and long-time colleague and friend of Population Bomb author Paul Ehrlich.
Back in the less politically correct 1970s, in "Population and the American Dilemma," Holdren wrote:
Dr. John P. Holdren, Assistant to President Obama for Science and Technology
"That the United States should and probably can achieve a condition of zero population growth at some time in the next hundred years is no longer a matter of much dispute… I will argue here that 210 million now is too many people and [the] 280 million [projected in 1973 for] 2040 is likely to be much too many; that, accordingly, a continued decline in fertility to well below replacement level should be encouraged, with the aim of achieving ZPG before the year 2000 and a gradually declining population for some time thereafter; and that redirecting economic growth and technological change (not stopping either) is an essential concomitant to but not a substitute for these demographic goals."
Now Holdren never says anything about overpopulation, perhaps understandably, after he was falsely savaged by unhinged pro-natalists (aka the Religious Right) and Obama Administration antagonists for allegedly advocating forced abortions and mass sterilization during his confirmation hearings in 2009. It was a case study in the polarization of U.S. politics and the "cultural wars."
As we here at CAPS know all too well, elements of the Looney Left are equally unhinged in their attacks on anyone who broaches the need to reduce mass immigration.
In a section on the Southwest, including California, the Climate Assessment Highlights states that we can expect the following as the century advances:
Declining snowpacks in mountain ranges
Declining streamflows
Decreasing surface water supply reliability for cities, agriculture, and ecosystems
Reduced yields of irrigated crops from increasing temperatures and increasing competition for scarce water supplies
Increased warming, drought, and insect outbreaks
Increased wildfires and impacts and risks to people, communities and ecosystems
Californians are already experiencing each of these extreme conditions to one extent or another. And the future is likely to hold even more of the same.
But with regard to the American and global response to this issue, we will know that the climate crusaders are serious when they acknowledge that population stabilization is a key component (albeit one of many) of any viable solution.