Report Cards for California Beaches Are In
Published on May 26th, 2016
While beach quality has improved, a day there still could make you sick

Tired of the continuous affront presented by the careless, in recent years I've assumed the unofficial and decidedly unglamorous role of trash collector around our apartment building. As such, I'm acutely aware of what disregard for others and the environment deposits in its wake – endless cigarette butts, dog poop, food, wrappers, boxes & bags, beer cans and mattresses.

Just yesterday, while sweeping behind the building, I watched a man, either homeless or in character for one of the endless stream of zombie productions – hard to know – contemplate the scene for a few seconds before flinging, with particularly focused intent and gusto, a large water bottle to a spot in the alley.

So, without diligent "policing," I know all this trash of greater Los Angeles ends up in the curbside storm drains on a journey to create the greatest single source of pollution to Santa Monica's beaches and nearshore waters of the Santa Monica Bay – and the Pacific Ocean, the ultimate destination of runoff from much of Los Angeles. So I was interested in today's release of the 26th annual Beach Report Card from Heal the Bay, an environmental nonprofit working to make the coastal waters and watersheds of Greater Los Angeles safe, healthy and clean.
Santa Monica beach.

While Santa Monica has committed significant resources to educating residents about how to prevent runoff and to establishing guidelines for housing and commercial developments, as well as invested significantly with Los Angeles in structures such as a supersized storm water cistern to collect runoff before sending it on for cleaning at L.A.'s Hyperion water treatment plant, still the beach at the Santa Monica Pier ended up No. 5 on the list of worst state beaches. So there's much more to be done to divert and treat runoff.

And that's just one location in the state. Up and down the California coast are bad spots – from Humboldt, Santa Cruz and San Francisco counties in the north to San Luis Obispo County in the mid-section and Los Angeles, Orange and San Diego counties in the south. This means high bacteria counts linked to such potential illnesses as ear infections, stomach flu and major skin rashes.

The good news is that of the 456 beaches analyzed for three reporting periods in 2015 to 2016, based on levels of weekly bacterial pollution, some 95 percent received A or B grades during the high-traffic summer season of April to October, which was slightly above the five-year average statewide.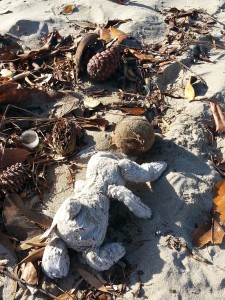 First flush: the output of storm drains
after a first big rain, Santa Monica.
Interestingly, Heal the Bay credits California's severe drought as a major contributing factor to improved water quality at the state's beaches. "With record low rainfall reducing the amount of polluted runoff funneled into our seas, beach grades across the state are consistently outperforming their averages," according to the organization. One plus to being dry as a bone?

In today's announcement, Heal the Bay remains optimistic about doing what its name says, as it ticks through the culprits of threats to coastal waters and watersheds – urban and stormwater runoff, plastic pollution, overfishing and climate change. Of course, not surprisingly, as we've often noted about environmental organizations today, Heal the Bay makes no reference to one of the biggest culprits – unsustainable population growth.

But keeping our waters clean is going to be increasingly difficult and costly as we continue piling on the people. California, now at 39.3 million people, is expected to grow to 52 million by 2060. Nationwide, according to Pew Research Center estimates, the population is expected to be 441 million by 2065, up from today's already overpopulated 324 million.
We'll need a lot more civil behavior and/or a lot more "trash police," since we don't seem to "get" the obvious linkage between environmental degradation and too many people.


See more of how the state and its beaches have changed through the years at California: Then, Now.