Verify First Act Passes House, Could Pave Way for Mandatory E-Verify
Published on June 16th, 2017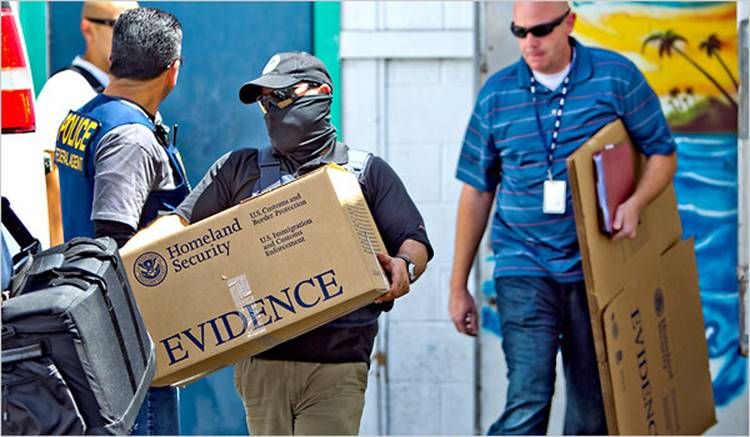 DHS officers seize evidence from suspected illegal immigrant employer.
Much-needed good news: on June 13, the House of Representatives passed the Verify First Act. HR 2581 requires the Social Security Administration and the Department of Homeland Security to verify the citizenship or legal permanent resident status of applicants who may request credits under the American Health Care Act (AHCA).

Rep. Lou Barletta (R-PA) introduced the legislation after a Senate report published last year found that the federal Treasury Department issued more than $750 million in taxpayer-funded Obamacare credits to about 500,000 ineligible aliens, despite a provision that bans them from participating. The final floor vote was 238-to-184, with seven Democrats joining Republicans to provide the margin of victory. The seven Democratic votes suggest that there will be enough support to pass a mandatory E-Verify bill. Numerous polls show that Americans overwhelmingly support E-Verify, a claim that Politifact confirmed.
E-Verify would put pressure on employers to hire either citizens or work-authorized foreign nationals. Even The New York Times agrees that E-Verify is overdue. Published in March and titled "No Crackdown on Illegal Employers," the editorial provides a timeline on stalled E-Verify legislation. Writing that employers have "relatively little risk" in continuing to hire aliens, the Times concluded that E-Verify would be more effective than a wall and less expensive than more vigorous internal enforcement.

While the Times' editorial wrongly called for a worker program that would lead to citizenship, it correctly identified E-Verify as a deterrent to hiring illegal immigrants. Please go to the CAPS Action Alert page here to urge Congress to pass mandatory E-Verify legislation to protect American jobs.