Virginia, Like California, Transformed by Continuing Unchecked Immigration
Published on May 12th, 2016
Directly on the heels of the California Department of Finance's report that the state's population increased last year by 348,000 residents, mostly from immigrants and births to immigrants, came an insightful Washington Post op-ed that also identifies immigration as Virginia's major population driver.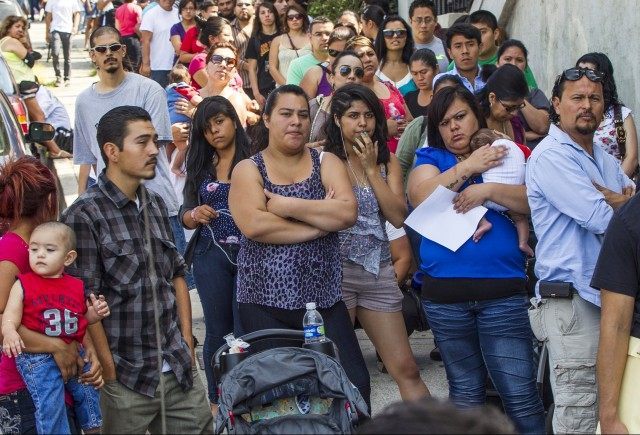 Immigration overwhelming Virginia, as
huge population surge predicted to continue.
Author Doc Woods, a member of Virginians for Quality Healthcare, wrote in his column, "Virginia Can't Afford its Population Boom," that rampant growth has destroyed public infrastructure, depleted irreplaceable resources and will eventually push living costs to "astronomical levels," problems all too familiar to Californians. In Northern Virginia, a family of four needs a $63,000 annual income to live at minimal standards.
From 1990 to 2015, Virginia's population increased 35 percent to 8.4 million residents. University of Virginia demographers predict that by 2040 the state's population will reach an unsustainable 10.5 million. Woods cites exploding immigration as the major cause of out-of-control growth. Since 1990, immigration in Virginia has increased 200 percent.
Symbolically, Virginia's rapid transformation into the new California is alarming. Jamestown, Virginia, is the first of the 13 colonies, and America's birthplace. Eight presidents were born in Virginia, including four of the first five – George Washington, Thomas Jefferson, James Madison and James Monroe.
An earlier UVA study found that, until 1970, only one in 100 Virginians was foreign-born; by 2012, one in every nine Virginians was born outside the United States. Immigration has dramatically changed Virginia's social and economic landscape, perhaps the most historic demographic makeover in such a short time period.
Here's how the Fairfax Connection, a community newspaper, described the changes. In 1970, more than 93 percent of Fairfax County's population was middle class. But by 2010, a child entering elementary school in Fairfax County would almost certainly be seated among classmates who didn't speak English as their primary language, and whose parents or grandparents immigrated from Asia, India or Africa. The story described the immigrant influx since 1990 as intense.
Over the short term, Virginia can barely manage it growth. Sprawl has overtaken farmland; schools are struggling with an English Language Learner surge, and hospitals are overcrowded. The state's 2040 future is unimaginable. One good takeaway is that the Washington Post is Capitol Hill's most well-read newspaper, and Virginia is the home state for thousands of federal employees. With luck, Wood's op-ed will open some eyes.
In the Beltway, immigration opinions are widely divergent. But even the most ardent pro-immigration advocate who looks around him must have second thoughts about perpetually admitting one million or more legal immigrants annually, and issuing countless nonimmigrant visas to individuals who may never go home.