Welcome to America … Land of Opportunities …
Published on April 24th, 2017
Dunkin' Donuts: the Schwab's Drug Store of Discovering Immigrant Talent
There may be no space remaining where the immigration debate isn't present. I noticed a smattering of immigration-related posts the other day even on LinkedIn, known more as a place for professional networking and as the go-to site to host one's business credentials.
Mark D. Copoulos, a Philadelphia attorney, garnered 34,544 "likes" and 1,179 comments on this post: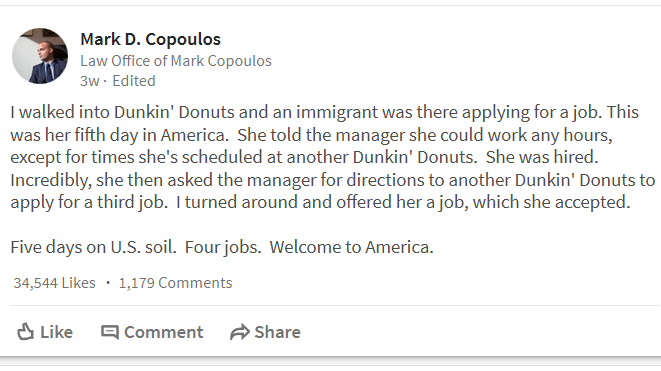 Based on this, I suppose the 2017 version of a Horatio Alger success story is being able to come to America and score four low-paying jobs within five days of arrival. Yeah! Land of opportunity!
Whether the post is real or, as some speculated, not – bait to get attention for the law firm – I don't know, but I did get drawn in by curiosity as to what sort of conversation this generated on what's supposed to be a professional site. So, knowing it's unwise to go down the trail of looking at comments (and responding), I nonetheless did.
The comments skewed towards being supportive of the post, cheerleading for newcomers (this is the "spirit and grit that has made America great") and excoriating the lazy Americans living on the dole. Put another way, the idea that immigrants work hard – will do anything – while Americans (lazy, fat, privileged, mindless, etc.) won't was a recurring theme. Looking at the comments, it's sad that the immigration issue in the U.S. has gone so far off the rails that it's turned into a "them" vs. "us" war.
Overall, comments indicated little reality-based thinking or any depth of understanding of the multiple-layered mess that underlies years of immigration policy failures. In other words, they probably are reflective of thinking of at least half the population.
Among the comments were that immigrants "should be revered not persecuted." Does that mean we need shrines and statues? And what persecution is occurring? How did I miss that story?
Also were the comments along the lines of "we are all immigrants" in the U.S. – unless you're a Native American. This one comes up so often in immigration discussions, in general, along with "the jobs Americans won't do," that it's handy to have this response here in reply.
All in all … an interesting view into how people react to immigration. Maybe attorney Mark will keep us posted on LinkedIn as to how this new immigrant, and his new employee – on pace to work an inordinate number of hours – works out, and share what he hired her to do. And if she's a legal or illegal immigrant. Just curious.