ACLU: Stop the border enforcement talk on amnesty!
Published on December 12th, 2012
News flash for fact-sheltered Americans: The goal of the illegal alien lobby is open borders. And the American Civil Liberties Union offers positive proof.
The anti-enforcement lobby wants the American public to believe that if Congress repeated the one-time amnesty, as President Ronald Reagan promised it would be, the United States' illegal immigration problem would be solved forever.
As someone who has for nearly a decade worked toward striking a balance between American immigration policy and employment law, including combating the well-funded ACLU (the group and its foundation reported income of $109 million in 2011), I have a slightly used bridge for sale for anyone who believes the dangerous fairytale that amnesty is the answer.
The ACLU's objective is open borders and to stop immigration law enforcement that may hinder its goal. Since the press doesn't expose the ACLU agenda, many citizens are unaware.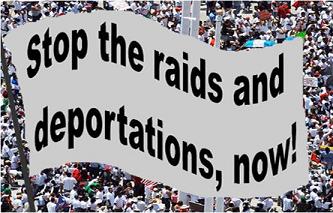 The ACLU's position is that borders and immigration laws are evil, unfair and… wait for it…racist. While the ACLU and its supporters stage protests demanding to stop federal raids and deportations, the organization also has an ongoing, well organized effort to end local law enforcement, namely 287(g)*, that identifies aliens in local jails. Then, the ACLU hypocritically cries that immigration enforcement is strictly federal responsibility.
Use of expanded local authority covered under 287(g) has resulted in the identification and deportation of illegal aliens arrested for crimes nationwide. In Georgia, for example, an early 2009 26-day 287(g) trial run in suburban Atlanta's diverse Gwinnett County revealed the danger aliens often pose to the community.
During that short period, ICE placed detainers on 914 foreign-born county inmates in order to begin deportation proceedings. The 287(g) system revealed that 68 percent of the foreign-born incarcerated population resided in the U.S. illegally.
Fifty-four percent of the 914 had a previous criminal history. The vast majority had previous criminal records in Gwinnett County: Thirteen faced murder charges; 15, rape; 23, child molestation; 28, armed robbery and kidnapping; 11. Since those statistics were discovered, Gwinnett County has used 287(g).
Incomprehensibly, the ACLU's Detention Watch Network rallying cry is that the 287(g) program makes the community less safe and is, predictably, racist. You can see an ACLU Detention Watch letter to Obama demanding an end to 287(g) here.
Another federal enforcement program used to identify locally jailed aliens is Secure Communities which fingerprints all incoming prisoners and then forwards them to DHS to check for immigration violations. The ACLU is vehemently opposed to that common-sense program as well.
The newest – and perhaps the most brazen – demonstration of the true ACLU immigration agenda came from a Pearl Harbor Day email sent out by the ACLU of New Mexico's Director of its Regional Center for Border Rights, Vicki B. Gaubeca. In the apparently nationwide email to supporters, Gaubeca asked for help in gathering signatures on a letter to Obama demanding an end to border enforcement as part of any comprehensive immigration reform negotiations. Or as Gaubeca wrote: a reform plan that "stops the senselessness of continuing to build a border enforcement regime."
If the ACLU policy were implemented, it would be carried forward even in the event of an amnesty, thus resulting in truly open borders.
The complicit media will never write about the ACLU letter because its contents would shock the public and damage the administration's chance to pass amnesty. But you can, as I did, send the damning letter to your Washington D.C. House and Senate representatives. In the meantime, the ACLU will keep pushing its radical platform.
*The 287(g) program, one of ICE's top partnership initiatives, allows a state and local law enforcement entity to enter into a partnership with ICE, under a joint Memorandum of Agreement (MOA). The state or local entity receives delegated authority for immigration enforcement within their jurisdictions.