Big Island Reality: Population Pressures Everywhere
Published on July 6th, 2017
Within less than an hour after deplaning at the Kona International Airport on Hawaii's Big Island, tourists who may have envisioned an island paradise retreat will get a rude reality jolt. Exiting the airport, and getting onto the main highway, the traveler will encounter traffic that stretches for miles in all directions.
Welcome to nirvana, with footnotes.
The beaches, tropical breezes and swaying palms are great. But in more fundamental ways, Hawaii is struggling with the same overpopulation-created challenges as are stateside cities and counties.
Over the two-year period from 2012 to 2014, Maui County's population grew faster than any other county in Hawaii, and the state of Hawaii as a whole had one of the United States' fastest-growing populations, according to U.S. Census Bureau data. Hawaii's population grew to 1,419,561 residents in 2014, up from 1,404,054 residents in 2013, a 1.1 percent increase which ranked it 13th among the 50 states for population growth.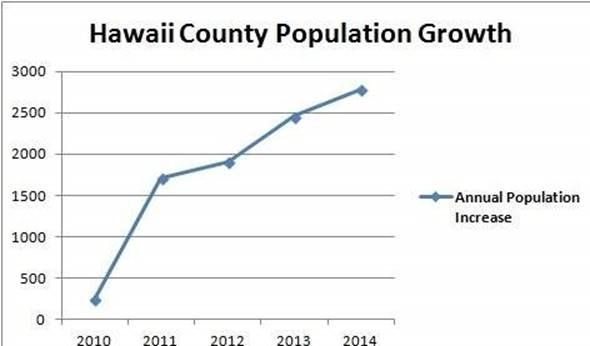 Aging Hawaiians represent one of the most prominent features of the upward population growth trend. The share of the population 65 years and older increased from 8 percent in 1980 to 14.5 percent in 2010, and is predicted to increase to 23.6 percent in 2040. Health care demands will steadily increase too. And, just as it does in all the states where overpopulation has created societal challenges, Hawaii is now unsuccessfully coping with increased traffic, homelessness and crime.
Specifically to crime, law enforcement has its hands full. In a recent week, authorities arrested four people in connection with a 71-year-old man's murder, the court sentenced a woman to life without parole for stabbing a resident of a mental health group home, and pursuant to an ICE Homeland Security Removal Investigation probe, a child predator and trafficker in child pornography began his ten-year sentence.
The mission statement of Californians for Population Stabilization stresses the benefits of lower population to preserve the environment and to maintain the highest possible quality of life for all people. It's a message that Hawaii and the union's other states should heed.