Brazen Marriage Fraud: Cuban Woman Marries Ten Men within Ten Years
Published on August 26th, 2016
Cuban Yosandra Piedra Vasquez has been busy. During the 10 years between 2002 and 2012, she accepted cash to marry ten illegal immigrants who hoped to get legal status through fraudulent union.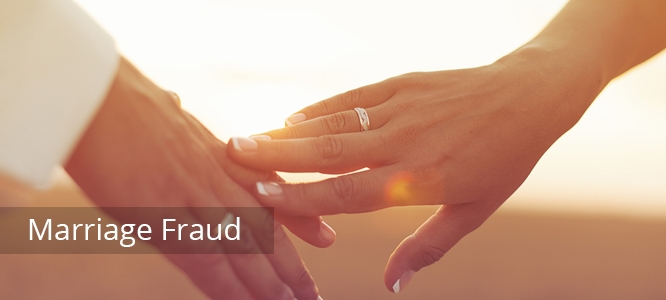 Crack down on marriage scam artists; deport and bar them from re-entry.
Because of fine print in the Cuban Adjustment Act, foreigners who wed a Cuban in the United States get U.S. residency faster than if the foreign national weds a U.S.-born American. Vasquez's partner, Yoel de Moya Lozada, acted as a matchmaker. The two women have been indicted on charges of conspiracy to defraud the U.S. and conspiracy to encourage and induce an alien to reside unlawfully in the U.S., crimes that carry fines and a prison sentence.
The takeaway from Vasquez's not-so-romantic saga: The Cold War-era 1966 Cuban Adjustment Act should be terminated immediately. The ridiculous Cuban wet foot, dry foot policy would die with it as would the preposterous loophole that incentivizes marriage fraud, a felony that includes among its other risks heightened terrorism threats.
According to Immigration and Customs Enforcement, U.S. citizens who enter into fraudulent marriages could grant their foreign spouse access to sensitive, personal information including, but not limited to, bank accounts, safe deposit boxes, retirement and investment accounts, personal identity information, and family heirlooms. Granting the right to use private information could lead to citizens' significant financial loss.
ICE continues: Terrorists and other criminals can use marriage fraud as a vehicle to enter the U.S., often with the citizens' cooperation. Foreign nationals can then hide their identity, gain unlawful employment, access government buildings, and open businesses to conduct further criminal activity. Marriage fraud participants may, knowingly or unknowingly, aid terrorists, foreign intelligence or other criminal organizations and will be held accountable.
Marriage fraud played a crucial role in the 2015 San Bernardino shootings. Read the association that fraudulent groom Enrique Marquez, Jr. had with terrorist murderers Syed Rizwan Farook and his wife, Tashfeen Malik, here.
Although ICE is aware of marriage fraud and the dangers related to it, the agency does a poor job of cracking down – just like its failures in other areas of immigration law enforcement. More can be done to eliminate scam marriages. An immigrant found to have committed marriage fraud can be removed from the U.S. If he or she still holds a nonimmigrant, temporary visa, it would be revoked. In addition, the fraud would remain on the person's immigration record, making it almost impossible to obtain any type of U.S. visa or a green card.
Deport, revoke, fine or any combination of the three might cause marriage fraudsters to think twice. But with total deportations at a historic low, and since the Obama administration certainly views marriage fraud as a low-priority (for removal) immigration offense, the cons will continue.