California Adds Nearly 360,000 People to the State
Published on May 4th, 2015
Numbers and math very much govern our daily lives. What's the temperature outside today? That "number" determines our choice to wear a tank top, shorts and thongs, or a wool sweater. While EV drivers are notorious for how closely they monitor their onboard gauges (numbers) to maximize their battery power, most of the rest of us don't get on the road without checking to see if our gasoline level is closer to "full" or "empty."
And most of us, unless we're "stupid rich," check prices when we're shopping for groceries, clothing, appliances, cars, schools, vacations and housing – basically anything – to determine whether or not to make that purchase based on what's in our bank account.
That seems so fundamental that you'll ask why I'd even devote this many words to something so obvious. Well, our basic understanding of numbers in our day-to-day lives no longer appears to carry over to the collective. A most audacious example was when former Vice President Dick Cheney said that "deficits don't matter."
Other examples of a disconnect on numbers are found in GDP, housing starts, factory orders or population – basically growth of any kind. In the mode of Gordon Gekko, "Growth is good" is the mantra, seemingly without thought, analysis or insight – no understanding of what the "numbers" really mean, what's behind them and what are their implications now and in the future.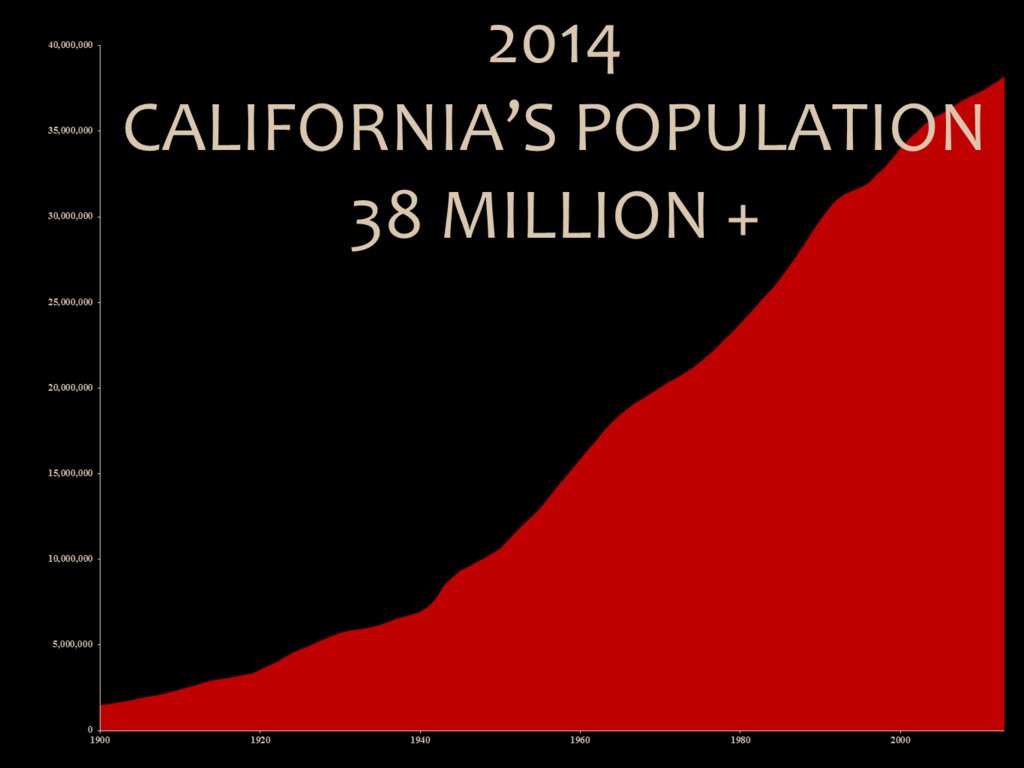 A few days ago, the California Department of Finance released 2014 population growth numbers for the state. In just one year, California has grown by 358,000 people.
For some perspective, the entire state had a population not much more than what we grew by last year – back in the old days – think 1860. As the graph shows, California has done nothing but grow since.
Put another way, growing by 358,000 is like adding another Bakersfield, New Orleans or Tampa.
But, will we hear any call to slow growth? Except for the small band of populationists, it's unlikely. In fact, a quick glance at the media coverage as a result of the press release yielded pro-growth cheer, including "San Jose among California cities with healthy population growth," and certainly no headlines along the lines of "California Continues on Unsustainable Growth Path."
Here are other "nuggets" from the release:
Los Angeles added 43,000 people last year, bringing the population of the state's largest city to 3,957,022. Given our loss of interest in enforcing immigration law and knowing that for years now immigration – both legal and illegal – has driven population growth in California, topping 4 million soon certainly won't be any surprise (assuming the "numbers" are right, and we're not there already).

Taft was the state's fastest growing city in the state, increasing by 6.3 percent. Taft's growth is all attributable to the reopening of a correctional facility. Nevada City also grew fast (4.1 percent), also thanks to a criminal increase – more folks in the county jail population. This definitely is undesirable growth!

California's total population now is 38,715,000. Just since 1980 – only 35 years ago – the state has added more than 15 million people. You can go through the long list of reasons why this type of growth is unsustainable, or you can just think of one right now: water.
If your eyes are bugging out just about now and you're wondering what you can do with this information, a few suggestions follow:
Share this post with 25 friends, family and colleagues, and ask them to then share with 25 people. If they live in California, ask them to each write a letter to their hometown newspaper and voice their concern about the state's perpetual growth, with no end in sight. If they live outside California, ask them to do the same, but use California as an example of where their state could be headed without more action to limit growth. Per the old adage: As goes California, so follows the rest of the country.

Ask them to take a look at California: Then & Now at the CAPS website to see how the Golden State has been negatively impacted by too much growth since 1940.

Take Action by calling on Congress to stop chain migration. This alone would reduce growth through immigration by about 1 million in ten years.
It's definitely time to kick out the "growth is good" mantra and start talking sustainable growth.