Finally, California's Brutal Drought is Over
Published on May 3rd, 2017
What Next?
At long last, a winter of record-breaking rainstorms and Sierra Nevada snowstorms has vanquished California's record-breaking drought. It took record precipitation to break the back of record dryness.
But two things remain certain: California will experience another drought in all too few years' time, and incessant population growth in the state ensures that the next drought will mess with even more lives than this last one did.
Super-bloom in Anza-Borrego Desert State Park in
Southern California, March 2017.
There is also one massive, lingering uncertainty hanging over the state like the Sword of Damocles: Is climate change worsening and lengthening the droughts that have always plagued California? A corollary: was this past winter a sign of increasing climate volatility and extreme weather events? The fate of the state hangs in the balance.
In the meantime, drought-weary Californians are reveling in the sight of more lush greenery, colorful flowers, and vibrant, growing plants than they've seen in years. Even the sunbaked, sandblasted deserts are all abloom with flamboyant wildflowers, taking advantage of the proverbial good times while these ephemeral moments last.
In March, multitudes flocked to see the "super-bloom" carpeting the desert floor of Anza-Borrego Desert State Park northeast of San Diego, south of Palm Springs, and west of the Salton Sea, after six inches of rainfall soaked into its arid, sandy soils this past winter.
In early April, Governor Jerry Brown signed an executive order lifting California's drought emergency that had been in place since 2014. Still, Brown cautioned," Conservation must remain a way of life." Whether or not Californians will embrace Brown's call to conserve water even when it is temporarily abundant is unclear; past experience in California and elsewhere casts doubt.
Enterprise Bridge crossing over Lake Oroville in 2014 and 2017.
Photographer Justin Sullivan has captured images of California in the depths of drought and now in the rapture of recovery.
As immigration remains at near-historic rates, and the number of water users in California continues to climb in the years ahead to 40 million, 50 million and beyond, more and more demographic pressures will be piled onto the limited stocks and flows of the state's most precious natural resource. The numbers of straws, pipes, pumps and wells sucking on constrained groundwater and surface water supplies will continue increasing. Agriculture will continue to be squeezed out of the state – both from losing its reliable water supplies to municipal users able to pay more for water – and from urban sprawl and land development, chewing away year after year at productive farmland in the Central Valley and elsewhere. The amount of cropland in California shrank from 10.5 million acres in 1982 to 9.1 million acres in 2012, and this trend will continue.

Dog-walking in Bernal Heights Park with San Francisco behind, 2014 and 2017.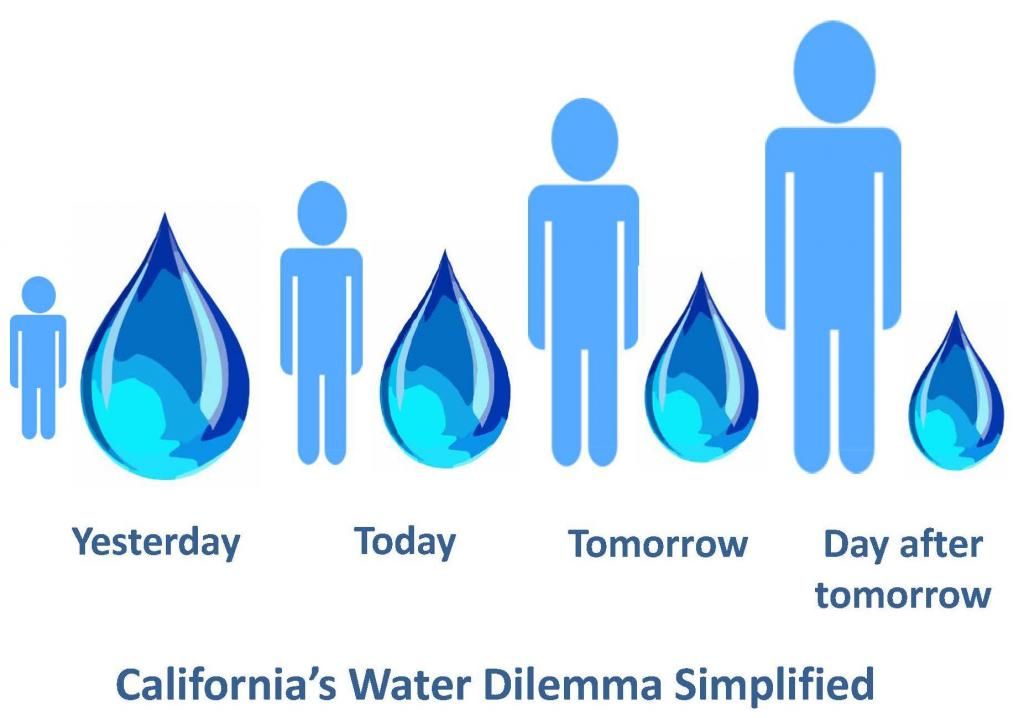 When the next drought comes, as it surely will, by the 2020s, if not sooner, the increased number of people dependent on water ensures that the next severe drought will have even more punishing effects than this last one.
Let's hope this isn't California's future.
And that's not even considering the distinct prospect that as the current century progresses, most of California will continue to dry out due to climate change (as predicted by climate modelers). This could foster the proliferation of massive desalination plants all up and down the California coast if the state is to continue to have enough fresh water to sustain any population at all, to say nothing of prosperity and a suitable quality of life.