Freeeways or Parking Lots?: Los Angeles Has Nation's Worst Traffic Congestion
Published on May 16th, 2013
For most Californians, freedom of the road is nothing but a sad memory. And with the state's population continuing to grow as tenaciously as a tumor, this sad memory is fast morphing into a cruel joke.
Los Angeles has reclaimed the dubious distinction of having the worst congestion of any metro area in the United States, according to INRIX, a traffic information and services provider.
It's not an honor that will give Angelenos bragging rights. Misery loves company is more apt. And with a growing population of 18 million in the greater LA metro area, there's no shortage of company to commiserate with!
INRIX's recently released 2012 Traffic Scorecard compared congestion in the nation's 100 largest metropolitan areas. In the top ten worst traffic cities, INRIX found that on average, drivers wasted 42 hours in 2012, equal to a week's vacation. Long-suffering LA commuters wasted even more time – 59 hours, almost a week and a half of vacation. But hey, shouldn't Angelenos be glad they're already in one of America's most popular vacation destinations?
During a typical rush hour commute on the San Diego Freeway (Interstate 405) in LA, traffic crawled along at just 14 mph – only ¼ of the designated speed limit – adding 26 minutes to what is supposed to be an 8-minute drive.
In spite of its well-deserved reputation for spreading out across an enormous area, LA also has one of the highest population densities of any American city. And not surprisingly, INRIX reports that population density exacerbates traffic congestion. Indeed, of the 10 metro areas with the highest population density in 2010, fully six ranked among the nation's 10 most congested areas.
Overpopulated California claimed three spots in the Top 10 Worst Cities for Traffic in America in 2012: Los Angeles (#1), San Francisco (#3), and San Jose (#7). But wait, there's more! California also boasted a chart-topping five road segments in the country's Top 10 Worst Roads for Traffic in 2012:
#2. San Diego Freeway (I-405) – Consistently jammed in both directions, I-405 is LA's worst freeway.
#4. Santa Monica Freeway (I-10) – It can take drivers over an hour to negotiate the 15-mile stretch from Lincoln Blvd. to Alameda.
#5. Riverside Freeway (CA-91) – Drivers waste approximately six days per year on this gridlocked road. (Been there, done that!)
#8. San Diego Freeway (I-405 again) –A 13-mile stretch up to Getty Center Drive takes 40 minutes.
#10. Santa Ana/Golden State Freeway (I-5) – An 18-minute trip on this 17-mile stretch takes almost 50 minutes on weekday afternoons.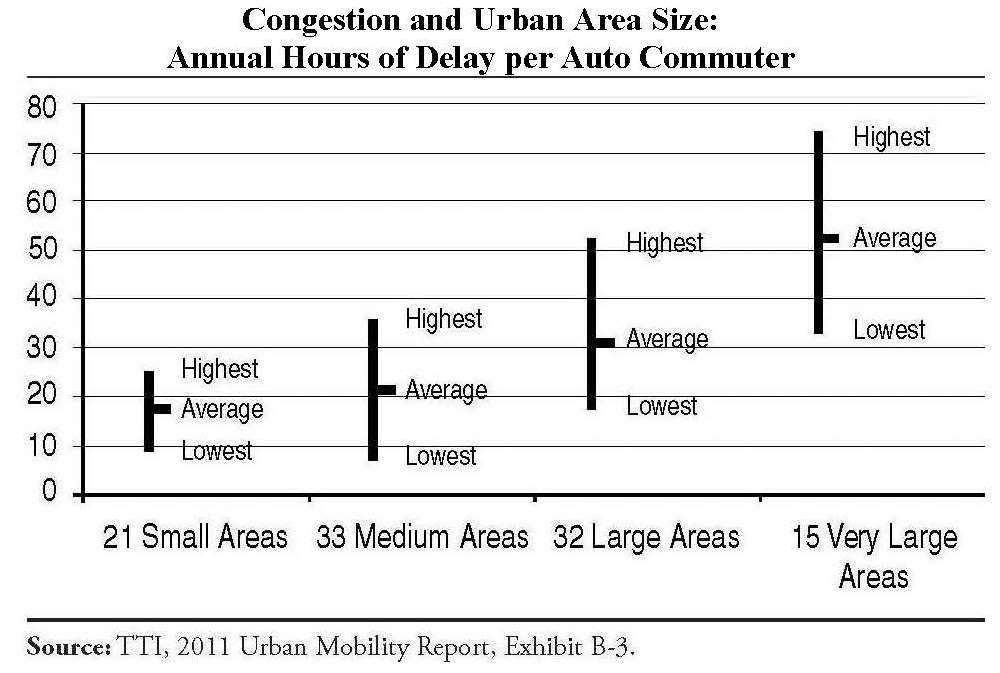 In recent decades, congestion has worsened dramatically as the numbers of people and vehicles have grown faster than roadway capacity. More and more motorists are trapped in traffic gridlock breathing one another's tailpipe exhaust. When I was stuck on the Southland's infamous freeways, the snow-capped San Gabriel Mountains above the smog hovered like a vision of unattainable heaven – and of a bygone California.
The Texas Transportation Institute (TTI) also studies traffic congestion nationally. TTI's 2011 Urban Mobility Report concluded: "Traffic congestion levels have increased in every area since 1982. Congestion extends to more time of the day, more roads, affects more of the travel, and creates more extra travel time than in the past."
Traffic congestion is worse in larger cities than in smaller ones, as shown in the following graph comparing congestion and city size.
For most Californians, freedom of the road is nothing but a sad memory. And with the state's population continuing to grow as tenaciously as a tumor, this sad memory has fast morphed into a cruel joke.