Georgie Anne Geyer: Journalist with a heart…and a brain
Published on February 29th, 2016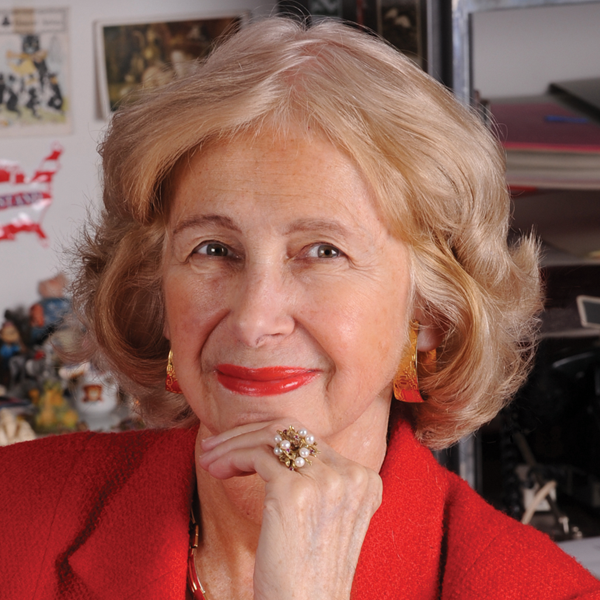 Georgie Anne Geyer
In a journalism career now spanning more than half a century, Chicago native Georgie Anne Geyer has worked as a reporter, foreign correspondent and syndicated columnist. She also has been a pioneer in a traditionally male profession.
Geyer is one of the few prominent journalists – Bonnie Erbé of PBS's program To the Contrary and syndicated columnist Froma Harrop are two others – who actually pay attention to issues surrounding immigration, population growth, natural resources and the environment.
These three media doyens get it.
And what is "getting it" in this context? Simply put, getting it means a willingness to acknowledge and accept limits: limits to population growth, limits to immigration, limits to natural resources, limits to the ability of technology to furnish "techno-fixes" to every problem, limits to compassion. Limits to our social and societal capacity to assimilate newcomers and limits to the environment to assimilate human and industrial wastes.
It never ceases to amaze me how few other contemporary reporters, journalists, columnists, TV and radio hosts, anchors and pundits in the liberal-dominated mainstream media actually get it. All too many members of the old and new media guard alike are infected with a needy urge to signal their virtue, their cleverness, their boundless compassion and their sagacity. This tendency reaches its apogee in the puerile Huffington Post.
In Geyer's entry at Wikipedia, she is described as a "conservative" journalist. But this adjective is misleading. Certainly nowadays, prominent, self-proclaimed, doctrinaire "conservatives" tend to be strongly anti-environmentalist and anti-Planned Parenthood.
Geyer does not fit into this camp at all. She recently published an article headlined "Strain on Earth's Resources is Beginning to Show." But so-called "conservatives" of the 2016 variety vociferously deny that there is any strain at all on Earth's resources. Or at least none that limitless American ingenuity, innovation and unbridled capitalism can't solve in a jiffy, unless tied up in red tape by stifling government regulation and bumbling bureaucrats.
In 2016, almost all conservative pundits believe that natural resources are inexhaustible or that God made Earth for Man to Use…or to use up…if it suits his whims.
Oddly, most "conservatives" have little interest in conserving natural resources. Talk show host Rush Limbaugh scoffs at the notion of stratospheric ozone depletion from manmade chemicals (chlorofluorocarbons or CFCs); it's all a hoax. Conservative political commentator Mark Steyn mocks anthropogenic climate change and the scientists who study it.
Extinction? Bah! Who cares? If Lord Man deems it important enough, He will just design new and better species with cloning and genetic engineering.
In contrast to 2016's conservative orthodoxy, in Geyer's article, she takes Republicans to task for their recent obsession with abortion, family planning and Planned Parenthood:
"In the earliest Republican presidential debates, one of the most frightening moments came when Carly Fiorina described her 'memory' of seeing a 'fully formed fetus on the table, its heart beating, its legs kicking, while someone says, 'We have to keep it alive to harvest its brain.'

"Many American hearts stopped beating momentarily at the vile description. Anti-abortionists applauded as they recognized the attack on Planned Parenthood for 'harvesting' infant body parts and selling them. In November, three people were killed at a Colorado Planned Parenthood clinic, the accused gunman supposedly 'explaining': 'No more baby parts.'"
Geyer goes on to explain that the entire scenario fetishized by Fiorina was deliberately falsified by anti-abortion extremists to sully Planned Parenthood's reputation and to prod Republican legislators into aborting federal and state funding.
But Planned Parenthood has now been absolved of wrongdoing while a Texas grand jury has indicted the producers of an ambush piece filmed secretly by operatives from the inaptly named "Center for Medical Progress."
Geyer observes that:
"…when it comes to birth and contraception, even though this is an era of sophistication and knowledge, we remain at a loss when facing the large issues of an increasingly overcrowded world."
Geyer then discusses some of the dire implications of a planet ever more weighed down by overpopulation. She mentions an interview she conducted two decades ago with an American ambassador in the Sultanate of Oman who told her that "every year millions of Arab boys are coming out of the universities with no place for them to go." Writes Geyer:
"The outcome has been the staggering numbers of jobless, purposeless boys going into terrorist militias, fighting wars and overrunning Europe with intentions we dare not think of.

"Yet, we do very little to put into worldwide practice the principles of Planned Parenthood, thereby allowing the births of children who cannot be cared for, boys who cannot find work and girls who are denied birth control. This is cause for serious concern – for our families and for our planet."
She refers to an official from Bangladesh, one of the most overpopulated countries on Earth, one of the most low-lying ones, and therefore one of the most vulnerable to sea level rise caused by manmade global warming and climate disruption. When the sea takes over Bangladeshis' land, these multitudes will join the millions of desperate people already marching to Europe en masse. Or as the official put it, "These countries will have to take people – big time."
A humanitarian and cultural crisis is all but inevitable, because Europe can't and won't absorb millions more without end. Already a potent backlash is brewing after just one year of the uncontrolled mass migration of refugees, asylees, economic migrants, opportunists and terrorists unleashed by feckless German Chancellor Angela Merkel.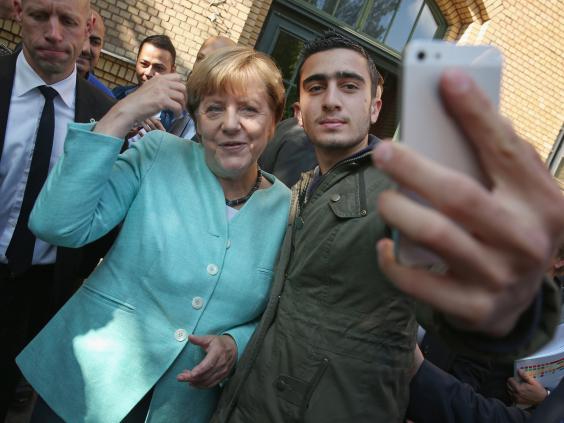 A coquettish Angela Merkel poses for a selfie with one of the million Middle Eastern migrants
she welcomed with open arms into Germany in 2015. The flow of migrants is predicted
to continue or even accelerate in 2016 thanks to the boundless generosity of Time magazine's
"Person of the Year," who posed for selfies and basked in accolades from the world's political
and media elites even as hundreds of young women were sexually assaulted by Middle Eastern
and North African migrants in German cities on New Year's Eve.
Geyer graduated from Northwestern University's Medill School of Journalism in 1956. Later, she attended the University of Vienna on a Fulbright Scholarship. She speaks German, Russian, Spanish and Portuguese.
Over the course of her illustrious career, Geyer has interviewed a number of genuine leaders and notorious scoundrels in tumultuous parts of the world. In 1973, she was the first Western reporter to interview Iraq's Saddam Hussein, even before he took command of that country. She also interviewed the PLO's Yasser Arafat, Egypt's Anwar Sadat, Jordan's King Hussein, Libya's Muammar al-Gaddafi, and Iran's Ayatollah Khomeini. All of these legitimate and illegitimate leaders are now dead; at least three were assassinated or executed – Hussein, Sadat and Gaddafi. (Yasser Arafat's mysterious death remains controversial; it might have been a clandestine assassination by poisoning.)
Geyer reported on rebels in the Dominican Republic, was detained by authorities in Angola for her reporting during that country's civil war, and was threatened with death by right-wing Mano Blanca ("White Hand") death squads in Guatemala. One of her five books is a biography of Cuba's Fidel Castro, with whom she conducted four extensive interviews for Guerrilla Prince: The Untold Story of Fidel Castro.
Back in the late 1990s, I turned the tables on Georgie Anne Geyer and I interviewed her for a feature in the journal Focus, published by Carrying Capacity Network. It was a delightful and wide-ranging conversation, prompted by the recent publication of her book Americans No More.
Americans No More broached an uncomfortable topic: the death of citizenship in our beloved homeland. In its preface, Geyer wrote that in her globe-trotting travels spanning the decades as a journalist, in far-flung places as diverse as the Balkans, Latin America and the Middle East, everywhere she found countries and cultures struggling with the fundamental question, "Who belongs?"
Geyer's view was that, "the nation-state is under severe attack by many, many forces that have never attacked it before." She told me: "Citizenship is under tremendous attack both from the globalizers on the right and the 'multiculturalists' on the left."
What was true two decades ago is even truer today. And things appear to be coming to a head…very quickly. All of these unwelcome consequences, ranging from environmental overexploitation to mass migrations and clashes of civilizations and cultures, are predictable – and long-predicted – outcomes of overpopulation.
Geyer is one of those who is entitled to say, "I told you so"….except that she is far too gracious for that. And far too concerned by humanity's predicament from self-inflicted wounds.