Giraffe Populations Plummet in Africa
Published on January 9th, 2017
Yet Another Iconic Animal Threatened by Human Overpopulation
Earth is the only place in an incomprehensibly vast and ancient cosmos known thus far to possess a biosphere that harbors complex, diverse living things. It took life some four billion years to evolve step by painstaking step from simple, single-celled, bacteria-like organisms lacking nuclei to the advanced creatures with backbones and brains that fly, swim, run and tunnel across Earth's surface today.
Even if life does exist somewhere else in outer space, life on Earth is undoubtedly unique in the entire universe, just as each of us is unique among more than seven billion humans.
Yet our planet is in very real danger of losing much of its precious living legacy due to the short-sightedness and selfishness of its dominant species, Homo sapiens. Especially at risk are many of the largest, most beautiful, treasured and iconic wildlife species, many of whom require large areas of land with suitable habitat to survive.
The heart-rending list of imperiled species includes great whales, dolphins, bears, tigers, lions, cheetahs, pandas, elephants, jaguars, gorillas, chimpanzees and thousands of kinds of birds, mammals, amphibians, reptiles and fish overall. It's staggering to contemplate what we may lose.
Now we need to add another beloved beast to the list of species in sharp decline because of human overload: giraffes.
National Public Radio reports that giraffe populations in Africa have plummeted because of human population growth and the "expanding human habitat."
The International Union for Conservation of Nature (IUCN) reports that giraffes are en route to extinction in the wild. National Public Radio's host Rachel Martin recently spoke with Julian Fennessy of the Giraffe Conservation Foundation about the precarious status of giraffes.
There are now fewer giraffes than elephants roaming wild and free in Africa (and African elephant numbers too have dropped precipitously).
Fennessy told Martin that there are less than 100,000 giraffes in Africa today, compared to about 155,000 just three decades ago, and at least a million a century or two ago.
When Martin asked Fennessy what was behind this drop in giraffe numbers, he was blunt in his reply:
"Basically, giraffe numbers are declining as a result of human population growth. And as a result of humans spreading out into new areas, we're losing habitat for giraffe in Africa. Just less areas that they can live and move and obviously, just be giraffe."
In addition, beleaguered giraffe populations also have suffered from disease and poaching. Especially in parts of Africa plagued by civil wars in recent decades, poaching is a huge problem because giraffes are a huge food source. An adult giraffe can grow to a height of 16-20 feet and weigh 3,500 pounds. That's a lot of meat for rapidly increasing numbers of hungry people.
The African continent had 230 million inhabitants in 1950, and that number has quadrupled to more than a billion at present. By 2100, the United Nations Population Division projects the human population of Africa to number four billion…and still be growing.
If the UN's population projections for Africa actually do come to pass, large wildlife species like elephants and giraffes will continue to be displaced and obliterated to make way for ever-increasing human demands for land and food. They are unlikely to survive in the wild.
Already today, there are roughly 10,000 humans for every wild giraffe in Africa; if the UN projections are realized, there will be 40,000 humans per giraffe by 2100, even if, miraculously, the giraffe population could be preserved at 100,000. This is highly unlikely in the face of exponentially increasing human demands on land, soil, habitat, water and other natural resources.
Not only will the demand for agricultural land on which to grow food explode in tandem with the human population, leading to intensifying pressure to convert grasslands and savanna to crops and grazing land for livestock, but if the continent continues to struggle with poverty, poaching pressure will surely increase. Large and small animals alike will be killed for their meat and their valuable body parts (for money).
While poaching of giraffes is not driven by commercial demand for a body part like the ivory tusks of elephants, the demand for their meat alone is a serious and growing problem.
The problem for conservationists is complicated by the very biodiversity among giraffe populations that we seek to save: experts believe there are as many as six species of giraffe, and multiple sub-species. As one expert told the BBC:
"Lumping all giraffes into one species obscures the reality that some kinds of giraffe are on the brink. Some of these populations number only a few hundred individuals and need immediate protection."
In the NPR interview, Fennessy informed Martin of the Giraffe Conservation Foundation's good work to expand giraffe numbers in cooperation with African governments by relocating giraffes back into areas with favorable habitats from which they had already been extirpated (eliminated).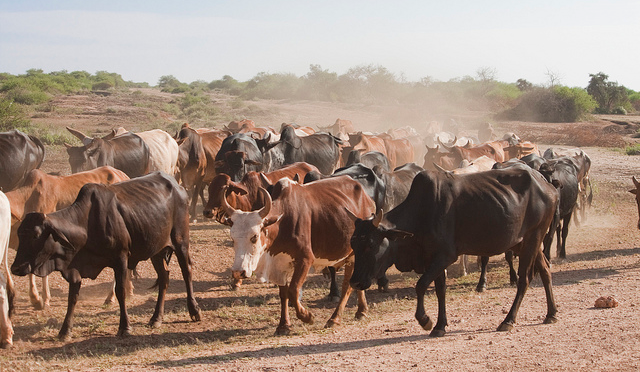 Africa's future? If current trends continue, by 2100 the only large mammals left to roam Africa's extensive grasslands and savannas may well be cattle, raised to feed humans, whose massive growth in numbers will require an enormous increase in food output.
While these conservation efforts are critical, and are to be applauded and supported, they will likely come to naught unless they are accompanied by much wider adoption of family planning throughout sub-Saharan Africa, and a recognition by governments and the public at large that the UN's projections for the continent are neither sustainable nor desirable, not for giraffes (and other wildlife), and certainly not for people.