H-1B Visa Program Called 'Tremendous Threat to American Professionals'
Published on November 28th, 2015
Now I know why my son, an engineering graduate, struggled so long to find his first job!
In December 2014, I was a proud father. My 22-year-old son had endured four years of one of the most grueling majors in higher education – electrical engineering – and had just graduated with a respectable GPA from one of the top engineering colleges in the country – Virginia Tech.
At long last, I thought, I could breathe easy. I could look forward not just to not having to shell out $25,000 per year for tuition and related expenses, but to my son beginning a well-compensated career in a respected profession.
After all, like every other American, I'd been hearing the hype for years from the upper echelons of business and government alike about the American economy's dire need for STEM professionals, that is, college graduates in Science, Technology, Engineering and Math.
I thought that prospective employers would be beating down my son's door trying to lure him their way. That he could write his own ticket. That's certainly what America's movers and shakers have led us to believe. Little did I realize what an anxious year of frustrating, fruitless job searches and one ignored employment application after another awaited him.
And now I know why.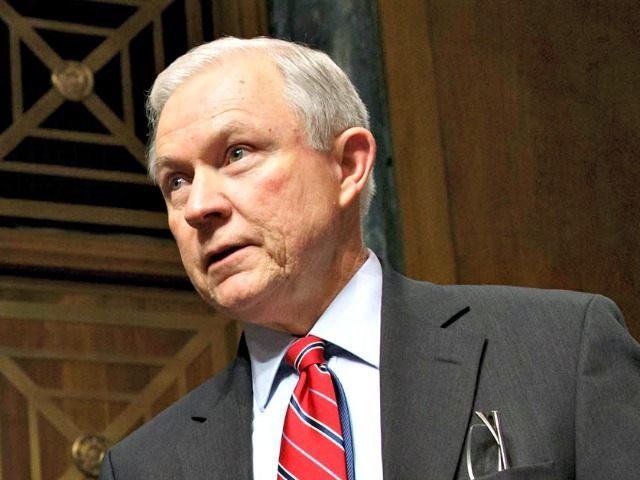 The redoubtable Sen. Jeff Sessions (R-AL), by far the best senator in a supine U.S. Senate when it comes to immigration matters, recently told Breitbart News that half of recent STEM graduates are not finding jobs in STEM fields. Sessions said:
Wages for STEM and IT [information technology] workers have not gone up since 2000. We have thousands of kids that have borrowed money, and their parents have borrowed money to get them engineering degrees and they don't have jobs.
Wow. This was pretty much the same bleak job prospects we were encountering. It made me very angry: at our oblivious, omnivorous politicians, at the gluttonous billionaire boys who have bought them off, and at our complicit "lamestream" media. The Fourth Estate, instead of scrutinizing and skewering the selfish motives of these unpatriotic corporations and yacht-owning, globe-trotting CEOs, lavishes praise on them for their supposedly enlightened attitudes on immigration.
"We don't have a shortage [of tech workers]," Sessions went on to say. That outrageous claim "is as bogus as a $3 bill." According to Sessions, the U.S. is actually graduating more students in these fields than there are jobs to fill, in spite of the many claims that our country is suffering from a shortage of skilled graduates.
Sessions listed Microsoft, Hewlett-Packard and Intel as companies that are laying off thousands of American professionals in favor of their H1-B visa-holding foreign replacements.
Currently, more than 800,000 foreign graduates are working as "temporary guest workers," mostly under the notorious, much-abused H-1B program. They occupy a wide range of professions, from architects and accountants to doctors, designers, teachers, engineers and software programmers.
Four-fifths of a million, or 800,000, is about equal to America's total annual output of graduates with technical skills, but guest workers are willing to accept much lower salaries than the experienced, middle-aged, child-rearing American professionals they replace. This helps drive down wages and working conditions for all Americans in the STEM and IT fields.
Breitbart reports that "the guest-workers' lower wages help spike stock values on Wall Street. For example, company founder Mark Zuckerberg's stock-value in Facebook is worth roughly $45 billion."
In a recent news conference at the National Press Club in Washington, D.C., sponsored by the Center for Immigration Studies, firebrand syndicated columnist, Fox News commentator and best-selling author Michelle Malkin, along with co-author John Miano (veteran programmer, attorney and CIS fellow) and fired Disney IT engineer Leo Perrero, participated in a panel discussion of the new Malkin-Miano book "Sold Out: How High-Tech Billionaires and Bipartisan Beltway Crapweasals Are Screwing America's Best and Brightest Workers."
"Best and Brightest" panel at the National Press Club, November 12, 2015:
Mark Krikorian, Michelle Malkin, John Miano and Leo Perrero.
Perrero was a 20-year IT veteran at Disney in Orlando, Fla., who, along with hundreds of other IT employees there, was given a pink slip and then three months to train his foreign replacement before being shown the door.
The panel did not mince words in reaching the startling conclusion that, energetic protestations to the contrary, America's business and government elites have decided that the U.S. IT workforce is expendable.
As Simon & Schuster's website for Sold Out puts it:
In Sold Out, Michelle Malkin and John Miano reveal the worst perpetrators screwing America's high-skilled workers, how and why they're doing it – and what we must do to stop them. In this book, they will name names and expose the lies of those who pretend to champion the middle class, while aiding and abetting massive layoffs of highly skilled American workers in favor of cheap foreign labor.
I am happy to report that, at least in my son's case, the U.S. Navy eventually came to the rescue. After nearly a year of looking, he was finally offered a job as an avionics (electronics) engineer for which one requirement was U.S. citizenship.
Many new STEM graduates will not be so lucky because our globalized elites put loyalty to their own pocketbooks and the corporate bottom line above all else, including loyalty to their countrymen and women. And with respect to my son, in five or ten years' time, the way things are going, who knows?