Lester Brown Steps Down
Published on February 5th, 2015
Founder of Worldwatch Institute and Earth Policy Institute set to retire in June at 81
The Earth Policy Institute (EPI) has announced that its founder and president Lester R. Brown will retire in June 2015. Thus will come to a close his remarkable career – spanning more than half a century – as a leading environmental analyst and thinker.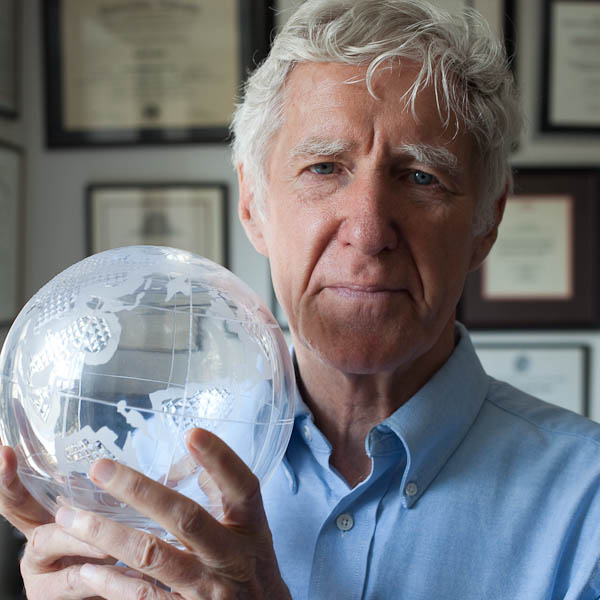 Lester Brown, founder and president of the
Earth Policy Institute.
Lester Brown is a man of truly global stature and vision, befitting someone who had the audacity to found two think tanks – first the Worldwatch Institute in 1974 and then the EPI in 2001 – each dedicated to documenting and making sense of complex and sometimes contradictory global environmental, economic and social trends. And to advocating for commonsense, affordable, environmentally friendly and practical solutions that, if successful, would make the world a better place and civilization a more enduring experiment.
In a January 20, 2015, press release, EPI announced that, with Brown's departure, it will be closing its doors at the end of June 2015. In this day and age of self-perpetuating think tanks, NGOs, charities and advocacy organizations that "develop a life of their own" and become perhaps more focused on their own survival and self-aggrandizement, rather than on the vision and mission that originally motivated them, it is a highly unusual step for an NGO to announce in advance its own closure.
The Washington Post once dubbed Brown, "one of the world's most influential thinkers." And in 1986, the Library of Congress requested his personal papers; in so doing, it noted that his writings "have already strongly affected thinking about problems of world population and resources." Brown has received some 26 honorary degrees as well as a MacArthur Fellowship in 1986. He has authored scores of books, including Who Will Feed China? Wake-Up Call for a Small Planet, his Plan B series and his recent autobiography, Breaking New Ground.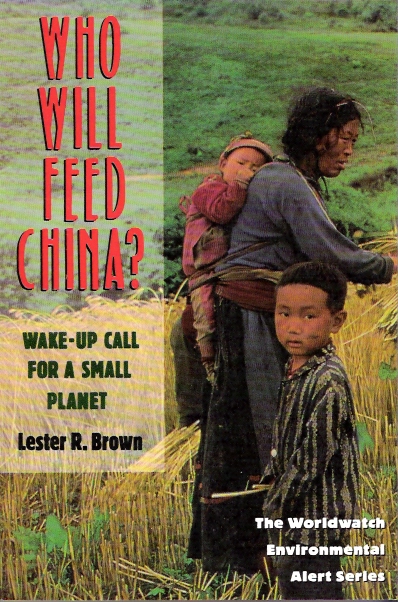 The Worldwatch Institute's annual report, State of the World, first published in 1984, aims to identify trends and solutions for the world's most pressing environmental and sustainability issues. The Institute also launched World Watch magazine in 1988.
In Brown's speeches that I have heard, he spoke smoothly, authoritatively and without any notes, his encyclopedic mind nimbly marshalling a vast sweep of important data, information and trends into a coherent message on where the world was headed and what needed to be done.
As a population activist, I have a soft spot in my heart for Lester Brown. Unlike so many other prominent environmental writers, this avid distance runner went the extra mile to make sure that population issues were always given their just due. Instead of ignoring population growth altogether, the default position nowadays, Brown not only called it out as one of the main drivers of environmental pressures around the world, but instead of taking population growth as a given, he pointed out how growth could be checked before nature itself intervened to check it for us, but harshly rather than humanely.
In Brown's view, slowing and stopping population growth could be accomplished using available, humane methods such as making birth control accessible and empowering women through educational and economic opportunities.
Even on the especially controversial question of immigration, Brown was no shrinking violet. He stuck his own neck out at some risk to himself.
By the late 1990s, in the middle of a heated debate within the Sierra Club over whether or not that prominent environmental group should adopt a policy on stabilizing U.S. population which endorsed both lower immigration and lower fertility rates to achieve this goal, Brown joined several other prominent environmentalists and public figures in publicly supporting this measure.
Then, as now, it appeared that many knowledgeable environmentalist leaders privately recognized the need for population stabilization for the sake of environmental sustainability and the need for immigration reduction to achieve this. However, the retribution meted out to supporters of reduced immigration by the news media, intellectual and social (including environmentalist) elites, funders and open borders zealots made many environmental leaders hesitate.
Understandably, many would take such a stand publicly only if there was no risk of it endangering the reputation, standing or funding of their own organizations. For instance, MIT professor Henry W. Kendall, a Nobel laureate in physics and the cofounder and chairman of the Union of Concerned Scientists (UCS), initially indicated a willingness to have his name publicly listed on the ballot as a supporter of the immigration reduction measure (Ballot Proposition A). But he felt compelled to withdraw his public support days later, after the executive director of UCS, Howard Ris, told him it could harm UCS were Kendall to be linked with the immigration reduction cause.
Several other well-known environmentalists also initially signed onto the U.S. population stabilization and immigration reduction measure, but balked under pressure from then Sierra Club president Adam Werbach.
In contrast, at least three other public figures – Greenpeace and Sea Shepherd Conservation Society founder Paul Watson, biologist and author E.O. Wilson, and Lester Brown – withstood Werbach's pressure. I visited Brown at his Worldwatch Institute office on Massachusetts Avenue in Washington, DC and he assured me that he wasn't wavering in his support.
More recently, Brown has lent his name and considerable fame to the web project Apply the Brakes, whose mission is to stop unsustainable U.S. population growth. Brown's statement on their website says in part:
Population growth is the ever expanding denominator that gives each person a shrinking share of the resource pie. It contributes to water shortages, cropland conversion to non-farm uses, traffic congestion, more garbage, overfishing, crowding in national parks, a growing dependence on imported oil, and other conditions that diminish the quality of our daily lives.
Lester Brown in the 1960s with the USDA.
As a young man, the industrious Brown started out as a farmer, growing tomatoes in southern New Jersey while he was in high school and college. After earning an agricultural science degree from Rutgers University in 1955, he lived in rural India for six months and was exposed firsthand to the dire challenge of growing enough food to feed a rapidly growing population.
In 1959 Brown became an international agricultural analyst with the U.S. Department of Agriculture's Foreign Agricultural Service. Subsequently, he earned master's degrees in agricultural economics from the University of Maryland and in public administration from Harvard University. In 1964, he was named an adviser to Secretary of Agriculture Orville Freeman on foreign agricultural policy, and in 1966 the Secretary appointed him Administrator of USDA's International Agricultural Development Service.
In early 1969, Brown left government to help establish the Overseas Development Council, and in 1974, with support of the Rockefeller Brothers Fund, he founded the Worldwatch Institute. It was the first think tank focused on the comprehensive analysis of global environmental issues.

Now, writes Brown:
After careful consideration of my life at 80 years, and with profound appreciation to my staff, collaborators and supporters, I have decided to step down as president of the Earth Policy Institute and end its work as of July 1, 2015.

I believe the Earth Policy Institute has accomplished what we set out to do when we began in 2001, and now it is time for me to make a shift and no longer carry the responsibility of managing an organization. I plan to continue to research and write on issues that I believe I can add to in some meaningful way.
Brown's alma mater, Rutgers University, will open a Lester R. Brown Reading Room in late 2015. It will contain not only the original English editions of his books, but the entire collection of some 600 language editions of his books.
Thank you, Lester Brown, for your integrity, insights and for all your extraordinary efforts over the past half-century. The world is better for them.