'Master Planned Community' Transforms as Scheduled
Published on January 30th, 2015
The City of Irvine is remarkably thought-out and ordered, as demonstrated by its carefully micro-managed housing designs, park maintenance and shopping center layouts. Owing in part to thinking ahead, this "Master Planned Community" has become what many consider a highly desirable place to live. Yet, as is true for much of the U.S., Irvine is unwilling to meaningfully limit growth. As the city attempts to provide the Irvine experience for evermore people using the same formula, the qualities that have made it a desirable place are at risk of changing.
While suburban sprawl is often associated with thoughtlessness about the future, Irvine makes clear that such growth has been the product of intentional planning. Recent U.S. Census data showed that the thousands of new houses being built according to Irvine's "Master Plan" made it the second fastest growing city in all of California. And many, including the Orange County Business Journal, expect the city to remain at the top of growth rankings for years to come. Irvine's population is now around 242,000 and is projected to eventually level off at around 300,000.
The newly incorporated, semi-rural 1971 Irvine of 10,081 residents was completely transformed in just a few decades. Early growth, particularly the construction of the University of California Irvine Campus, played an important role in establishing Irvine's positive reputation.
However, the kind of growth that has been happening in the decades since has been largely confined to replicating the same suburban Irvine lifestyle for more and more people.
Inevitably there is a point at which growth no longer adds to the community's quality of life and actually begins to harm it. In reaction to increasingly visible sprawl, pace of growth became the main issue of the city's 2014 elections.
Pro-growth candidates, who were described by their opposition as being developer-backed, won a narrow victory. The re-elected Mayor, Steven Choi, publicly commented on the city's 2013 growth rate of 4.9 percent saying, "There is always a high demand for new homes in Irvine… people will continue to wish to move to Irvine if they could. And Irvine is prepared to accommodate the anticipated growth."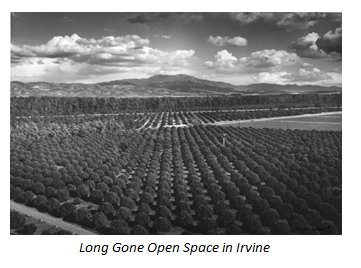 As Irvine continues to welcome these forces of change, the very qualities that have allowed for such comments – top ranking public schools, lowest violent crime of any city its size in the U.S. and general family friendliness – are subject to change as well. And regardless of what will happen to those aspects of livability, Irvine's expansion will undeniably impact its overall personality and environment.
Not without irony, the city likes to market itself as an open space destination. For example, a recently paved walking path (sandwiched between what has become a major boulevard and miles of new housing developments) is promoted as the Jeffrey Open Space Trail. The walking path and surroundings are far from being true open space. There is a noticeably denser and more urban feel to the area with the former fields of strawberries, bell peppers and fallow land gone.
Irvine does have remaining nature preserves though, and even a mission statement that expresses the goal of "encouraging behaviors that will ensure the preservation of our open space wilderness for generations to come." Yet, Irvine, like countless other municipalities throughout America, seems committed to growth, a behavior that will continue to mean greater un-wilding of natural areas and more lost open space. With names such as "Orchard Hills" and "Heritage Fields," some of the new housing developments are alluding (almost comically) to an Irvine that they themselves are responsible for making ever-distant.