New Congress, Same Old Story: Senate Introduces High-Tech Bill to Increase Foreign Workers
Published on January 14th, 2015
The tech lobby got a huge payoff from one of its staunchest allies, Utah Senator Orrin Hatch. On January 13, Hatch reintroduced his high-skilled immigration bill, the Immigration Innovation Act, which looks suspiciously similar to Mark Zuckerberg's wish list that he promoted so relentlessly last summer.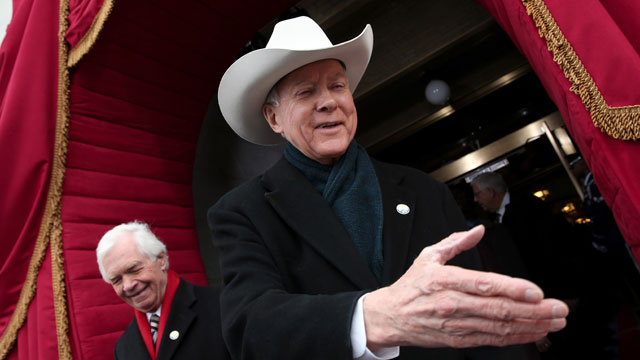 Glad-handing Orrin Hatch, relentless advocate
for more H-1B visas.
As it did in 2013, Hatch's bill would raise the yearly cap on H-1B visas from 65,000 to 195,000, remove limits on visas issued to foreign-born students with U.S. university degrees, and allow spouses of H-1B visa holders to work.
The Hatch bill also offers perks like allowing visa holders to move freely between employers and eliminates per-country caps for employment-based petitioners. All of Hatch's provisions hurt American workers.
Senate Gang of Eight co-sponsors Amy Klobuchar (D-MN), Chris Coons (D-DE), Richard Blumenthal (D-CT), Jeff Flake (R-AZ) and Marco Rubio (R-FL) are on board with Hatch. U.S. Rep. Jason Chaffetz (R-UT) also reintroduced his similar bill.
Hatch's proposed legislation is the latest effort after years of failure to increase the numbers of foreign-born workers who come to the U.S. to do jobs unemployed Americans are willing and able to do. No one, not even Zuckerberg's Facebook spokesperson, can offer evidence of a shortage. When Bloomberg Businessweek reporter Josh Eidelson asked Facebook last November to point to specific labor shortages, a spokesman replied in a snarky one-sentence email: "We look forward to hearing more specifics about the President's plan and how it will impact the skills gap that threatens the competitiveness of the tech sector."
In December, the online magazine TechCrunch described the true Silicon Valley agenda. Not only is there no worker shortage, but Harvard Kennedy School doctoral candidate Danny Crichton pointed to a vastly underrepresented female population in the tech industry, as well as a dramatic shortage of employees over age 39.
The Silicon Valley reality is that while talented women and employees approaching middle age are systematically denied an opportunity to work, employers always welcome foreign-born, cheaper labor to displace Americans.