Obama is Cracking no Jokes now about Moats, Alligators at the Border
Published on July 17th, 2014
Now it's Back to Bush Blame Game for Crisis at the Border
In a May 2011 speech near the U.S.-Mexico border in Texas, President Obama bragged about the many measures taken by his administration to enhance border security. The "deporter-in-chief" then repeated his familiar, hackneyed attack on congressional Republicans for their intransigence on immigration reform.
Those obstinate Republicans would "never be satisfied," ranted Obama that day, claiming that his administration had already gone "above and beyond" Republican demands for greater border security. But now, he mocked, Republicans demanded a still higher fence; next they'd want a moat, and then "alligators in the moat."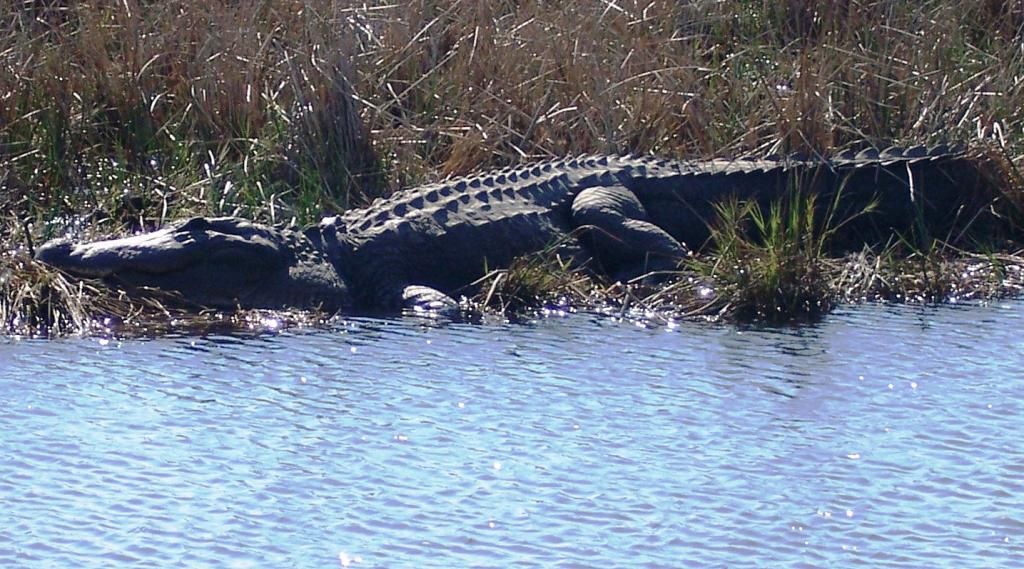 The moat and alligator Obama said Republicans
wanted at the border with Mexico.
This gag was good for some chuckles and sound bites on the evening news. But ultimately, the last laugh is on Obama and his joke of an immigration policy.
We don't hear the president jesting now about moats and alligators, as tens of thousands of young illegal aliens from Central America pouring across the porous border make a mockery of his claim of having secured that same border years ago.
Instead, the administration and its fawning followers and toadies among the liberal punditry have reverted to an earlier and reliable theme: blaming Bush. And scapegoating those nasty drug traffickers and gang-bangers for spreading rumors throughout El Salvador, Guatemala and Honduras that unaccompanied minors would be welcomed and coddled if only they could cross hostile Mexican territory and then the unsecured U.S. border.
Normally, when the present administration blames the previous one over five years after it was sent packing, this would qualify as Bush Derangement Syndrome. In this instance, though, knowing how badly George W. Bush longed to be loved by law-breaking immigrants and their brazen advocates, there's some truth to it.
After all, appeasing the Democrats who then controlled both Houses of Congress, Bush did sign into law the William Wilberforce Trafficking Victims Protection Reauthorization Act of 2008, which prevented summary returns of minors from non-contiguous countries such as those in Central America.
The reaction in Central America at the time? No discernible surge toward U.S. borders.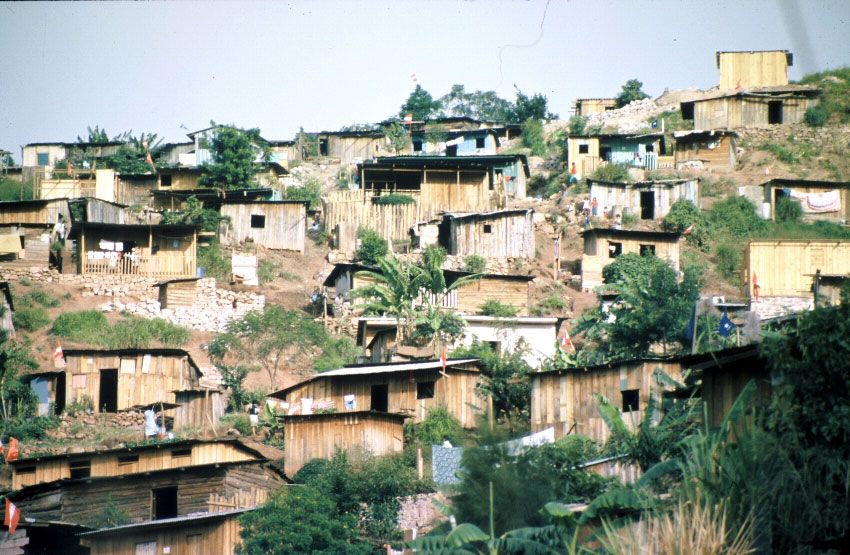 Barrio marginal, or shantytown, in the Honduran
capital, Tegucigalpa. Central Americans are fleeing
poverty as much or more as crime and gang
violence.
So what has happened now to unleash this flood? The most succinct answer is Mark Krikorian's. The executive director of the Center for Immigration Studies says the crisis is the logical outcome of the Obama administration's "various de facto amnesties for illegal aliens and its permissive enforcement practices."
Word has spread to every nook and cranny in Central American villages, barrios and shantytowns that if you are brave and bold enough to risk the crossing of Mexico, Obama's tender mercies await you in the land of milk and honey in El Norte.
Gang and drug-related violence and crime have plagued Central America for years. And so has crushing malnutrition and poverty, in good part because of the rapid population growth resulting from staunch, unyielding Catholic Church opposition to birth control.
I have a Honduran sister-in-law and several nephews who made this precarious journey from Tegucigalpa, but they did it years ago, well before the current upsurge. One was fleeing gang-related threats on his life, but the other two were pursuing economic opportunities unavailable in their own country.
But it is not America's responsibility to provide them with jobs and income when so many Americans are out of work. Or to clean up the endemic corruption that feeds crime and violence in Honduras. That is the responsibility of Hondurans alone.
According to Breitbart News, Immigration and Customs Enforcement (ICE) personnel have been directed to avoid using the term "unaccompanied alien children" (UACs) so as to avoid any implication that these children belong in their home countries rather than the U.S.
I have another suggestion for ICE. Instead of rewarding these UACs with bus tickets to the U.S. towns where their relatives reside, ICE should hand them plane tickets to the Vatican. In a very real sense, these children are the Vatican's responsibility because of its inhumane and outdated dictates on birth control.