Pope Francis Visit to Mexico Makes Some Locals Unhappy
Published on February 15th, 2016
Anyone who has lived in a city about to welcome an international dignitary knows what a hassle it is for everyday citizens. In 1995, when Pope John Paul II visited New York, his trip was a nightmare for locals. Heavy security shut down areas around Wall Street, Central Park, the U.N. and Queens. Millions of dollars were spent beefing up police protection for the Pope. Mayor Rudy Giuliani and Cardinal Edward Egan were happy as were thousands of Catholic faithful. But for the millions of non-Catholics, the consensus was that the Pope's visit was for them more trouble than it was worth.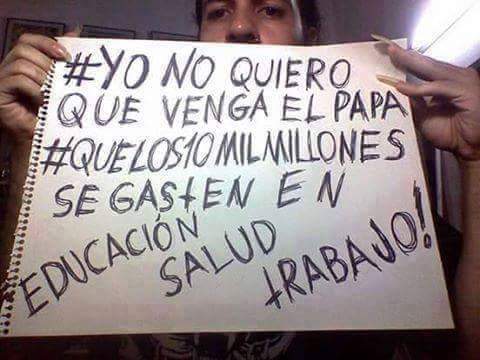 Pope has critics on both sides of the border.
This week, some Mexicans oppose the Pope's visit, but for reasons that include more than their closed markets, gas stations, bike rental stands and strapped family businesses that will be forced to shut down for up to three days. A hashtag making it's way around Mexican Twitter accounts with regularity reads, #YoNoQuieroQueVengaElPapa ("I don't want the Pope to come"). Among the reasons dissenters cite are the $10 million the Mexican government will spend to underwrite the Pope's journey which, they contend, would be better directed toward improving education, ending poverty or fighting the drug cartels.
The perspective of many in the U.S. of Pope Francis' Mexican trip is that the open borders he advocates for demonstrates a disappointing lack of understanding of, or indifference to, the reality that more illegal immigration and more refugee resettlement hurt the roughly 50 million Americans who live in poverty, and the 90 million who are detached from the labor force, many of them Roman Catholic and Hispanic. Immigrants and refugees compete with low-skilled Americans for increasingly fewer jobs.
Furthermore, Pope Francis has chided people who choose not to have children as "selfish," and part of a "greedy generation." CAPS' position is that prudent family planning and reduced immigration help create a stable population which benefits everyone.
On February 17, Pope Francis will say Mass at the El Paso-Juárez border where, according to Bishop Mark Seitz, head of the El Paso Diocese, he will "undoubtedly call attention to many realities that are lived on both sides of our U.S.-Mexico border, particularly the plight of so many migrants and refugees fleeing violence and poverty in their home countries." U.S. organizations coordinating the Mass anticipate that 1 million immigrants may attend.
Other realities that Pope Francis will not address, however, are the deepening plight of unemployed Americans, and the growing U.S. income inequality to which immigration is a leading contributor.