Population Density in Parts of L.A. County Exceeds Brooklyn and the Bronx
Published on January 25th, 2016
An eye-popping blog post from Dr. Housing Bubble reported that some Los Angeles neighborhoods have higher population densities than New York's notoriously overcrowded boroughs of Brooklyn and the Bronx. Dr. Housing Bubble's site provides ongoing information about California real estate conditions and home values.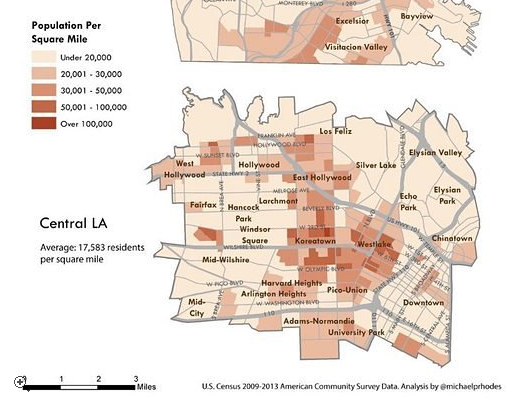 Koreatown and Westlake, with 42,611 and 38,214 persons per square mile, have higher population densities than Brooklyn and the Bronx, with 36,732 and 34,242 persons per square mile, respectively. In his blog, Dr. Housing Bubble provides the charts to prove his point.
Contributing to the overcrowding is what Dr. Housing Bubble calls informal housing, a condition that has steadily worsened since 2001. Informal housing includes adult children living with parents and multiple people living in a single apartment, as well as housing created from converted garages and other makeshift arrangements.
Dr. Housing Bubble points out that packing too many people into tight quarters is dangerous and, since there's little available parking or public transportation, inconvenient for many dwellers. But as Los Angeles' population continues to rise, low-income residents have increasingly few options.
The driving force behind the population increase in Los Angeles is illegal immigration, a variable Dr. Housing Bubble omitted from his analysis. A January 2015 Los Angeles Times story cited the Migration Policy Institute which estimated that the Los Angeles County illegal immigrant total is at nearly 1 million.
Having lived part of my life in Spanish-speaking countries and witnessed their customs, I've never understood the net benefit to illegal immigrants of coming to Los Angeles where many will struggle to communicate, suffer job exploitation and live in poverty. The University of Southern California's Center for the Study of Immigrant Integration found that illegal immigrants are concentrated in seasonal and low-wage industries such as farm work and the retail trade. Overwhelmingly, according to the USC study, the roughly 630,000 Mexican migrants in Los Angeles endure high poverty levels. Ironically, Mexico is enjoying an historic economic boom, and employment opportunities for Mexican nationals back home are likely greater than they are in Los Angeles.
Over-immigration has irrevocably altered some of Los Angeles' historic communities, while providing only marginal benefit to the recently arrived immigrants, a lose-lose situation. The CAPS mini-documentary, California: Then/Now, shows some of these changes. If you're not part of the CAPS Action Alert team, please join, and help save some of today's California for future generations.