Rewilding Institute Founder Speaks About the Crowding Out of Wild Things
Published on April 12th, 2014
As part of the CAPS Open Dialogue Program, renowned environmentalist Dave Foreman spoke recently in Santa Barbara and at the Urban Studies Department at CalState Northridge.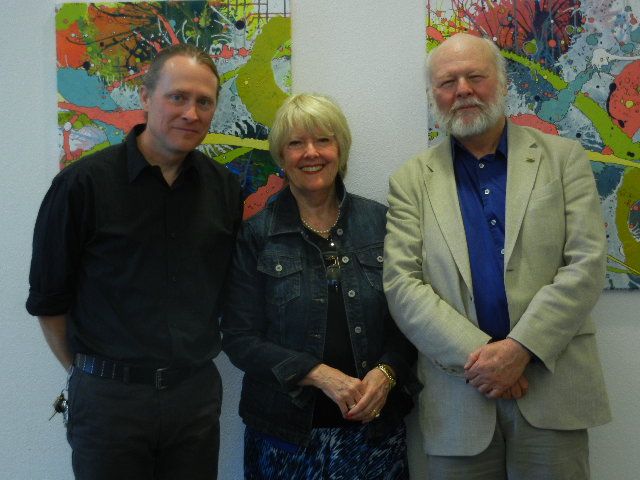 Claude Willey, Cal State lecturer; Jo Wideman, CAPS director and Dave Foreman, author, at April 1 Northridge event.
Foreman has authored several books, including Take Back Conservation and Man Swarm and the Killing of Wildlife. In Man Swarm, Forman, in a distinctive and eloquent voice, explains how man is the driving force behind the greatest die-off since the extinction of the dinosaurs. He shows that only through population stabilization in the United States and globally can we sustain Earth. In Take Back Conservation, he shows those who love wild things how and why they need to, as the title states, take back conservation.
The conservationist also is the founder of The Rewilding Institute, an Albuquerque, New Mexico nonprofit that works to integrate conservation biology with wildlands and wildlife conservation, and provide a long-term, hopeful vision for conservation in North America.
Foreman began his talk stating, "We're in the Sixth Great Extinction." This is a term we're likely to hear frequently. A new book with that title by Elizabeth Kolbert has been receiving a good deal of attention. It's understood that five great mass extinctions have occurred in the long history of our planet that resulted in extreme biodiversity loss.
Foreman explained that the evolution of a species is about a million years, but it's much faster now. As just one example, he said we have lost 90 percent of sharks in the last 20 years. "We have become a geological force ourselves, because we've become so many," Foreman said. Human beings are leading the Sixth Extinction.
Foreman than gave a quick numerical tour of the rise of Homo sapiens, from probably no more than 10,000 around 50,000 years ago to 1 million 10,000 years ago, so the population was growing, but very slowly. Then, 2,000 years ago, the estimated human population was 250 million. From the early 1800s to now we've seen dramatic growth – from 1 billion to more than 7 billion.
"As there have become more of us, there have been less and less of other species," Foreman said. "There are too many people on Earth now; we are overpopulated." For a stark perspective, he noted that "every day more human babies are born than there are all of the great apes."
He also walked the audience through the losses of several species in the U.S. which had once had thriving populations. The passenger pigeon had been the most abundant bird 200 years ago, but the last of these birds were seen in 1903. The bison which roamed the Great Plains in numbers estimated as high as 50 million would have been extinct if not for the efforts of some to save a few.
Outside the U.S., Foreman presented the case of the tiger. As India's human population has soared since the early 1900s, the tiger population has crashed. For every wild tiger today, there are 2 million human beings. "And that's the case for species after species."
"I think we lose something when we don't have contact with wild things," Foreman said, as he encouraged his audience to explore their natural world – explore the wild neighborhoods.
But how do we fix this imbalance between man and the wild things on the planet?
Foreman said family planning is essential, and we have to educate and empower women. What we have to do to be responsible human beings is to slow down our breeding, so we can have a stable population, heal the damaged parts of the world and live with the wild things, he said.
On a very practical, policy level, Foreman says sterilization should be free, and there should be a tax credit for not having children.
Read more about Foreman's ideas here.