State of the Union Address Offers Pro-Immigration Pols Three (!) Opportunities to Advance their Cause
Published on January 20th, 2016
On the political calendar, the year's first major event is the president's State of the Union address, followed immediately by the opposition party's reply. Starting in 2013, a Hispanic response also comes after the president's formal speech. During the last six years, the State of the Union has represented as many as three opportunities during a single evening for immigration advocates to press their agenda: President Obama, the pro-immigration GOP responders and the congressional Hispanics.
Here's the Republican lineup since 2011, and their immigration stances: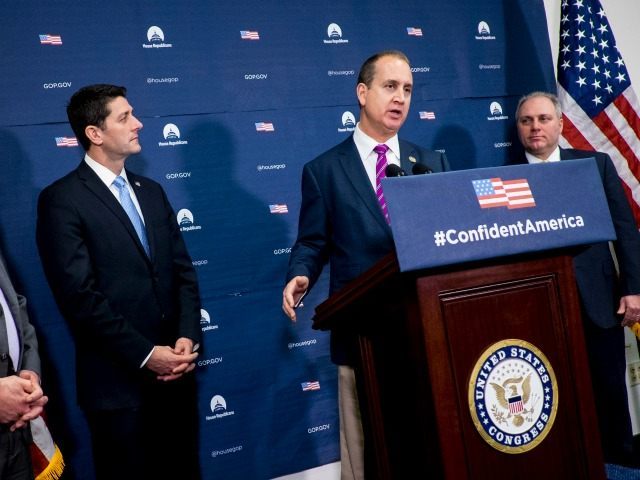 Mario Diaz-Balart (R-FL) offers stealth pro-amnesty
response to President Obama's State of the Union speech.
2011, U.S. Reps. Paul Ryan (Wisconsin) and, offering the Spanish-language version, Ileana Ros-Lehtinen (Florida). Ryan's immigration transgressions include championing the recent Omnibus bill that funded sanctuary cities and Obama's refugee resettlement program. Earlier, Ryan worked with fellow congressional ally Luis Gutierrez to promote the Gang of Eight amnesty bill (watch here), and Ros-Lehtinen was the second Republican to publicly endorse it.

2012, Indiana Governor Mitch Daniels. Perhaps the best of the Republican lot, Daniels signed a strong bill to protect American workers. Contractors doing work with the state, as well as state employees, had to use E-Verify.

2013, Marco Rubio spoke in English and Spanish. Within months, Rubio became an original Gang of Eight cosponsor.

2014, U.S. Rep. Cathy McMorris Rodgers (Washington) and, in Spanish again, Ros-Lehtinen. McMorris Rodgers, Chair of the House Republican Conference and its fourth highest ranking representative, said that passing the Gang of Eight bill was "a priority" for Americans and "must pass" legislation.

2015, Iowa Senator Joni Ernst and, Spanish version, U.S. Rep. Carlos Curbelo (Florida). During her 2014 campaign, Ernst said that she would not vote to end Obama's deferred action for childhood arrivals. Ernst: "I do support allowing those children some of the freedoms that are here in the United States."

2016, South Carolina Governor Nikki Haley and, urging for amnesty, U.S. Rep. Mario Diaz-Balart (Florida). Haley said that the "broken immigration system" must be fixed, universally accepted amnesty code words. Diaz-Balart spoke more bluntly when he said, translated from Spanish and with his emphasis: "No one who is willing to work hard, abide by our laws and love our traditions should ever feel unwelcome in this country. It is not who we are. At the same time, it is obvious that our immigration system needs to be reformed." Diaz-Balart was supposed to translate Haley word-for-word, but few noticed that his immigration-section differed because it suggested that the GOP supports amnesty.
While the State of the Union's television audience has steadily declined since Obama's first address to about 31 million in 2016, tens of millions have watched and heard immigration advocacy from both party's leaders during the president's two terms, pretty good outreach with little input from the enforcement perspective.