Tigers, 3,000; Homo sapiens, 7.4 billion
Published on July 30th, 2016
Man continues his march using poorly chosen metrics to measure his success, namely, growth at any cost. This thought, and the number "3,000," has been very much on my mind since yesterday, which was International Tiger Day.

Three thousand. That's the estimated number of tigers still living in the wild. Just 100 years ago, the estimated number was 100,000. Near decimation in the blink of an historical eye.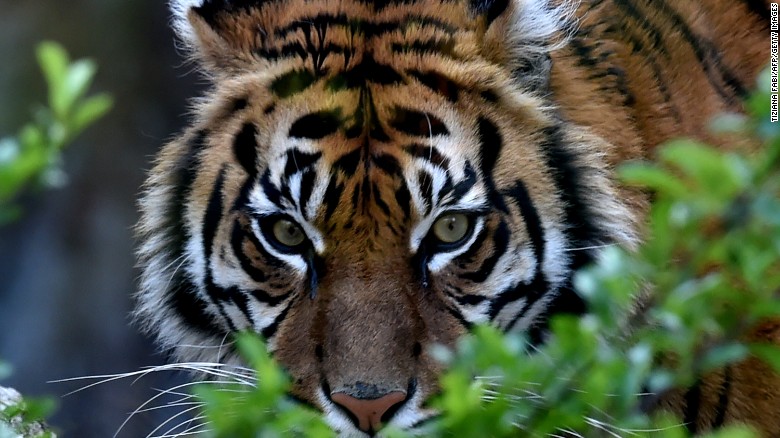 While there are fewer and fewer tigers, there are more and more of "us." One hundred years ago, the human population was about 1.8 billion; today it's at 7.4 billion and clicking ever upward.

Just ponder that number for a moment.

As human numbers have ramped up dramatically, animals in the wild have declined, with many extinctions.

The International Tiger Day website states that tigers have lost 93 percent of their natural habit because of more people with their ever-expanding footprint for living space and agriculture. "Fewer tigers can survive in small, scattered islands of habitat, which lead to a higher risk of inbreeding. These small islands of habitat also make tigers more vulnerable to poaching."

Climate change also is threatening one of the world's largest tiger populations in a large mangrove forest area shared by India and Bangladesh. Also, remaining tigers live in some of the most overpopulated areas in the world, including China, India, Bangladesh, Indonesia and Malaysia.

According to the Born Free Foundation, "Tigers are the biggest and most threatened of the big cats. In the wild, tigers are mostly solitary, traveling throughout large territories in which to hunt prey such as deer, wild pigs and other large mammals." With their need for a large range, zoos – for those who think the answer to the dramatic decline in numbers is to "preserve" them in zoos – are not the answer. The Born Free Foundation also states, "Researchers have found that animals who are naturally wide-ranging are more likely to develop abnormal repetitive pacing behavior and suffer higher infant mortality rates in captivity than other species, and have recommended that keeping such species in zoos should either be fundamentally improved or phased out altogether."

When we look at such tremendous loss of life, as a species overall I think we – Man – have earned an "F" for our carelessness, thoughtlessness and failure of compassion. At a minimum, we should be able to employ our selfishness, because when we can save flagship species, we save the whole ecology of a place. If tigers are lost, the entire ecological balance is lost. Thankfully, there are many, many people who work on behalf of wildlife and sustainability. But, given the tremendous level of loss and the unrelenting population pressures, a Herculean effort is needed.

We have to do much more to stabilize the human population and preserve our amazingly rich biodiversity. As photographer John Isaac says, "When we lose a species, it's forever."

| | |
| --- | --- |
| | |
– William Blake
Learn more about tigers through the lens of John Isaac in Ranthambore National Park, India, in this video.