Trump's Timeout on Immigrants is Common Sense
Published on February 7th, 2017
With world events often happening faster than we can even process the information, it's easy to forget terror attacks, as in Paris: 130 dead, just a little over one year ago. Or, FBI Director James Comey's statements that there are violent extremist investigations in every single state in the United States. Or, Security Analyst and Deputy Assistant to the President Sebastian Gorka who said that in the last 16 years, 550 people have been convicted in America of terrorist acts, and that more than half of them were not U.S. born, and several dozen were immigrants or people on refugee or asylum status.
Why would we choose to invite potentially more problems than we already have to deal with? Europe, which has left the spigot open for more than two years, should be a clear example of what not to do, given the level of severe strains and problems Europeans have experienced.
Let's not forget too that the House in 2015 did pass a bill that would have denied refugee entries if intelligence agencies couldn't certify that they didn't pose a threat to national security. It's not like this is a new concern. Trump is only putting forth what many have been asking for and trying to realign a system lacking integrity.
It's of note that more than 500 Syrian refugee applications have been denied since 2011 because applicants had known or suspected terrorism ties, which equals about 7 percent of the applications. Some refugees have been resettled without a complete check of data on intelligence databases. And already admitted refugees who did not receive proper review are being looked at again.
Part of the legitimate concern with admitting refugees to the U.S. is that it's difficult to truly know who they are – by definition, they're not coming from a stable country that will be sharing reliable information. Plus, there has been insufficient staff to thoroughly screen the numbers of people that we are dealing with to the extent necessary. As well, U.S. officials have warned that jihadists could embed with refugees fleeing the conflict in Syria.
Those who want to see the world as a "nice place" raise the question of fairness. The fairness question is spurious. What is fair? Is it fair to flood the U.S. with millions of people to the potential detriment of the country in a variety of ways? What's the "fair" number to admit to the U.S. when there are 7.5 billion people in the world, with tens of millions of them displaced? Is it 100,000? 500,000? One million? The people protesting and creating hysterics never seem to evaluate if we actually have the bandwidth to handle the volume of people. Operating only on an emotional level, they fail to grasp numbers, implications and reality.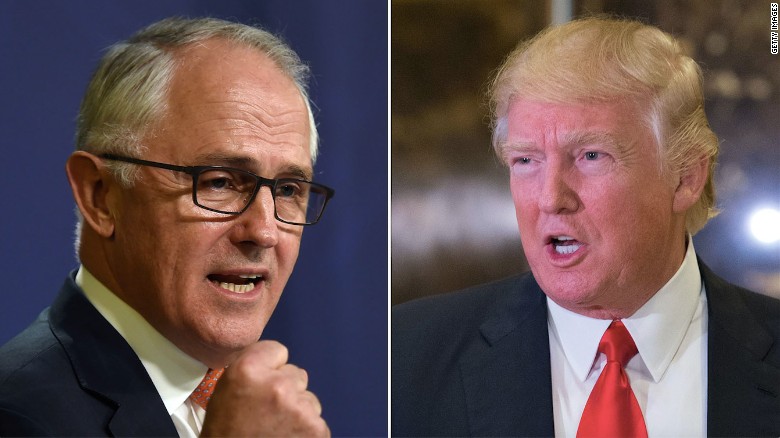 President Trump squares off with
Australian Prime Minister Malcolm Turnbull on refugees.
Pausing until we have a handle on where we really are on refugees and immigration overall is fair. As we've written before, it also is reasonable to temporarily shelter people closer to their homes so there's a greater likelihood that they can return to their home countries when situations have stabilized. The cost of moving people to the U.S., and housing, clothing, feeding and providing medical care to them is extremely high.
On average each Middle Eastern refugee resettled in the U.S. costs taxpayers an estimated $64,370 for the first five years, or $257,481 per household, totals which include processing fees and welfare benefits. Alternatively, the UN High Commissioner for Refugees requested $1,057 annually to care for each Syrian refugee in countries that neighbor Syria. In other words, for the cost to resettle one refugee in the U.S. for five years, 12 refugees could be helped in the Middle East for five years.
Additionally, there's another side to the refugee story not discussed. Refugees have become big business in the U.S. So when you see what perhaps may be organized protests, you have to factor in what's really driving the "news." There are nine big refugee contractors who are funded in large part by the federal government – by you. One of them is the International Rescue Committee, whose CEO, David Miliband, is compensated at nearly $600,000 annually.
I'll repeat: There is a tremendous cost to bringing refugees to the U.S. versus helping support them closer to their homes.
Regardless of the misunderstanding of reality by those whose first response is to pick up a placard and run to the streets in protest, President Trump appears committed to facing immigration-related issues head one. Since the Executive Order of January 27, Trump has questioned an agreement made by the prior administration with Australia to take in 700 refugees, half of whom are reportedly from Iran. Trump tweeted:
"Do you believe it? The Obama Administration agreed to take thousands of illegal immigrants from Australia. Why? I will study this dumb deal!"
We should help refugees where we can, but that may be closer to their homes, not here.
Tell President Trump you appreciate his swift action on immigration issues and support a timeout on refugees to ensure the system has integrity.