Number of Americans Increasing – Bird Abundance, Diversity Decreasing …these opposite trends are no coincidence
Published on November 5th, 2014
PDF Download: caps_issues_birds_decreasing_2014.pdf
On September 9, 2014, the U.S. Committee of the North American Bird Conservation Initiative—a 23-member partnership of government agencies and nongovernmental organizations (NGOs) dedicated to promoting bird conservation—released a report called The State of the Birds 2014. The report reviews bird population trends five years after the inaugural 2009 State of the Birds report.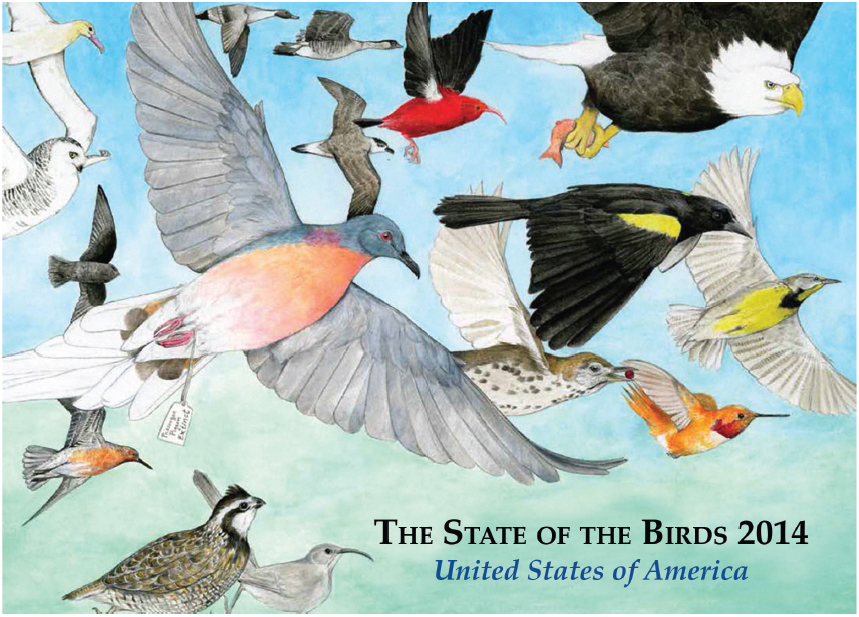 State of the Birds is based on the analysis of extensive data from long-term population inventory and monitoring. The report regards birds as indicators of ecosystem health by examining population trends of species dependent on one of seven habitats: grasslands, forests, wetlands, ocean, deserts (aridlands), islands and coasts.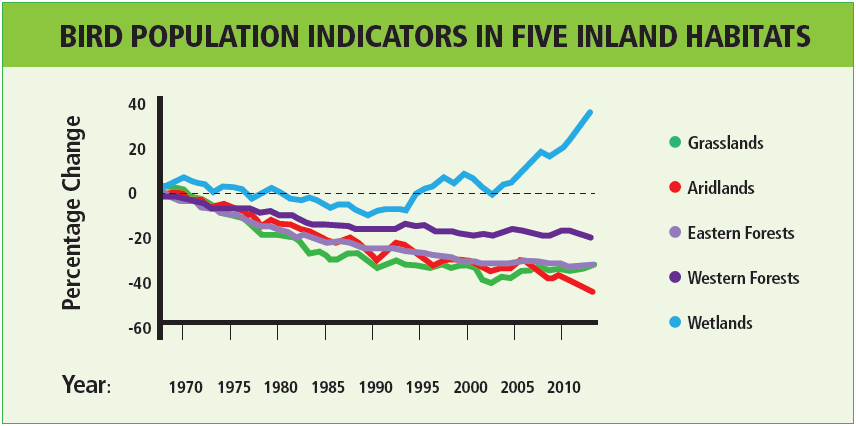 State of the Birds' authors identified aridlands—such as those that cover much of Southern California—as the single habitat with the sharpest avian population declinesin the country. There has been a 46 percent loss of these aridland birds since 1968 in the Southwest. The greatest threats to these birds are habitat loss and fragmentation due to residential and energy development. Both residential and energy development in the Southwest are closely linked to the region's exploding population, which itself is a result of the nation's relentlessly high immigration rates.
Several years ago, the California Department of Fish and Game's State Wildlife Action Plan, called California Wildlife: Conservation Challenges, reported that one-third of all birds in the state (139 of 391 species) were at risk of vanishing in California because of "stressors."
All of these stressors are human-induced, and they include rampant growth and development, water management conflicts, invasive species, overgrazing, recreational pressures and climate change. CDFG stated explicitly that: "Increasing needs for housing, services, transportation, and other infrastructure place ever-greater demands on the state's land, water, and other natural resources."
California's population skyrocketed nearly 50 percent from 1970 to 1990; it swelled another 14 percent in the 1990s, adding four million more residents. Already at 39+ million, and growing by several hundred thousand annually, under current national and state policies, it is just a question of time before our population burgeons to 50 million and then 60 million.
The unrelenting spread of one life form in California, our own Homo sapiens, is displacing hundreds of other life forms, including birds, which have made the state their home since well before man first walked upright on the savannahs of eastern Africa.
Of the 139 species of birds judged to be generally at risk (characterized by declining overall population trends), CDFG reports that 33 species and subspecies of birds are listed either as threatened or endangered by the State of California or the federal government. The American bald eagle, the California condor and the northern spotted owl are three of the better known species.
Among the more obscure birds are the marbled murrelet, elf owl, light-footed clapper rail and Belding's savannah sparrow.

The marbled murrelet is an odd little bird: a member of the auk family, it is a small, solitary seabird that nests high in the branches of lofty, ancient conifers (like Douglas-firs) in old growth forests of the Pacific Northwest. It is imperiled by clearcut logging of those same ancient forests, as well as by gill net fishing and oil spills.
For years the whereabouts of marbled murrelet nests was a bit of a mystery. It wasn't until 1974 that a treeclimber found a chick in a nest high up in an old tree. The murrelet was thus one of the last bird species in North America to have its nest and nesting behavior documented and described.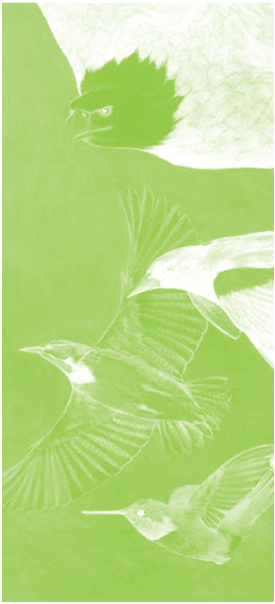 Years ago one fine summer, I spent a month kayaking 500 miles northward with two Canadian friends along the legendary Inside Passage from Vancouver Island to the isolated port of Prince Rupert, British Columbia, close to the Alaska Panhandle. As I paddled along this vast, majestic, wild coast, on a number of occasions, a single marbled murrelet would surface unsuspectingly next to my fiberglass kayak, cock its head in my direction as if sizing me up, and dive back beneath the surface again. I began to look forward to these random, delightful encounters.
The light-footed clapper rail is a denizen of Southern California salt marshes; indeed it is found nowhere else but a narrow range between Santa Barbara County, California and San Quintin Bay, Baja California, Mexico. With the loss, fragmentation and degradation of these salt marshes from population growth-related development in Southern California, the habitat available for the lightfooted clapper rail has dwindled and so have its fortunes. In 1970 it was officially listed as endangered, and it remains so to this day.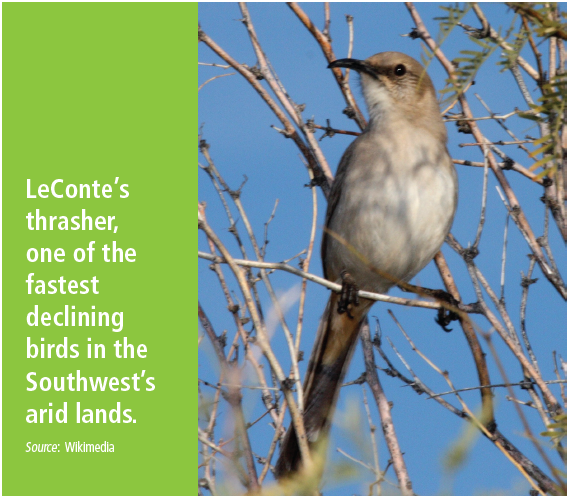 Marvelous creatures that have shared this living planet with us since the dawn of time are rapidly succumbing to an excess—and the excesses—of one species, and one species alone: Homo sapiens. Human excesses include clear-cutting and deforestation, urban sprawl, habitat destruction and fragmentation, poaching, overfishing and bottom trawling in the oceans. Also to contend with is the burning of fossil fuels, which releases poisons and toxins into the environment, facilitating the spread of invasive species, and so forth. The list is long and growing.
It is not that any one of these actions, on a limited scale, is inherently evil or malicious. None of them is explicitly intended to wipe out other species. Rather, it is the sheer, colossal magnitude and cumulative impact of all of them occurring at an ever-accelerating rate and ever-greater scale that is endangering biodiversity on Earth to a degree that hasn't happened for 66 million years, not since the so-called K-T (Cretaceous-Tertiary) extinction event, when a stray comet or asteroid collided with Earth and deleted the dinosaurs (and much else).
We can—and must—do better than a biospherebattering attacker from the cosmos. We must strive for stewardship of nature, not its subjugation.
CAPS Senior Writing Fellow Leon Kolankiewicz is an environmental scientist and planner.