Immigration: National Post-Election Survey of Voters
Published on November 6th, 2014
The President may be the last person in town to realize how resistant Americans are to him playing the Lone Ranger on amnesty. In fact, based on his press conference yesterday he has either suspended disbelief or has no awareness of how the immigration issue and his threats to act alone contributed to his party suffering massive losses on Tuesday.
The results from a post-election survey of actual voters confirm this. Three-quarters of those who voted this year (74%) say President Obama should work with Congress rather than around Congress on immigration and separately, 80% want new jobs created by the economy to go to American workers and legal immigrants already in the country.
The 80% figure turns on its head the elitist idea that illegal immigrants "do the jobs that Americans don't want to do." We actually bothered to ask Americans about that, and their answer is unequivocal: protect American workers and provide them (and legal immigrants) with the employment opportunities they need.
Given the results at the ballot box this week, and the continuing prominence of immigration, in Washington, these data offer a fresh, compelling look at what those most engaged in the electoral process expect from their leaders.
Voters overwhelmingly prefer an immigration system that protects American workers. Therefore members of Congress should feel confident that voters will support actions using the power of the purse to protect American workers from Obama's executive amnesty threat.
Most Voters Want Obama to Huddle With Congress Rather than Do an End-Run on Any Changes to Immigration Policy
Nearly-three quarters (74%) of voters urged President Obama to reconsider acting on his own to change immigration policy, instead preferring that he "work with Congress" before taking such steps on immigration. Just 20% favored his going at it alone.
Majorities of men (75%), women (74%), whites (79%), blacks (59%), and Hispanics (54%) all recommended that the President collaborate with Congress before changing immigration law.
In fact, there was even tri-partisan agreement as majorities of self-identified Republicans (92%), Independents (80%), and Democrats (51%) all wanted President Obama to look toward Capitol Hill before changing the law
Even majorities of voters who voted Republican or Democrat for Congress this year concurred that Obama should move toward collaboration – not confrontation – by working with Congress to change immigration policy (see below).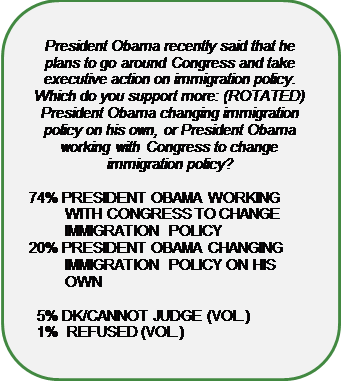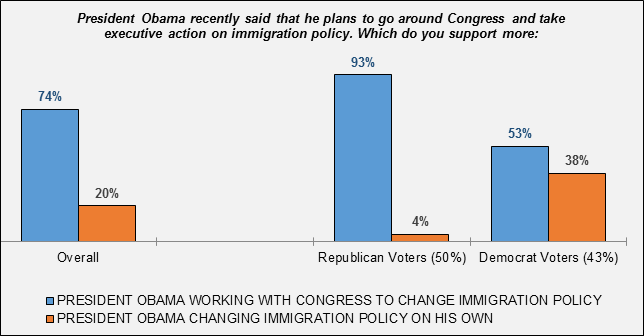 Annual Influx of Additional Labor Force Strikes Many Americans as Unfair
At a time when many Americans are still under-employed or unemployed, voters voiced their displeasure with the current law allowing over one million legal immigrants in to the country each year.
The idea that new jobs should go to Americans and legal immigrants already here had overwhelming approval (80%) among voters in Tuesday's elections.
That preference was strong in all four U.S. Census regions: 74% in the Northeast, 80% in the Midwest, 85% in the South, and 80% in the West all shared this view.
No gender gap was present, either. This is one policy on which both men and women largely agree.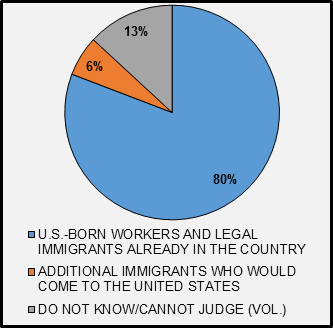 National Post-Election Survey of 806 Actual Voters
Field Date: November 4, 2014
Margin of Error: ±3.5%
President Obama recently said that he plans to go around Congress and take executive action on immigration policy. Which do you support more: (ROTATED) President Obama changing immigration policy on his own, or President Obama working with Congress to change immigration policy?
74% PRESIDENT OBAMA WORKING WITH CONGRESS TO CHANGE IMMIGRATION POLICY
20% PRESIDENT OBAMA CHANGING IMMIGRATION POLICY ON HIS OWN
5% DO NOT KNOW/CANNOT JUDGE (VOL.)
1% REFUSED (VOL.)
As the economy creates new jobs, should they go (ROTATED) to U.S.-born workers and legal immigrants already in the country, OR to additional immigrants who would come to the United States?
80% U.S.-BORN WORKERS AND LEGAL IMMIGRANTS ALREADY IN THE COUNTRY
6% ADDITIONAL IMMIGRANTS WHO WOULD COME TO THE UNITED STATES
13% DO NOT KNOW/CANNOT JUDGE (VOL.)
1% REFUSED (VOL.)
METHODOLOGY
the polling company, inc./WomanTrend conducted a post-election nationwide telephone survey of 806 actual voters on Election Day, November 4, 2014, at a Computer-Assisted Telephone Interviewing (CATI) facility using live callers. The sample frame consisted of randomly-selected nationwide voter households.
Upon connecting with an adult in the household, the potential respondent was screened to ensure that he or she a) was registered to vote in the state being surveyed and b) participated in the November 4, 2014 election, either in-person on Election Day or earlier by absentee.
Sampling controls were used to ensure that a proportionate and representative number of interviews of actual voters were interviewed by age, race and ethnicity, gender, and region.
The survey has an overall margin of sampling error of ±3.5% at the 95% confidence interval, meaning that in 19 out of 20 cases, the data obtained would not differ by more than 3.5 percentage points in either direction if the survey were repeated multiple times employing the same methodology and sampling method. Margins of error for subgroups are higher.