Looming megadroughts in western US would make current drought look minor
Published on October 6th, 2016
Such a megadrought would bring conditions similar to the 1930s dustbowl to California, Nevada, New Mexico, Colorado and Utah – but over a lengthier period. Photograph: Noah Berger/AP

By: Oliver Milman
October 5, 2016
The Guardian

Warming temperatures and uncertain rainfall mean if more isn't done to slow climate change, droughts lasting 35 years could blight western states, study says

The harsh drought currently gripping California may appear trivial in the future as new research shows that the south-west US faces the looming threat of "megadroughts" that last for decades.

California is in its sixth year of drought, which was barely dented by rains brought by the El Niño climate event and sparked a range of water restrictions in the state. But warming temperatures and uncertain rainfall mean that if more isn't done to slow climate change, droughts lasting 35 years are likely to blight western states by the end of the century, according to the study, published in Science Advances.

Such a megadrought would impose "unprecedented stress on the limited water resources" of the parched US south-west, researchers found, bringing conditions similar to the 1930s dustbowl to California, Nevada, New Mexico, Colorado and Utah – but over a lengthier period.

Using a combination of temperature and precipitation models, the study predicts a 70% chance of a megadrought by the end of the century, should rainfall levels remain the same, with a 90% chance of an elongated drought should rainfall decrease, as most climate models forecast.

"We can't rule out there could be a 99.9% chance of a megadrought, which makes it virtually certain," said Toby Ault, a scientist at Cornell University and lead author of the study.

"Imagine if the current drought in California lasted for another 30 years. There may be a few decent years of rain here and there, but that would be a megadrought and it would certainly change people's attitude to water. Taking a long-term view, we need to change our expectations of water in the west."

Megadroughts of 35 years are currently rare and have led to severe upheaval in the past. There's evidence that the Pueblo people of what is now the south-west US were forced to abandon settlements in the 13th century due to a lengthy drought. The Sahel drought in Africa that ran into the 1980s also fits the definition of a megadrought.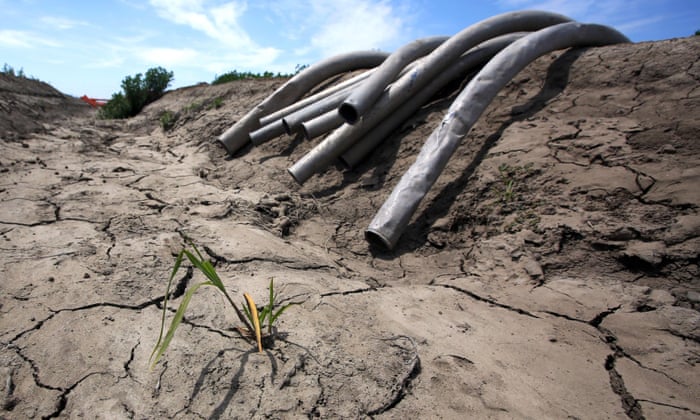 Irrigation pipes sit along a dry irrigation canal on a field in California. Photograph: Rich Pedroncelli/AP
The new report does proffer a crumb of hope – if greenhouse gas emissions are radically cut then the risk of megadrought will reduce by half, giving a roughly 50:50 chance that a multi-decade stretch of below-average rainfall would occur this century.

But the research found that the emissions cuts would have to be far steeper than those agreed to by nations in Paris last year, where a 2C limit on warming was pledged.

"We would need a much more aggressive approach than proposed at Paris, it's not too late to do this but the train is leaving the station as we speak," Ault said.

California is looking to tighten up regulations around groundwater use, which comes under strain during times of drought and has largely been left to the discretion of landowners until now. But further water conservation measures may be needed in a drought-affected future, as well as an awareness of the growing threat wildfires, driven by tinderbox vegetation, pose to life and property.

The current California drought has already started to change the landscape of areas such as the Sierra Nevada, where an estimated 66m trees are estimated to have died since 2010. Mark Schwartz, professor of environmental science at the University of California, said Ault's study, which he wasn't involved in, was "very helpful" in highlighting some of the changes caused by long droughts.

"We think that trees are fairly resilient, but if driven by fire and drought we might get a much faster realignment to a less forested area of the south-west US," he said.

"Areas of the Sierras have burned a few times and the forests aren't recruiting back, they are turning into grasslands and bush lands. Should that persist for a decade or more, we would see a lot more tree mortality.

"Water availability is a deep issue for people living in the arid south-west. Megadroughts have the ability to dry up Lake Mead (which supplies water to Las Vegas) and hamper crops in southern California. We are doing a relatively poor job of allocating water efficiently. We need to get better at that."