Address the Cause, Not the Symptoms
Published on December 14th, 2015
A book review of
Move Upstream: A Call to Solve Overpopulation, by Karen I. Shragg
This is a fine little volume – a slender, very readable 101 pages – that would make an excellent holiday gift for the likes of Bill and Melinda Gates, Angelina Jolie and Brad Pitt, Hillary Clinton, artists, filmmakers, clergymen and women, anti-hunger campaigners, feminists and conservationists beyond count.
It would do much more than just make for good holiday reading, for if these committed activists could grasp and take to heart its core message, it would help them achieve the various worthy goals they champion and toward which they have collectively dedicated millions of hours and billions of dollars.
Karen Shragg is a native Minnesotan, educator, naturalist, writer and poet who sits on the Board of Advisors for the NGO World Population Balance and the Board of Directors of Citizen-Powered Media. Dr. Shragg makes a compelling argument that these social advocates named above will inevitably fail in their missions to make the world a better place unless they "move upstream."
Moving upstream is her apt metaphor signifying a re-orientation towards primary causes of problems and not just symptoms and effects of those problems. Moving upstream means acknowledging the decisive role that human overpopulation plays in degrading the human condition and the integrity of the biosphere upon which civilization, sustainability and even human decency all depend.
When universally honored heroes and timeless "A-list" luminaries as diverse as Albert Einstein, Helen Keller, Jane Goodall and Martin Luther King, Jr. have all spoken out about the need to confront overpopulation, it is remarkable to realize that so many contemporary political and cultural leaders, and members of the public at large, wallow in ignorance or denial.
It is all the more remarkable, and distressing, to consider that there was more widespread concern about overpopulation 40 years ago than there is today. And yet, 40 years ago, there were about 3 billion fewer people on Earth and 120 million fewer in the United States. The planet continues adding another 80 million residents annually, at a dizzying rate of about 220,000 net every day. In a logical world, this would mean more concern about an intensifying problem and greater determination to resolve it, but in a logical world, humanity would never have fallen into the overpopulation trap in the first place.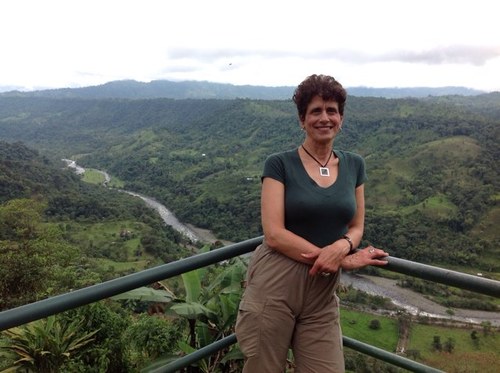 Karen Shragg, author of Moving Upstream:
A Call to Solve Overpopulation.
Appropriately, as sustainability advocate, and a believer that human population is already too large to be sustainable, Shragg doesn't argue merely for stabilization, but for population reduction:
"We must recognize that we shot past the opportunity to stabilize our population at a sustainable level of 2 billion about 80 years ago. We must now focus on humanely reducing population on the planet. Some recognize this harsh truth, but most are focused on symptoms. The issue of overpopulation is feared, ignored, misunderstood, falsely represented and demonized by people from all political and religious persuasions. The concept of too many people using up the earth's limited resources lies outside the parameters of the typical activist's world. It flies in the face of current norms and doesn't fit into society's dominant anthropocentric worldview."
I happen to agree with demographer Joel Cohen, author of the 1996 book How Many People Can the Earth Support?, that it's not possible to provide one precise answer to this complex question, i.e., 2 billion, but I do agree with Karen that in all likelihood it is a number well below our current 7.3 billion and counting. Two billion is as good a target as any, but convincing a critical mass of humanity that we have already overshot carrying capacity remains the challenge of the day.
The prevailing delusion among ecologically ignorant people (99% of the planet) is that since human population keeps on growing we must not have reached any limits yet. As has been observed by others, this is like someone who has jumped off the Empire State Building, whizzing past the 20th floor and shouting, "So far, so good!"
Karen is a progressive, and this book is aimed primarily at an audience of fellow progressives and liberals. She dedicates chapters to conservationists, social justice activists, feminists, clergy, climate activists, artists, journalists and politicians. Again, she wants to convince them that solving overpopulation is in their own interests: it complements rather than competes with their stated primary concerns.
The chapter on politicians is subtitled "the shortest chapter," because politicians refuse even "to touch this issue." Writes Karen, "Google 'overpopulation and politicians' and you will come up empty." The momentum that was just beginning to gather force on overpopulation in the late 1960s and early '70s has long since faltered. It was stopped cold by two of the hottest-button, polarizing and most intransigent issues in American politics and culture today: family planning and immigration.
Conservationist Bindi Irwin, daughter of the late Steve Irwin.
In each of the targeted chapters, Shragg gives examples of people who get it, and many others who don't get it. Bindi Irwin gets it; former Secretary of State and current Democratic presidential candidate Hillary Clinton doesn't get it.
Bindi is the precocious animal-loving daughter of the late Australian "crocodile hunter," conservationist and personality Steve Irwin. Bindi was invited to submit an essay on wildlife conservation to Hillary Clinton's e-journal. She chose to focus on the threat human overpopulation poses to wildlife. "How is it possible that our fragile planet can sustain these masses of people?" Bindi wrote. She used the analogy of too many people showing up for a party and not having enough food to go around.
Clinton or her lackeys heavily edited the piece before publication, censoring the overpopulation angle, but the feisty Bindi would have none of it. She refused to allow the gutted essay to appear in Clinton's journal, and instead went about publicizing how Clinton had tried to silence her.
In the chapter on journalists, "Broken Microphones," Karen lauds the likes of Paul Farrell of Market Watch, Ken Weiss of the Los Angeles Times, Julia Whitty of Mother Jones, Lisa Hymas of Grist and several others. She correctly criticizes prominent journalists Bill Moyers and Charlie Rose of PBS and Amy Goodman of Democracy Now! for virtually ignoring overpopulation in their reporting. They should know better, and probably do, but omit overpopulation for what are likely ideological reasons, the better not to challenge or alienate their audiences with politically incorrect notions.
My only criticism of Move Upstream is that, in its brevity, it omits some of the most valuable work, literature and publications on overpopulation. The scholarly journal, Population and Environment, for example, goes unmentioned. Journalism professor T. Michael Maher published an illuminating, insightful 1997 paper in Population and Environment called "How and Why Journalists Avoid the Population-Environment Connection" that could have been cited in the "Broken Microphones" chapter.
Karen writes that she has been an "overpopulation activist for decades because I see this issue as the most core and most ignored 'upstream' issue which fuels so many local and global problems." In 2004, she joined the advisory board of World Population Balance, and frequently lectures about overpopulation to local, state and national audiences. She has an Ed.D. from the University of St. Thomas in critical pedagogy and is director of the Wood Lake Nature Center in Minnesota. Her other books include: The Wolf Within, Grieving Outside the Box, the Nature's Yucky! Children's series with Lee Ann Landstrom, and Lucy's Hero: Remembering Paul Wellstone. She is an avid birder and kayaker.
Move Upstream is Karen's valuable contribution to the recent literature on overpopulation, which includes Dave Foreman's Man Swarm and the Killing of Wildlife (including the long version by Dave himself and the short version with Laura Carroll), Phil Cafaro's How Many is Too Many?, Cafaro and Crist's Life on the Brink: Environmentalists Confront Overpopulation, and the stunning picture book, Overdevelopment, Overpopulation, Overshoot, by the Population Media Center and the Population Institute.
Now if we could all ensure that Move Upstream isn't just preaching to the converted. The problem all books, articles, videos and documentaries on overpopulation have faced since this issue fell out of favor with the movers and shakers, the glitterati, the cognoscenti and even the enviros several decades ago is getting anyone to pay attention.
Karen has done her part. Now it's up to the rest of us.