Driving on Earth Day? Good Luck with the Traffic
Published on April 21st, 2017
For the millions of Californians worried about the state's unsustainable population growth, the latest INRIX Global Traffic Scorecard report analyzes the problem of too many people in an everyday context – gridlock.
Using new methodology, INRIX, Inc., the world leader in transportation analytics and connected car services, studied 1,064 cities across 38 countries, the largest traffic congestion study ever conducted. Included were 240 U.S. cities which, based on INRIX's findings, confirm that America's highways are the most jammed of any in the developed world.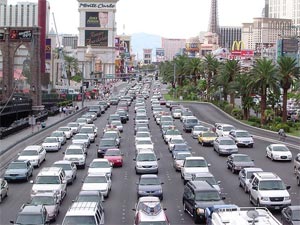 Las Vegas traffic inches along at 5.6 mph.
INRIX's conclusion comes as no surprise to California's drivers, especially in Los Angeles and San Francisco. The two cities rank first and fourth in congestion. In 2016, Los Angeles drivers spent an average 104 hours stuck in peak traffic.
Even cities not making INRIX's Top 10 list have their traffic problems. Stamford, Conn., has a 14 percent congestion rate, the nation's highest, and in Las Vegas, which has experienced dramatic population growth, weekend traffic inches along at an average 5.6 miles per hour. The Las Vegas metropolitan area that includes Clark Country has more than 2 million residents, and the city's population density per square mile is 4,376.
In terms of lost time and wasted money stalled in traffic, the direct and indirect costs to drivers are staggering. Direct costs relate to the value of fuel and payroll time wasted, and indirect costs include freight and business fees from company vehicles idling in traffic, costs which consumers ultimately absorb. In 2016, nationwide total wasted dollars hit $300 billion, an average of $1,400 per driver. Again, Los Angeles is the sorry leader. L.A. commuters spent an average of 104 hours last year in traffic jams during peak congestion hours, more than any other city in the world, and cost drivers $2,408 each, and the city as a whole $9.6 billion.
INRIX's 2016 study reflects worse driving conditions in California than its 2015 report. Senior INRIX economist Bob Pishue, holds out little hope for improved driving conditions. Said Pishue: "The demand for driving is expected to continue to rise, while the supply of roadway will remain flat."