E.U. Election Results Send Clear Message: Less Immigration, More Patriotism
Published on May 28th, 2014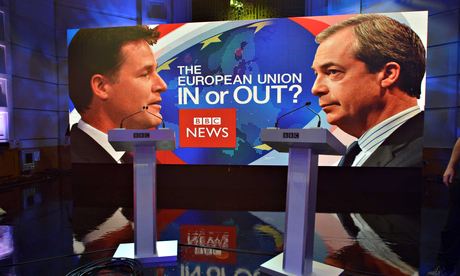 If Americans were given the chance to vote on immigration, the results might be similar to those registered across the European Union last weekend.
In England, the UK Independence Party achieved a "stunning success" in its effort to unseat the political class which favors continued high immigration. The UKIP's webpage describes itself as "a patriotic party that believes in putting Britain first. Only UKIP will return self-government to the British people." Exit polling showed that the UKIP gained from angry citizens who hadn't participated in years but did poorly in London where many are voters are either wealthy or immigrants.
UKIP leader Nigel Farage condemned Prime Minister David Cameron for "breaking a solemn promise to the British people to get net annual immigration down to the tens of thousands." Net immigration into the UK is about 200,000.
In France, the outcome was much the same. French Prime Minister Manuel Valls called it "an earthquake" as voters specifically rejected more immigration and generally indicated intense dissatisfaction with the E.U. According to Marine Le Pen, France's National Front political party head, "Our people demand one type of politics: politics by the French, for the French, with the French. They don't want to be led anymore from outside, to submit to laws." Le Pen campaigned on less immigration. Western Europe has been unable to keep up with huge immigrant flows from the Middle East, Africa and Eastern European countries.
With more than 80 percent of the ballots counted as of Monday, the French interior ministry said that Le Pen's party took 26 percent of the vote, a tally that sent President Francois Hollande's Socialist Party to third place finish with 14 percent support. Voters in Germany, Italy, Holland and Denmark also rejected more immigration.
What might happen in the U.S. if politicians ran on reducing immigration to sustainable levels is speculation. Democrats and Republicans alike campaign on platitudes like the importance of offering illegal immigrants a "path to citizenship," needing "more workers" to stimulate the U.S. economy or helping immigrants "live the American dream."
The European examples however prove that restricting immigration can be a political winner, if any American politician ever gets up the nerve to include it in his platform.