Humans Squishing Bugs
Published on July 31st, 2014
Invertebrates pulverized by one species of vertebrate
We wildlife conservationists are in the habit of playing up the threat posed by humans to "charismatic" species like the giant panda, gorillas, whales, dolphins, polar bears and elephants.
What do all of these creatures have in common? They are all large mammals like us, and they all have cute babies like we do.
And the reason conservationists select them is because we hope they will elicit sympathy and support for the wider wildlife conservation mission on the part of the wider public. The "wider public" consists of folks who are absorbed by the next electronic gizmo they have just purchased, struggling to keep a roof over their heads or food on the table, or struggling to keep up with the Kardashians…or at least the Joneses.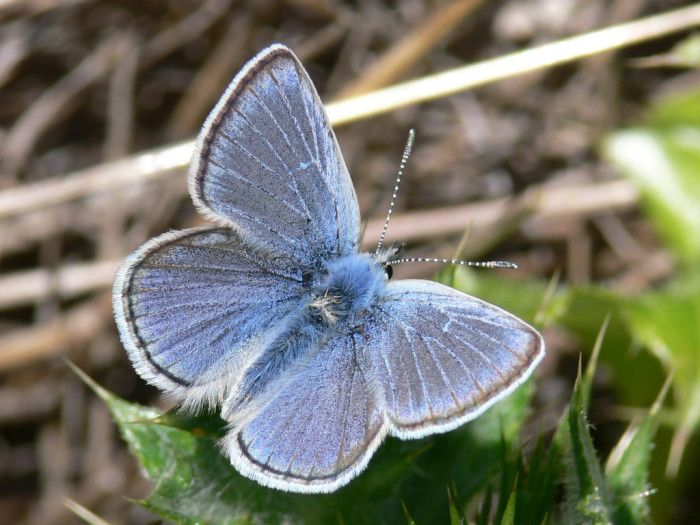 Endangered Mission Blue Butterfly native to the San Francisco Bay Area
There is precious little interest or empathy among most Americans (and most other nationalities) for the invertebrates – creatures without backbones – such as insects, arachnids (spiders), worms, mollusks and crustaceans.
There should be.
These are the inconspicuous little critters that make the world go 'round. Many of them play critical ecological roles, such as the pollination of flowers and crops carried out by trillions of bees and other insects.
As the esteemed entomologist and writer E.O. Wilson has written:
If all mankind were to disappear, the world would regenerate back to the rich state of equilibrium that existed ten thousand years ago. If insects were to vanish, the environment would collapse into chaos.
A new study published in the journal Science by researchers at Stanford, UC Santa Barbara and University College London finds that invertebrate numbers, on average, have dropped by nearly half (45 percent) during the same recent 35-year period in which human population doubled.
The researchers identified two main causes for the sharp decline in invertebrate numbers: habitat destruction and climatic disruption. Both, of course, are linked to human overpopulation. In the well-studied and densely populated United Kingdom alone, areas inhabited by common insects – such as bees, beetles, butterflies and wasps – declined by 30-60 percent over the last four decades.
Invertebrates pulverized by one species of vertebrate
Not only do insects pollinate crops worth tens of billions of dollars a year, but they and other invertebrates are economically and ecologically important in other ways.
The disappearance of invertebrates thus diminishes ecosystem services that contribute tangibly to human well-being. Insects alone pollinate 75 percent of the world's food crops and are estimated to account for 10 percent of the economic value of the world's entire food output.
Threatened ecosystem services: pollination by bees
In the U.S., honeybees pollinate some $20 billion in crops per year, including vegetables, fruits and nuts.
Bees in North America and Europe are afflicted by "colony collapse disorder," believed to be caused primarily by the widespread use of a class of pesticides known as neonicotinoids. On a global scale, all pollinators are declining both in diversity and overall abundance.
The value of pest control in the U.S. by native insect predators and parasites is pegged at $4.5 billion a year. If native predators and parasites diminish or disappear, pests could proliferate and require costly insecticide spraying with damaging environmental side effects.
Insects help recycle nutrients and transport them across great distances, without which plant productivity is compromised and other ecosystem functions impaired. They are important in seed dispersal, decomposition for nutrient cycling and water filtration. Insects also furnish humans with honey, beeswax, silk and other useful products.
Last but not least is the underappreciated role of insects in the food chain. Many of our beloved birds depend almost exclusively on insects in their diets. But amphibians, reptiles, mammals and fish – vertebrates all of them – dine on insects as well. Think of bears making a meal of honey-laden bee hives, and the bees within them, oblivious to the furious and stinging inhabitants.
Human beings in many cultures also include invertebrates in their diet, and not just shrimp, crayfish, lobsters, crabs, abalone, mussels, oysters and clams, but even many types of insects.
The now documented decline in the abundance and diversity of invertebrates is yet one more sign that "too many" of the dominant vertebrate, Homo sapiens, is causing "not enough" of many other life forms…and jeopardizing the stability of the biosphere and our own well-being in the process.