Mass of Man Makes a Mess
Published on January 27th, 2015
The takeover and makeover of Planet Earth by human beings have been well documented by generations of scientists, naturalists and poets. Ten to twenty thousand years ago the biosphere was a veritable wilderness paradise teeming with a rich feast of furred and feathered creatures crawling, climbing, flying, running, swimming, grazing and digging. We have since converted the wild biosphere into a factory farm, feedlot…and wasteland.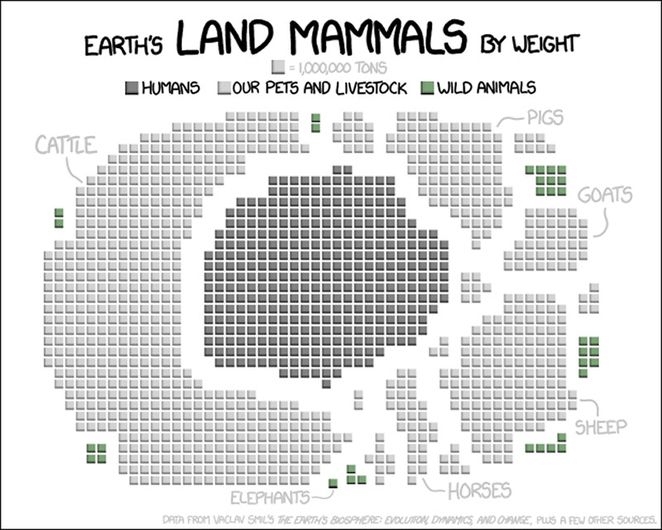 Most wild animals, especially the big, legendary ones like mammoths and mastodons, have been wiped out – killed, eaten or driven off – by us and our profligate ancestors in the long march to human domination. It has been a biological apocalypse of stunning rapacity.
Now, thanks to the analytical work and graphics skills of two Canadians, University of Manitoba environmental scientist Vaclav Smil and blogger Paul Chefurka, we can visualize just how thoroughly Homo sapiens has tamed the once-wild biosphere and harnessed it to meet our own ever-expanding demands, cravings and whims, leaving little for wildlife.
Biomass is the sheer weight of living tissue or matter. My biomass, that of a single adult male human, is about 85 kilograms. The biomass of the entire global population of 7.2 billion human beings weighs in at about 300 million metric tons. Annual net population growth of 80 million people adds about another 4.4 million tons to that total every year.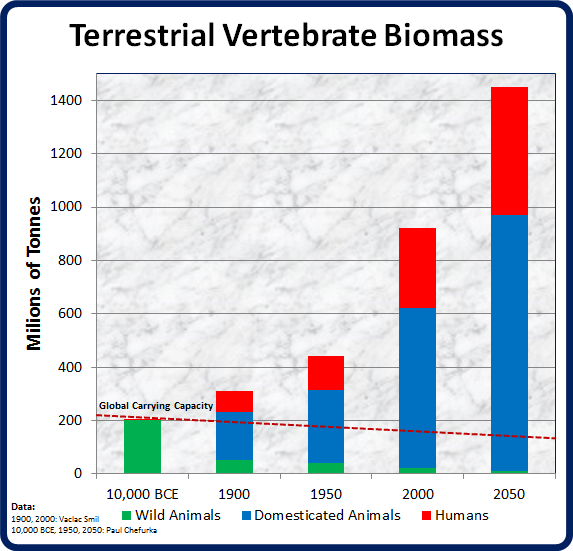 Credit: Paul Chefurka and Vaclav Smil
In the first diagram, each little square represents 1 million tons of mammalian biomass. The large central clump of dark squares represents the aggregate weight or mass of all humans on Earth; the light squares are our pets and livestock, while the much smaller scattered clumps of green squares are wild land mammals. All the remaining elephants on Earth amount to one little square, and that is shrinking quickly because of poaching to feed the insatiable appetite of 1.3 billion Chinese for ivory.
The combined biomass of all cattle on Earth far outweighs the biomass of all wild terrestrial mammals combined, thousands of species worth. Of course, these cattle exist only to feed us.
The bar chart shows the changing composition of the world's terrestrial vertebrate biomass from 10,000 BCE (12,000 years ago) to 2000 and projected to 2050. Wild animals comprised virtually all biomass 12,000 years ago; today they constitute no more than a tiny sliver of it, and under current trends, by 2050, they are barely visible. Meanwhile, global carrying capacity falls steadily as multiplying man wears down the ultimate ability of the Earth to support all life.

PROGRESS?
This figure illustrates vividly where the biosphere once was and where it is headed in this the Anthropocene, the age of human hegemony: from biological richness and diversity to biological impoverishment.
As "masters of the universe," we humans could decide to leave a bit of the biosphere for other life forms to lead their lives unmolested, but we would have to demonstrate greater compassion, self-restraint and wisdom than we ever have before. Are we capable of this? I would like to believe so. And I hope to heaven I'm right, but our collective conduct to date leaves ample room for doubt.