Nature's Peace, Quiet Shattered by Noise
Published on May 30th, 2017
Some years ago, when I lived in New Mexico, I had the privilege of backpacking in the Gila Wilderness of the Gila National Forest in the southwestern part of the state. The Gila is America's first official Wilderness Area, established in 1924 at the urging of Aldo Leopold, co-founder of the Wilderness Society, "father" of modern wildlife management, and the author of the beloved conservation classic, A Sand County Almanac.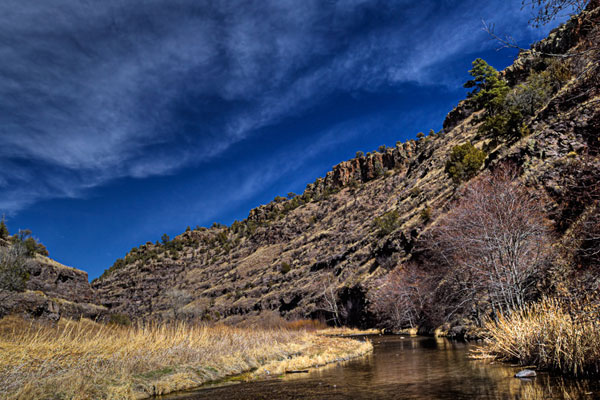 Gila Wilderness in New Mexico – no longer a sense of solitude and
deep time thanks to constant noise from jets overhead.
The Gila was set aside a full 40 years before the passage of the National Wilderness Act by Congress in 1964. That's how special a place it is.
New Mexico itself has one of the lowest population densities of any state in the country, and the Gila is located in a remote part of this self-proclaimed "Land of Enchantment." It took hours to drive there from Albuquerque.
Yet even many miles away from the nearest paved road, and quite some distance even from the nearest unpaved road accessible to vehicles, traveling on foot under my own muscle power and lugging a heavy backpack with supplies for several days, I didn't find the enchantment – the sense of "getting away from it all" – that I'd come here seeking.
That was because there was nearly constant noise from jet planes streaking east-west far overhead on their way to and from Arizona and California. The buzz of each jet took a minute or two from the moment it first thrust against my eardrums; the unwanted, intrusive sound steadily increased in volume to a crescendo, and then faded away. For a precious, fleeting moment or two the blessed silence of the ages returned and enveloped us. But invariably, nearly as soon as the noise from one jet trailed off, the next one would start. It was a pattern repeated day in and day out.
I could still hear bird song and the whisper of the wind in the pine needles, but now, instead of hearing only these natural sounds – sounds which belonged to this wilderness – there was an unwanted, discordant intruder. It was like trying to enjoy a live classical orchestra playing Beethoven's Symphony No. 6 ("Pastoral") while a lawn mower drones in the background.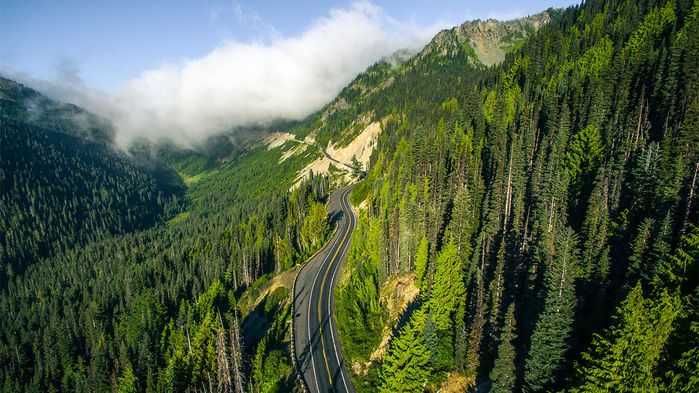 Roads cutting across or skirting national parks are a major source of noise.
A new study carried out by researchers with the National Park Service (NPS) and Colorado State University (CSU) shows that my deeply disappointing experience in the Gila is becoming the norm in America's national parks and natural areas.
The researchers recorded noise by placing sound meters at nearly 500 sites across the United States; the various sites had differing levels of protection. They then used this data to predict noise levels inside parks around the rest of the country.
Using an acoustic model, the scientists also estimated naturally occurring ambient sound levels at each site. Then they compared the protected areas with and without manmade noise.
The NPS and CSU researchers found that noise pollution (artificial sounds generated by humans and their machines) has doubled sound levels in more than half of all protected areas in the U.S., ranging from local nature sanctuaries to national parks. Some places are up to 10 times noisier. This discord is harmful not just to wildlife using sound to hunt, forage and communicate, but to human mental and physical health.
Lead author Rachel Buxton, a CSU conservation biologist, told the journal Science:
"We were surprised we found such high levels of noise pollution in such high amounts of protected areas."
Active efforts in the U.S. to control noise pollution from machines and motors and music (amplified) date back to the 1972 Noise Control Act. This act gave the EPA authority to control noise from cars and trucks and other mechanical sources. Most communities around California and the country have also enacted noise ordinances, which limit when and where noise sources can emit their "unwanted sound" in the presence of "sensitive receptors."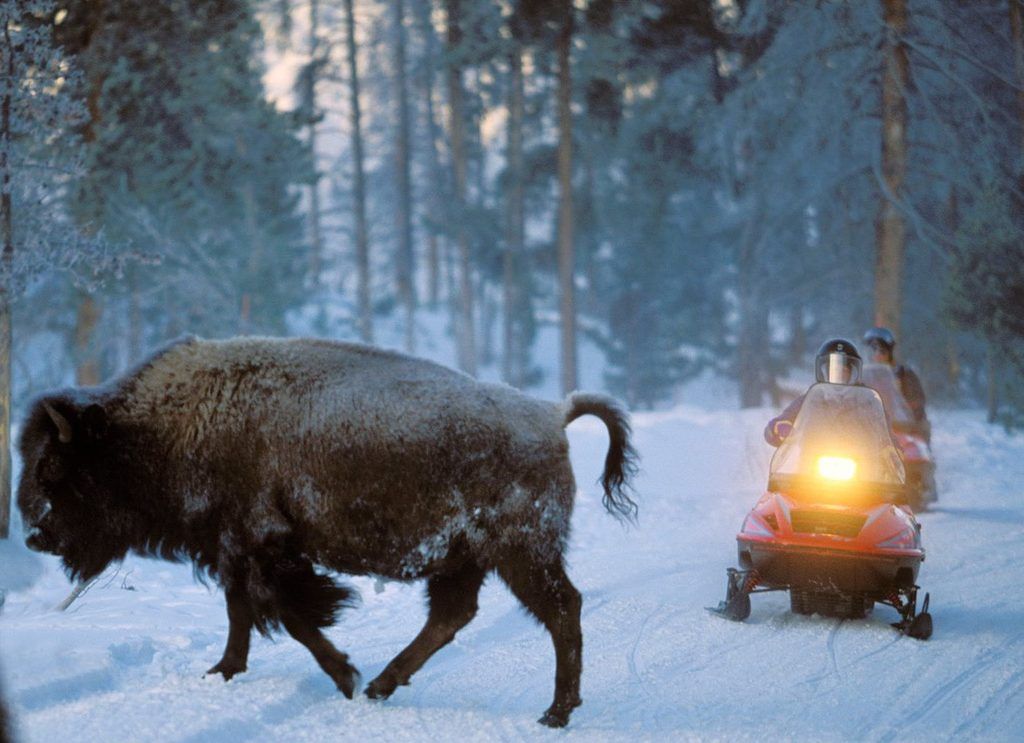 Bison dodges a noisy snowmobile in Yellowstone National Park.
Also, major efforts have been undertaken to limit noise around airports and to reduce the noise generated by jet turbines themselves during takeoff and landing, when nearby populations are most vulnerable to extremely loud noise levels. These regulations and technologies have had some notable successes in reducing severe noise exposure.
But as Science points out, by and large, noise regulations and control efforts have ignored the issue of noise in national and state parks, wilderness areas and other natural areas. Yet because fully 80 percent of the U.S. is now within 0.6 mile (1 kilometer) of a road, these areas are ever more exposed to noise.
Massive population growth and sprawling cities in the West and South in particular, as well as the skyrocketing increase in America's road network and "vehicle miles traveled," have exacerbated the situation.
On trips to the High Sierra in Yosemite National Park, Sequoia-Kings Canyon National Park and Sierra Nevada Forest, I have also been disturbed by noise.
My hope is that we have already witnessed "peak noise," or soon will, and that visitors to beautiful, inspiring natural areas can experience the holistic sense of solitude that they should embody.
Achieving this will require a combination of population stabilization, noise abatement technologies, noise regulations and, perhaps most important of all, public acknowledgement that the acoustic environment is an integral part of the milieu that sustains us. It is as susceptible to noise pollution as the air and the water are to air and water pollution – and as vulnerable as beauty is to aesthetic degradation.