Over-the-Dinner-Table Moralizing in 'Blue Bloods' Turns to 'Who is an Immigrant?'
Published on April 30th, 2017
Recently I wrote about how the immigration topic, and often very particular positioning of it, is permeating all aspects of our culture. Another example popped up on Friday night's CBS staple, "Blue Bloods," with the episode Foreign Interference, which touched on sanctuary cities and "who is an immigrant?"

The show focuses on the multi-generational Reagan family – grandfather was the former NYC police commissioner; his son, Frank Reagan (Tom Selleck), is the current NYC police commissioner, and Frank's children all have chosen various law enforcement roles too. "Blue Bloods" often plays off what's in real news and current events for its storylines, and at show end the whole Reagan family, over a family meal, discusses the implications of what's happened in their day, or week, with a moral takeaway. The dinner scene in Foreign Interference played like an Open Borders rep worked with the scriptwriter, or at least the Open Borders playbook was nearby for handy reference.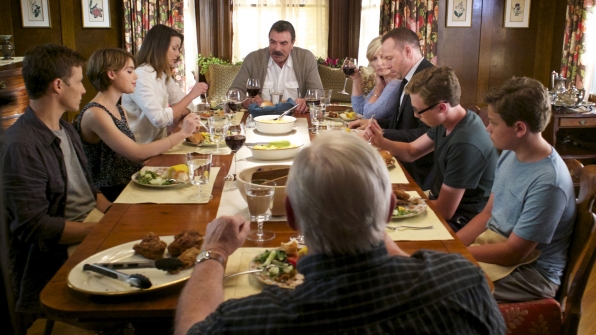 The TV Reagan family moralizes for America on immigration.
A discussion on the Reagan's Irish heritage, the Easter Rebellion and what's a terrorist, rebel, guerilla and freedom fighter ends with Jamie Reagan adding, "And one other thing, hardly anybody who is here is really from here."

Linda Reagan adds, "And usually they're fleeing some sort of grief in their own country."

"So who gets to say that they're really truly from here?" asks a young Reagan.

Frank Reagan answers, "Munsees, Algonquians, Iroquois, and a whole bunch of other tribes whose names I've forgotten – they can."

"Everybody else is an immigrant," granddad concludes.

Jamie concludes with a toast to "the great unwashed."

Admittedly, I am a regular Friday night viewer of the show, and when the show started I found the round-the-dinner-table scenes annoyingly self-righteous and moralizing. But I grew to appreciate those wrap-up scenes as true to the characters and to think that maybe a little moral takeaway wasn't a bad thing today. Sometimes the takeaways didn't seem to hit the mark, but generally they did. But with this episode … Yeesh!

The otherwise learned Reagan family got fed some misinformation and didn't have on their thinking caps!

By definition, an immigrant is "a person who comes to a country to take up permanent residence." Currently – and unless we let the floodgates open completely unchecked and our native-born fertility rates drop off the radar screen – we are largely a nation of native-born citizens. That fact that our ancestors immigrated generations ago may be interesting dinner conversation for the TV Reagan family, but it doesn't change reality, no matter how much script writers and propagandists want to shift perception to reality.