There is a World of Difference between Illegal Aliens and Lawful Immigrants
Published on June 13th, 2016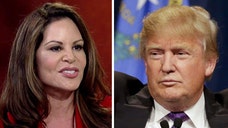 On May 31, Fox & Friends interviewed the former president of Telemundo, Nely Galan, and posted a video of that segment "What can Donald Trump do to win back Hispanic voters?"
Before we go any further, it is important to make a couple of observations. First, Galan had been the president of a broadcast corporation whose revenue depends on growing the audience of Spanish-speaking viewers. The more folks tune in, the more Telemundo can charge advertisers for air time.
Second, during the interview, when pressed by the hosts of the show to justify her positions, Galan backed off, stating that she was not a "political pundit." Galan's astonishing admission, repudiating her own qualifications to discuss the immigration crisis, calls into serious question why she spent her entire interview making false claims to the Fox & Friends audience about immigration when so much hangs in the balance this election year.
Among the claims Galan made was that it is unfair to draw distinctions between aliens legally present in the United States from aliens who run our borders and evade the inspections process conducted at ports of entry.
When specifically asked about drawing that distinction, she said this is like saying, "I like this minority, but not that minority," as she pointed to two of the hosts. In other words, in her world view, supporting legal immigrants while not supporting illegal aliens is discriminatory.
What she (or others who hold similar views) likely does not realize is that to remove the distinction between aliens lawfully admitted for permanent residence and aliens who illegally enter the U.S. does a huge disservice to lawful immigrants who aspire to become American citizens and who, under our current immigration laws, are immediately placed on the pathway to U.S. citizenship when they are granted lawful immigrant status and provided with their Alien Registration Receipt Cards (Green Cards).
The U.S. spends nearly $14 billion annually on Customs and Border Protection (CBP), an agency that employs a workforce of approximately 60,000. If it does not matter whether an alien enters the country legally through one of the 328 ports of entry, runs our northern or southern borders, or stows away on a ship to evade the inspections process, why should the U.S. continue CBP operations. I addressed this question in my recent article, "Immigration Law Enforcement: Why Bother?"
To answer my rhetorical question, consider that aliens who evade the inspections process at ports of entry know that they may belong to one or more categories of excludible aliens. The grounds for exclusion can be found in Title 8 U.S. Code § 1182 – Inadmissible aliens and include aliens with dangerous communicable diseases, who suffer extreme mental illness and are prone to violence or are sex offenders, criminals, fugitives from justice, are gang members, spies or terrorists. Additionally, aliens who would likely become a public charge or are likely to work illegally, thereby displacing American workers or suppressing wages, are also excludible.
Today, hundreds of thousands of alien felons ply their "trades" across America. My recent article, "President Obama: Accessory to the Crimes Committed By Illegal Aliens?" was predicated on the April 19, 2016, hearing conducted by the House Subcommittee on Immigration and Border Security on the topic, "The Real Victims of a Reckless and Lawless Immigration Policy: Families and Survivors Speak Out on the Real Cost of This Administration's Policies."
Finally, consider this excerpt from Chapter 12 of the 9/11 Commission Report:
"Before 9/11, no agency of the U.S. government systematically analyzed terrorists' travel strategies. Had they done so, they could have discovered the ways in which the terrorist predecessors to al Qaeda had been systematically but detectably exploiting weaknesses in our border security since the early 1990s.

"We also found that had the immigration system set a higher bar for determining whether individuals are who or what they claim to be – and ensuring routine consequences for violations – it could potentially have excluded, removed, or come into further contact with several hijackers who did not appear to meet the terms for admitting short-term visitors.

"Our investigation showed that two systemic weaknesses came together in our border system's inability to contribute to an effective defense against the 9/11 attacks: a lack of well-developed counterterrorism measures as a part of border security and an immigration system not able to deliver on its basic commitments, much less support counterterrorism."