Silencing Free Speech for the Sake of 'Diversity' – The Immigration Taboo and Censorship Strike Again
Published on January 26th, 2015
Two Leading U.S. Population Stabilization Advocates are Disinvited from Conference on Growth and the Chesapeake Bay …
'Green' Latinos Rep Added to Agenda Instead
For the better part of a century, the most important estuary on the East Coast, Chesapeake Bay, has suffered the consequences of rapid population and economic growth in the bay's watershed. Because of increasing nutrient and sediment pollution, urban runoff and chemical contaminants, the bay's water has turned murky, beds of submerged aquatic vegetation (bay grasses) have died off, commercial and sports fisheries have been hammered, the iconic blue crab has suffered, and the bay's legendary oyster harvest has been reduced to a pittance and almost a memory.
It is clear that growth comes at a price. That "smart growth," as the late physicist Albert Bartlett once quipped, is a pseudo-solution, and "sustainable growth" an oxymoron.
The organizers and sponsors of the recent conference "Growth and the Future of the Chesapeake Bay" on January 13 – 14 at stately Hood College in Frederick, Maryland, understood all this.
As they asked in the pre-conference promotional flyer:
Can the money that's been spent on bay and river restoration deliver fishable, swimmable waters in the face of a human population, 17 million strong and growing, that consumes ever more land, energy, and resources?
Can there be frank talks about the real costs of growth among policymakers?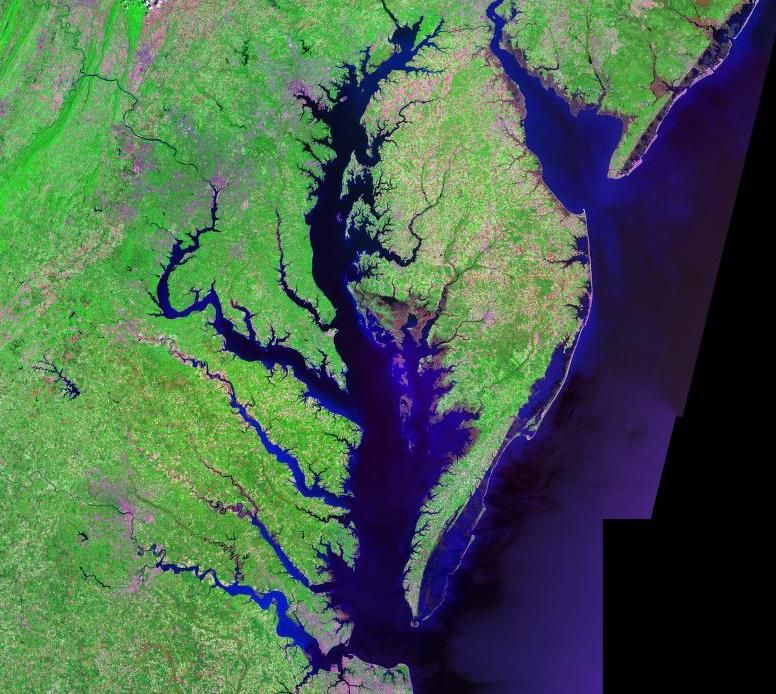 Landsat image of Chesapeake Bay and Delaware Bay (upper right).
"Frank talks?" What were they thinking? In this age of political correctness and the silencing of free speech whenever it is deemed offensive or unacceptable by the progressive thought police?
Since much of the current population growth and virtually all of the projected future population growth in the Chesapeake Bay watershed are related to immigration, it would have been remiss of the conference organizers not to invite speakers who would address this issue.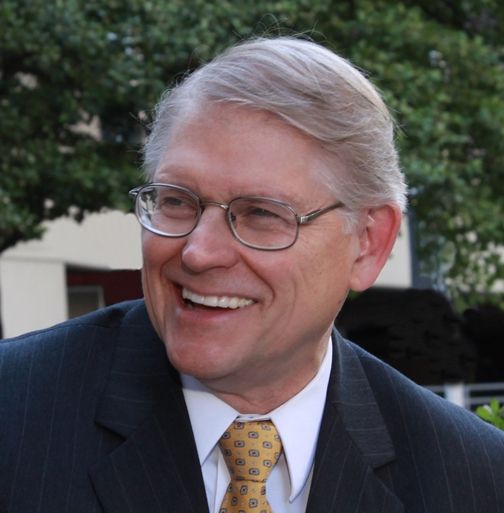 Roy Beck
They selected two of the very best, both whom I'm proud to say are colleagues and friends of mine: Roy Beck and Philip Cafaro.
A former environmental journalist and author of several books, Roy is the founder and president of NumbersUSA, one of the leaders in the fight in Congress against amnesty and for genuine immigration reform that would enforce the law, reduce overall immigration numbers and give America its only chance at stopping environmentally unsustainable population growth.
Roy was just profiled in The New York Times in December 2014. The Times article called him the "genial force behind bitter opposition to immigration overhaul," who "quietly leads a grass-roots army." It referred to Roy as:
…perhaps the most powerful member of the small but vocal movement that has helped scuttle every effort at an immigration overhaul for nearly two decades.
The Times is mistaken that it is a "small" movement, but Roy is indeed one of its most powerful figures. (If the movement were so small or out-of-step with American public opinion, it would never have enjoyed the success it has in blocking amnesties and "reforms" that could double legal immigration rates.)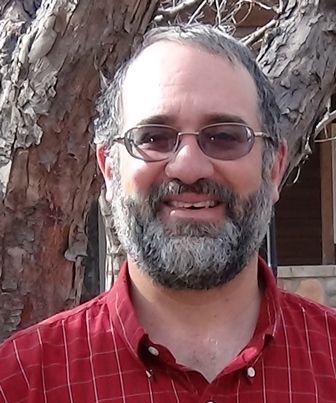 Philip Cafaro
Phil Cafaro is a professor of philosophy at Colorado State University. He currently serves as president of the International Society for Environmental Ethics and on the editorial board of the journal Biological Conservation. A former ranger naturalist with the National Park Service, Phil authored a book entitled Thoreau's Living Ethics and co-edited an anthology called Life on the Brink: Environmentalists Confront Overpopulation.
Phil's current book tackles immigration policy head on. Entitled How Many Is Too Many? The Progressive Argument for Reducing Immigration Into the United States, it is being published by the University of Chicago Press.
But these impressive credentials, and many others, were apparently still insufficient to exempt them from those progressives-cum-fascists and Latino advocates who would enforce the taboo concerning any public discussion at all of the environmental implications of current and projected immigration levels. Or perhaps it was precisely because of these credentials that their persuasive voices had to be silenced and their messages unheard at the conference..
A week before the conference, a former assistant to President Clinton and the founder of National Latinos for Obama, Mark Magaña, now representing a group calling itself "Green Latinos," emailed conference organizers, foundation sponsors and the U.S. Environmental Protection Agency's Chesapeake Bay Program Office and EPA's Bay Diversity Action Team, expressing urgent concern about "Anti-Immigrant speakers at upcoming bay Conference."
Using distorted information and red herrings from the usual biased sources, namely those shameless hucksters of hate – the Southern Poverty Law Center (SPLC) – and the clueless, one-track Anti-Defamation League, the email from the so-called "Green Latinos" blasted Beck and Cafaro as "nationally known nativist anti-immigrant speakers" whose presence on the agenda "would surely ignite protests from the bay area immigrant rights community and set back our efforts to diversify our work."
Green Latinos could be sure protests would ignite because they themselves would ignite them!
The SPLC are smear merchants par excellence whose forte is "guilt by association." The late, distinguished liberal lion – Democratic U.S. Senator and Earth Day founder Gaylord Nelson – once referred to this deceitful tactic of smearing the integrity of all immigration restrictionists as "leftwing McCarthyism."
None other than the late lefty, muckraking author and CounterPunch founder, Alexander Cockburn, once referred to SPLC founder Morris Dees as "the arch-salesman of hate-mongering." In 2009, Cockburn wrote that the SPLC:
…have used the election of a black president to say that, yes, hate is on the rise and America ready to burst apart at the seams, with millions of extremists primed to march down Main Street draped in Klan robes, a copy of Mein Kampf tucked under one arm and a Bible under the other…
So naturally, this is the authoritative, neutral information source Green Latinos chose to rely upon in reaching their summary verdicts on Beck and Cafaro.
Green Latinos' Magaña threatened to "ramp up our Latino and immigrant leader and grassroots outreach daily until we hear that [conference sponsor] Bay Journal has disinvited these speakers and taken this conference negative focus off of immigrants." (Re: "negative focus;" Beck and Cafaro were two of about 26 speakers and panelists on the agenda.)
The EPA folded right away. In the face of Green Latinos' threats, and the imperative of supporting diversity at all costs (including the environmental costs of endless population growth), the EPA's Chesapeake Bay Program Office said that it would have to "decline to participate in the conference." A staffer in that office pointedly reminded everyone that Magaña was "correct that we are obligated to promote diversity and discourage any alleged antagonist gatherings." The staffer reminded all that "we partly fund Bay Journal" (the primary conference organizer and sponsor). A not-so-veiled threat?
And with that, the Bay Journal itself had little choice but to disinvite Beck and Cafaro as speakers. The in-the-shadows censors and the self-styled arbiters of what passes muster, and what does not pass muster, for legitimate public discourse and debate on the critical demographic issue of immigration had won another battle in their war on free speech.
Instead of declaring, "I don't like what you say so I will debate you and prove you wrong," the Latino advocacy and progressive thought police now say in essence, "I don't like what you say, so I will prevent you from saying it in public forums."
And it's not just Latino advocacy groups and the progressive thought police who work behind the scenes to stifle open, rational dialogue and debate on immigration's environmental ramifications. The increasingly corrupted, decadent environmental establishment now does so as well. Indeed, it was two young Latino staffers of two eminently mainstream environmental groups, the League of Conservation Voters (LCV) and Earthjustice (formerly the Sierra Club Legal Defense Fund), who originally brought to Green Latinos' attention the presence of Beck and Cafaro on the program as speakers.

The good old days: mound of oyster shells, a sign of overharvesting.
In hastily arranged phone calls, the conference organizers offered Green Latinos a seat at the table, that is, the opportunity to participate in a panel discussion and debate with Beck and Cafaro. But they refused. They insisted they would not participate at all, but would instead stir up protest, as long as Beck and Cafaro remained on the program in any way.
The outcome was that a spokesman for Green Latinos, Ramón Palencia-Calvo, spoke during the time slot that had been allotted originally for Beck and Cafaro. Ramón is a gracious individual and a former fellow with the Worldwatch Institute; he is currently Latino Outreach Director for the Maryland Chapter of the LCV. Ironically, the national parent organization of LCV was founded in 1969 by none other than environmentalist icon (and former CAPS advisory board member) David Brower, who just before his death in 2000 resigned from the Sierra Club board specifically because it refused to acknowledge the role of immigration in driving environmentally destructive U.S. overpopulation.
In his talk, Ramón urged conferees to think of Latinos generally and Latino immigrants in particular as natural conservation allies in the effort to save the Chesapeake Bay. He pleaded with the audience not to alienate these constituencies by appearing to blame them for the bay's environmental problems.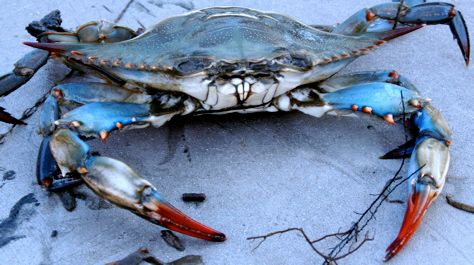 Blue crab
This was all well and good. Of course immigrants shouldn't be singled out for damaging the bay. But Ramón did not attempt to rationalize how the bay watershed could absorb an ever-increasing population and avoid ever higher levels of environmental stress, whether this population increase consisted of immigrants and their offspring, or of Latinos, or of Lithuanians, or of native-born Joe-six-packs, or even of low-per capita-ecological-footprint Sierra Clubbers for that matter.
We can't let the sun set on the Chesapeake Bay.
During the question period after Palencia-Calvo's talk, one of those who approached the microphone to ask a question was the esteemed ecological economist Herman Daly. Professor Daly is widely revered by environmentalists (if not by his own economists) as the founder of the emerging field of ecological economics. Ecological economics treats the human economy as a subset of the biosphere, not the other way around. Daly had spoken earlier at the conference and had received a standing ovation.
Daly told Palencia-Calvo that he (Daly) had actually written published reviews of books by both Beck and Cafaro, and that nowhere in those books did he ever see anything that remotely smacked of anti-immigrant nativism or racism. To the contrary, he said, both Beck and Cafaro were distinguished by the obvious concern they expressed for the welfare of America's poor and working class, especially Blacks and Latinos, who are disproportionately represented among the poor and working class.
Daly asked Palencia-Calvo: "Did I miss something?" And Palencia-Calvo admitted that he had never read their books. Case closed. It was a pivotal moment in the conference.
Other speakers alluded to their own sharp disappointment at the public shunning of Beck and Cafaro, who would have brought unique perspectives to the conference. They further emphasized the critical need for our society to openly address even emotional and sensitive issues like immigration, precisely because of its inescapable demographic and environmental consequences.
The entire time Tom Horton spoke, this graph, developed by Philip Cafaro,
appeared on the auditorium screen behind him. The uppermost red curve,
leading to nearly 670 million Americans by 2100, most closely matches the current
position of the pro-population-growth Sierra Club in its support of so-called
"comprehensive immigration reform."
It was left to Tom Horton, one of the principal conference organizers, and one of the main speakers, to broach the topic of "Population, Immigration and the Chesapeake Bay" in a presentation for which he had little time to prepare. He did an admirable job.
Tom, a former environmental reporter for the Baltimore Sun, a lifelong Chesapeake Bay devotee and activist, and a professor at Salisbury University on Maryland's Eastern Shore, not only faced the issue fairly and squarely, but he did not shy away from what had just happened at this conference itself, as an object lesson of the pitfalls in trying to dispassionately and rationally broach the loaded topic of immigration-population-environment.
Meanwhile, the unflappable and ever genial Roy Beck, denied the chance to speak, nevertheless attended the entire conference as an audience member, if no longer a speaker or panelist. The last I saw him, he was asking a question at the microphone about the causes of urban sprawl to one of the panels. You can't keep the man down.
Nor can you keep the issue itself down, because it won't go away as long as net immigration levels remain in excess of 1 million a year and as long as our nation's population remains on its current tragic trajectory, climbing to 400 million or more by 2050 and more than half a billion by 2100. Real environmentalists and conservationists understand instinctively why this is such bad news for the environment, wildlife and our quality of life. Ersatz "greens" apparently do not.